Following the Mediterranean Diet? Loaded with vegetables, whole grains, and lean proteins, here is a roundup of some flavor-packed Mediterranean diet dinners.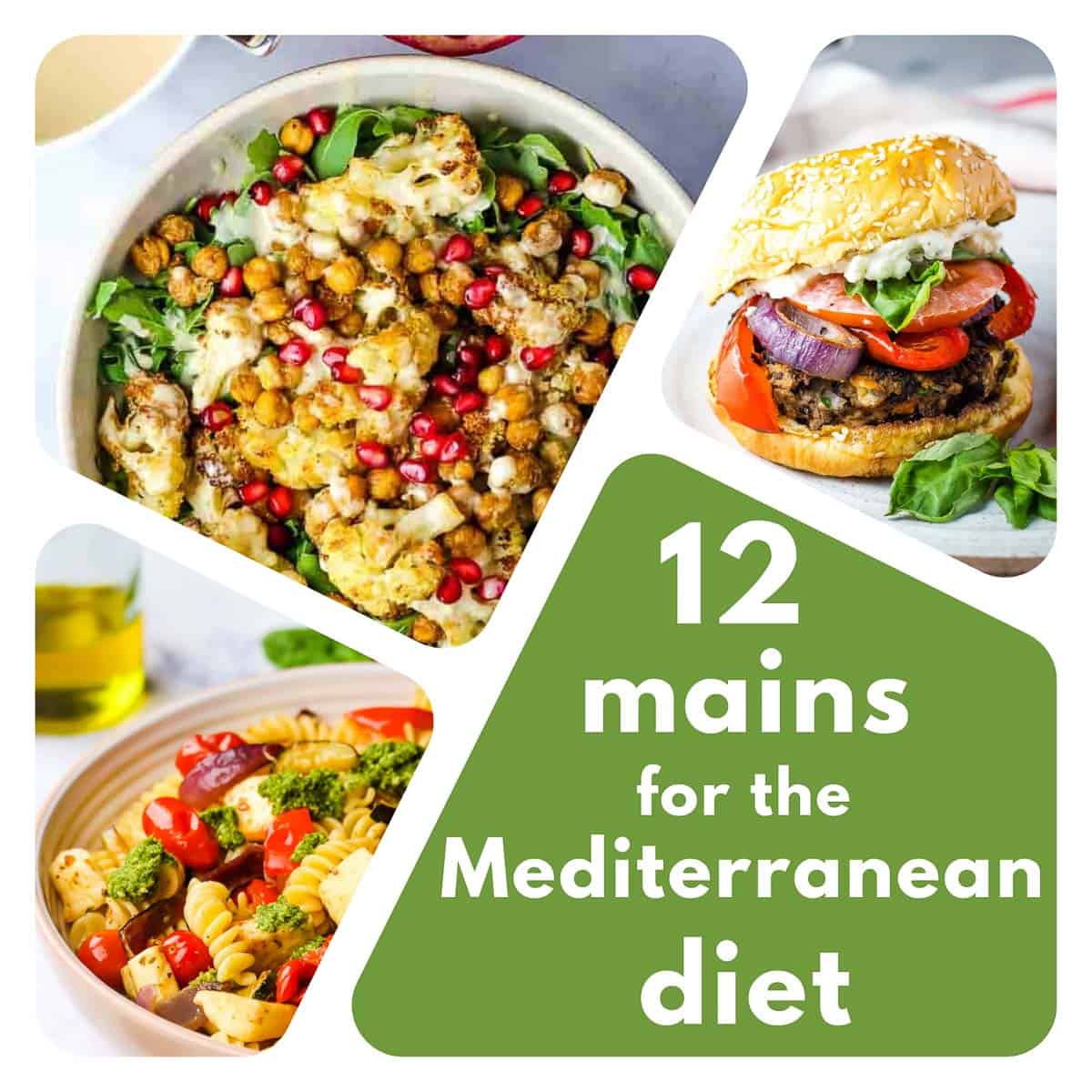 It's another year for the Mediterranean diet to take honors as the best overall diet of 2022, and for all the right reasons!
It is not only heart-healthy, featuring whole foods, but it is also super easy to incorporate into your lifestyle if you are looking to eat more nutritiously.
So, as we celebrate the Mediterranean Diet Month, let's get into a little bit about the Mediterranean diet and how you can incorporate it into your daily life.
The Mediterranean Diet
The term "diet" connotes a restrictive regime with a goal of weight loss, but you know that's really not my thing!
We are just talking about heart-healthy eating habits that incorporate traditional foods from the countries bordering the Mediterranean sea, including Greece, Italy, Turkey, and many more.
Dietary guidelines for the Mediterranean diet are flexible but generally call for a focus on plant-based foods and healthy fats such as those found in nuts and seeds, as well as fruits and vegetables.
Fish, seafood, dairy, and chicken are also included in moderation. Red meat and sweets are only occasionally consumed.
Health Benefits of the Mediterranean Diet
There is a long list of health benefits associated with the Mediterranean diet. It has been proven to improve heart health and has been studied for its ability to reduce the risk of heart diseases.
Since nuts, seeds, vegetables, fruits, and whole grains are all encouraged in the Mediterranean diet, these heart-healthy fats may help balance blood sugar levels and prevent type 2 diabetes.
How to follow the Mediterranean Diet
One great thing about the Mediterranean diet is that it is not just about food. It is a way to live and incorporate healthier habits into your routine.
The Mediterranean way of life includes getting enough exercise, eating with others, and avoiding too much stress. It focuses on foods that are good for your health, are filling and nourishing, and the best part? They are mostly super easy to make!
So, if you have been thinking of incorporating the Mediterranean way of eating into your daily life - here are some easy and delicious Mediterranean diet dinners that you are going to love!
Mediterranean Diet Dinners
1. Halloumi Pasta
The hero of this dish is Halloumi cheese which hails from Cyprus and is one of the staple cheeses in the Mediterranean diet.
2. Mediterranean Stuffed Peppers with Couscous
These stuffed bell peppers are vegetarian, full of flavor and topped with feta cheese for a perfectly harmonious dish.
3. Mediterranean Black Bean Burgers
A vegetarian burger recipe you need to try! These black bean burger patties are hearty, juicy, and delicious. No crumbly burgers here!
4. Chili Lime Shrimp
These grilled chili lime shrimp are super simple and just use a handful of ingredients. Seasoned with heart-healthy olive oil, cilantro, and lime juice - these make for the perfect dish with rice when you're craving some seafood.
5. Roasted Cauliflower Salad with Tahini Dressing
Hearty greens, high in fiber chickpeas, topped with a delicious and simple Tahini dressing, this main is so filling and scrumptious you will be making it every week!
6. Mediterranean Buddha Bowls
A delicious bowl of couscous topped with colorful vegetables, and chickpeas, this Buddha bowl is not only packed with nutrients but also the best Mediterranean flavors! I love to top it with creamy hummus and tzatziki before serving.
7. Greek Chicken Salad
My take on the traditional Greek Chicken Salad that is packed with crunchy fresh vegetables, and traditional Mediterranean flavors - this is one salad that EVERYONE is going to love!
8. Roasted Sweet Potato Salad with Baby Kale
Mediterranean food is all about fresh healthy ingredients - and this Roasted Sweet Potato and Baby Kale Salad feature just that! It is topped with a super simple lime dressing that brings all the flavors of this easy Mediterranean diet dinner together.
9. Grilled Halloumi and Strawberry Salad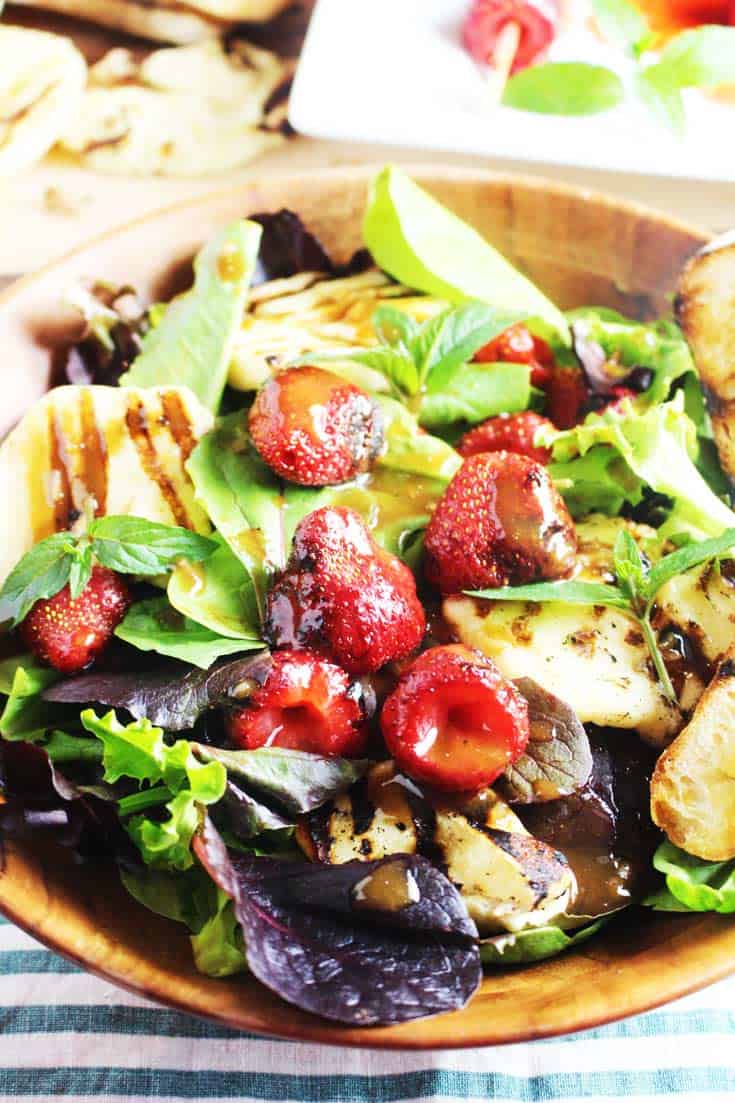 There is nothing more Mediterranean than the combination of fruits and vegetables! Throw some grilled salty Halloumi in the mix and you have the perfect salad.
10. Frittata with Goat Cheese and Sun Dried Tomatoes
This is what I make when I'm out of ideas and want something quick and delicious. You can customize it with ingredients you have on hand and serve it for breakfast, brunch, or dinner.
11. Red Pepper Carrot Soup with Couscous
If you've never tried harissa, this is a great recipe to introduce you. The couscous swirl makes this creamy soup heartier and worthy of main course status.
12. Roasted Salmon Quinoa Bowls
Whole grains, healthy fats, and protein - all the staples of a perfect Mediterranean meal! These quinoa bowls feature all of that and are the hearty, quick, and easy main you can have on a busy day.