Strawberry Goat Cheese Salad
This post contains links to affiliate websites, such as Amazon, and we receive an affiliate commission for any purchases made by you using these links. We appreciate your support!
This strawberry goat cheese salad, full of sweet, juicy strawberries, crunchy candied walnuts, creamy goat cheese, and the perfect tangy balsamic vinaigrette is the ultimate spring or summer salad.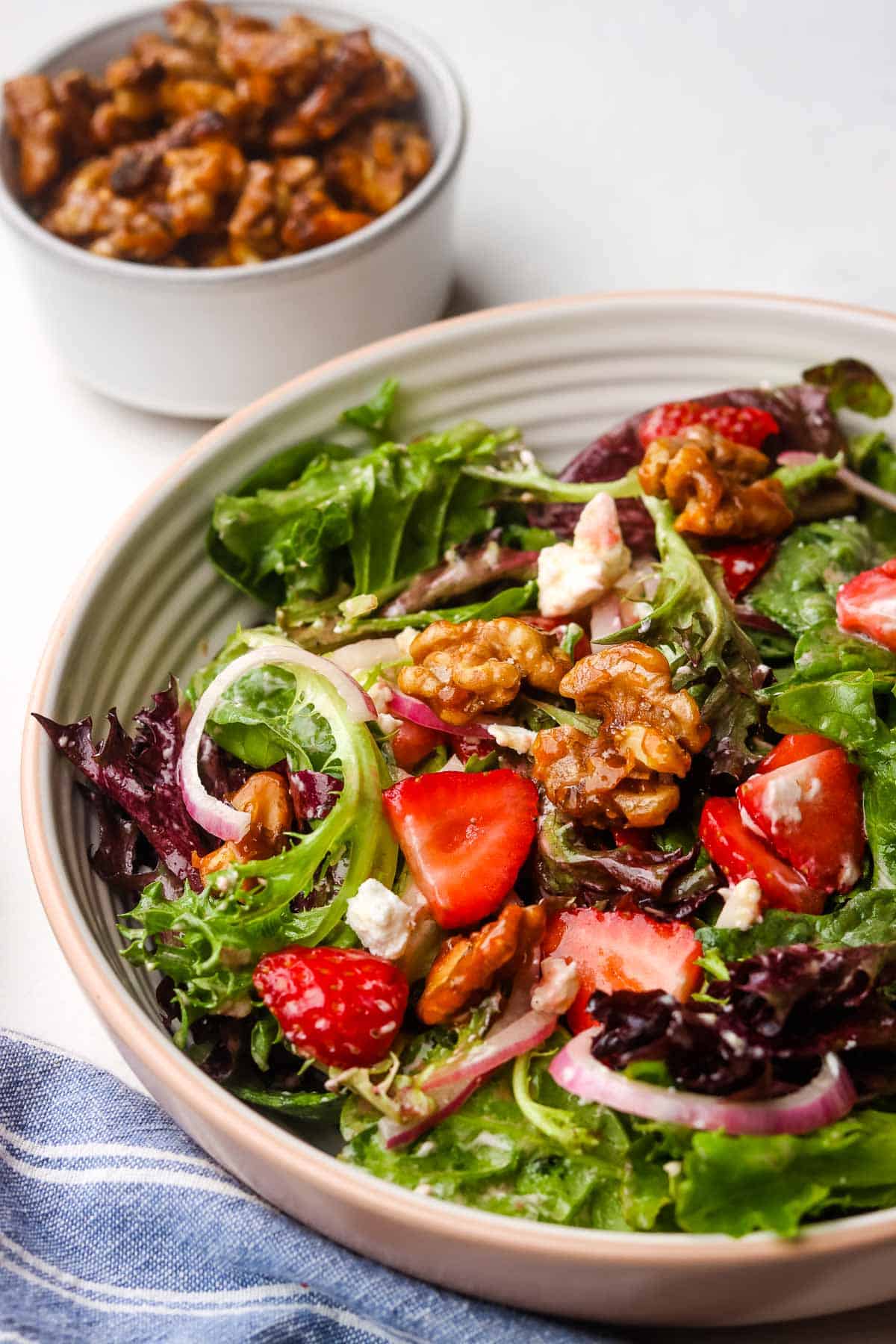 I'm sad to say that sometimes produce seasons pass me by with hardly an acknowledgment. So far the rhubarb and fiddlehead ferns have been missed opportunities this spring.
But there is one season that is celebrated around here like nobody's business. And that is strawberry season. We're still early in the season and the whole family has probably already eaten our collective weight in strawberries.
We've eaten them raw by the pound, and then we made strawberry turnovers, strawberry shortcakes, grilled halloumi and strawberry salads, and then this glorious strawberry walnut goat cheese salad.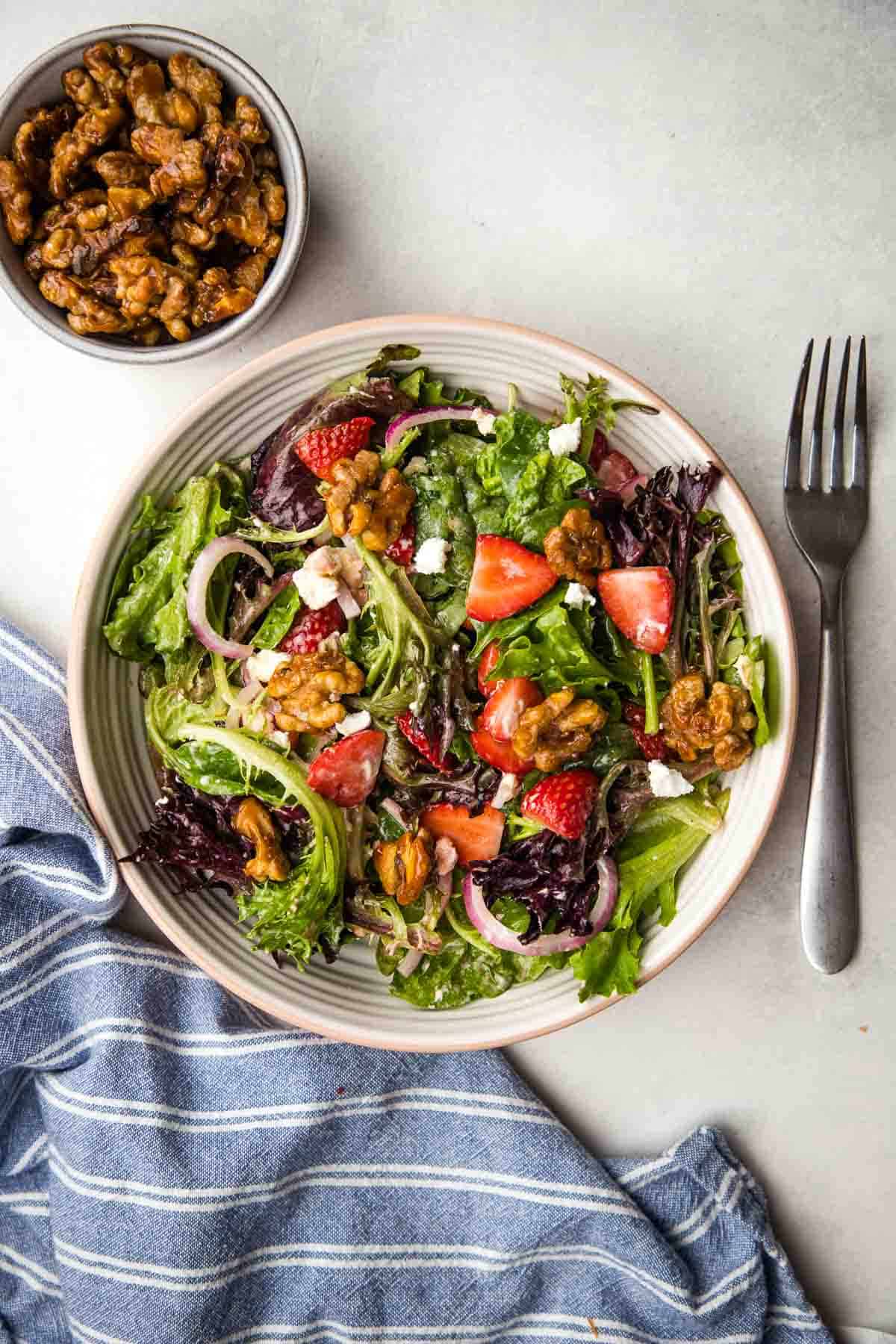 A great salad is truly a wonderful thing. Although this one is meatless, it still works well for a light summer dinner with a baguette on the side. And it definitely makes for a spectacular lunch.
I've also served it as a side. but to be honest it kind of steals the show.
A well composed salad is a symphony of flavors and textures. The sweet juiciness of strawberries. The bulk and slight bitterness of salad greens. The creaminess of goat cheese. The crunch of candied walnuts. The slight bite of red onions. And the tanginess of a perfectly balanced balsamic vinaigrette.
This salad was made for hot summer days. No cooking required except for the 5 minutes it takes to make the candied walnuts on the stovetop.
Feel free to make those walnuts in advance if you like, but be sure to hide them or they'll disappear before you get around to your salad ;).
INGREDIENT NOTES
Salad
Let's get started with the ingredients for the salad.
Strawberries
Definitely go fresh here and save the frozen ones for your smoothies. Ripe in-season strawberries really shine in this simple salad. I like to slice them thick for maximum impact.
Goat Cheese
Choose a good-quality goat cheese that you have tried before and actually enjoy eating. You want the creamy crumbly kind that's usually sold as a little log. I prefer to use plain goat cheese rather than the herbed or flavored varieties in this recipe and in general, but choose what you prefer!
Feta is a good alternative if you don't love the flavor of goat cheese.
Greens
Tender spring mix or baby greens work well in this recipe, and so do spinach and arugula. A heartier green like kale is nice too.
Red Onions
If raw red onions don't agree with you, try soaking them in cold water for about 15 minutes or so before adding them to your salad. This takes some of the sharpness out of them and reduces the lingering aftertaste.
For a milder option, try shallots, or green onions instead of red onions.
Walnuts
The crunchy candied walnuts are a star of this strawberry walnut goat cheese salad and they take just 5 minutes to make. Pecans work just as well as walnuts.
I did try these with brown sugar instead of granulated, but found it didn't melt or coat the nuts as well as the white sugar.
If you're watching your sugar intake you can simply toast the walnuts in a pan instead of candying them.
Balsamic Dressing
As for the dressing, the ingredients are pretty simple, and I bet you have them all on hand.
This easy, perfectly balanced balsamic vinaigrette works on so many salads, and is dynamite with strawberries.
STEP-BY-STEP STRAWBERRY GOAT CHEESE SALAD
Here's the step-by-step!
5-Minute Candied Walnuts
Start by making the easiest candied walnuts. No need to turn on the oven!
Heat a skillet over medium heat and add the walnuts, butter, sugar, and salt to the skillet.
2. Cook, stirring frequently until the sugar has caramelized and coats the walnuts completely.
3. Pour the candied walnuts over a parchment lined baking sheet and separate them before they harden and clump up together.
Salad Dressing
For the salad dressing, take a small bowl and mix the olive oil, balsamic vinegar, dijon mustard, maple syrup, garlic, salt, and pepper until creamy.
ASSEMBLE
Take a large bowl and add in your salad greens, strawberries, red onions, and goat cheese.
2. Pour dressing over it as desired and toss. You will probably not need all the dressing so start with a little and add more to taste.
3. Top with candied walnuts.
Recipe Variations
I love a green salad with strawberries, but you can substitute the strawberries with a mix of berries or another summer fruit like peaches or cherries.
If you love fruity salads but are looking for more of a fall take, try this apple salad with maple vinaigrette, or this pear and arugula salad.
If you'd like to bulk it up with a protein, chicken is a great choice.
If, for some reason, you don't want to use goat cheese or don't have it available, you can also use feta in this salad recipe.
Recipe Tips
Always start with less dressing than you think you'll need instead of using all of it at once.
Use high-quality ingredients in this recipe for best results. A quality balsamic vinegar that is thick and syrupy will make all the difference. I use the cheaper stuff in many cases but always the good stuff in salads.
Be sure to whisk the dressing until it's fully emulsified – meaning that the oil and vinegar are fully combined (see the video to see what that looks like). The role of mustard in this dressing is to help with emulsification so don't skip it. If you don't use the dressing right away, the oil and vinegar may separate again so be sure to whisk it again vigorously before adding to the salad.
Storage & Make-Ahead
Storage:
Use separate airtight containers to store the salad and dressing in the fridge. The salad can be kept fresh for up to three days after being mixed. The dressing can be stored in the refrigerator for up to two weeks.
Make Ahead:
Don't add any dressing to this salad until you are ready to serve it, otherwise it will get mushy. Using reusable containers, store each salad ingredient separately in the fridge and combine when ready to eat for the freshest salad.
Strawberry Goat Cheese Salad
This strawberry goat cheese salad, full of sweet, juicy, strawberries, crunchy candied walnuts, creamy goat cheese, and the perfect tangy balsamic vinaigrette is the ultimate spring or summer salad.
Print
Pin
Rate
Save
Saved!
Ingredients
¾

pint

strawberries

sliced ¼ inch thick

5

oz

spring mix

spinach, or other greens

½

small red onion

thinly sliced

3

oz

goat cheese

crumbled
Candied Walnuts
1

cup

walnut halves

¼

cup

granulated sugar

1

tablespoon

butter

1/4

teaspoon

salt
Balsamic Dressing
¼

cup

extra-virgin olive oil

1 ½

tablespoons

balsamic vinegar

2

teaspoons

dijon mustard

2

teaspoons

maple syrup

½

garlic clove

minced

¼

teaspoon

kosher salt

Freshly ground pepper

to taste
Instructions
Prepare the Candied Walnuts
Heat a medium nonstick skillet over medium heat and add the walnuts, sugar, butter, and salt.

Cook, stirring frequently until the sugar has fully melted and caramelized, and the nuts are well coated (about 5 minutes).

Pour the walnuts out onto a parchment-lined baking sheet and quickly separate them before they harden. Let them cool completely.
Make the Dressing
Whisk all the dressing ingredients together (olive oil, balsamic vinegar, dijon mustard, maple syrup, garlic, salt, and pepper) until creamy and emulsified.
Assemble the Salad
In a large bowl, toss together the greens, sliced strawberries, red onion and goat cheese.

Toss with desired amount of dressing (better to start with less and add more if needed).

Divide into servings and sprinkle, or serve with, candied walnuts.
Nutrition
Calories:
496
kcal
|
Carbohydrates:
29
g
|
Protein:
10
g
|
Fat:
40
g
|
Saturated Fat:
9
g
|
Polyunsaturated Fat:
16
g
|
Monounsaturated Fat:
14
g
|
Trans Fat:
1
g
|
Cholesterol:
17
mg
|
Sodium:
432
mg
|
Potassium:
372
mg
|
Fiber:
4
g
|
Sugar:
21
g
|
Vitamin A:
728
IU
|
Vitamin C:
62
mg
|
Calcium:
89
mg
|
Iron:
2
mg