This post contains links to affiliate websites, such as Amazon, and we receive an affiliate commission for any purchases made by you using these links. We appreciate your support!
These simple country potatoes are seasoned and roasted to golden brown perfection, then covered in melted cheese. They make the perfect side dish or breakfast food.
When I was 19, I had a brief stint as a hostess at a breakfast place in Houston. I'm not sure what I was thinking. I already had another waitressing gig where I mostly worked nights, and I had to be at the breakfast place at 6 am every morning.
6 am.
I don't remember exactly how long I lasted in that job, but if it was more than a week, it was all owing to one perk: an endless supply of the best cheesy breakfast potatoes ever.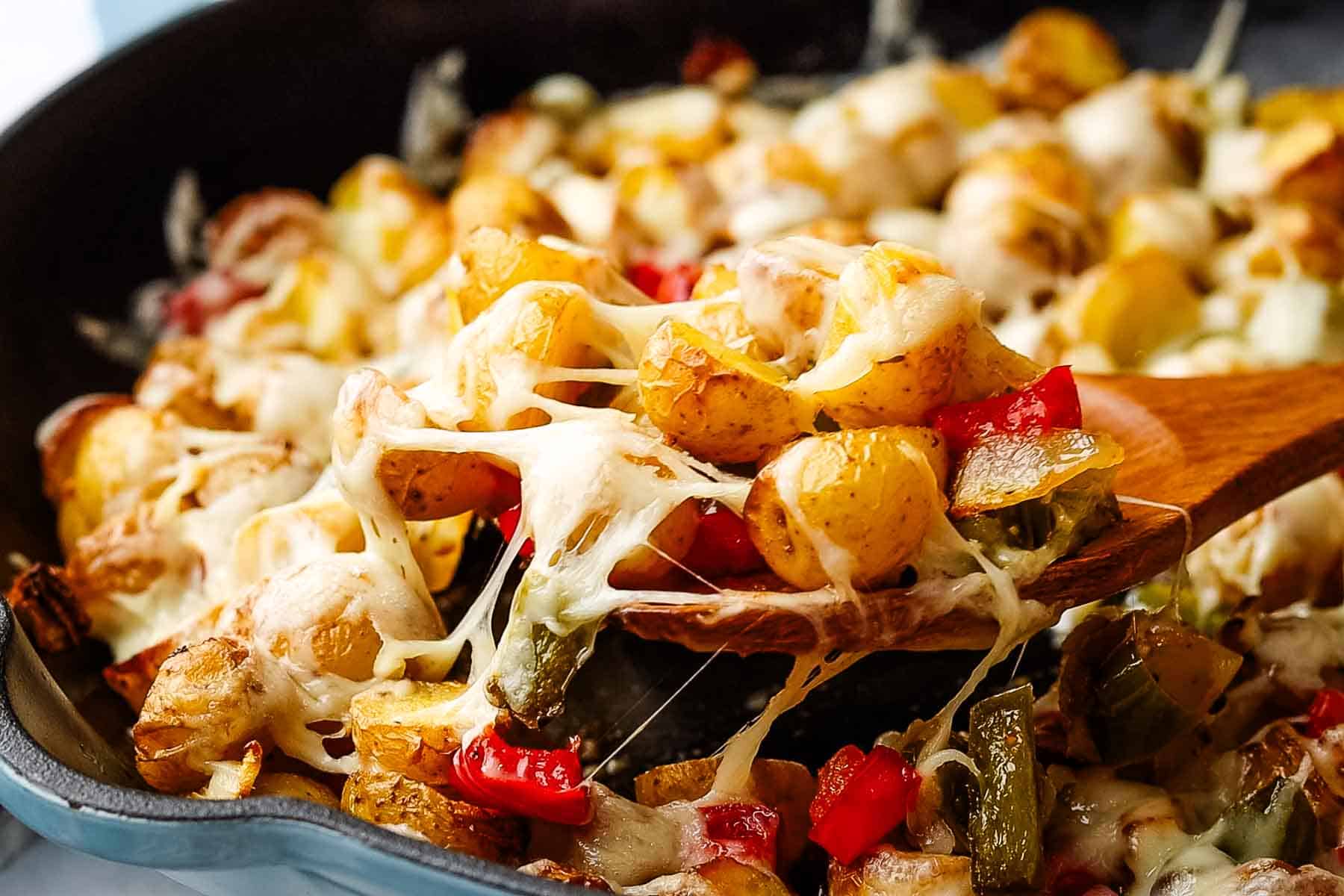 I've had my fair share of bland and dry breakfast potatoes – and I didn't know that what was really missing in my life was these country potatoes. Country potatoes are not rocket science and there are infinite ways to make them.
But, to be honest, this is the only way I ever want to eat my breakfast potatoes now. Roasted with lots of bell peppers, onions, seasonings, and CHEESE. Is this a Texas thing? I don't know, but I haven't seen them made like this up here.
And they are such a great breakfast food because they pair so well with both a low-effort fried egg or a juicy steak – or in true American style – both?
Most often, I will serve these potatoes with an easy sweet potato fritatta, or a goat cheese and sun-dried tomato frittata. And while these are great as breakfast potatoes, you can also easily serve these with a main like maple roasted pork chops or top round roast beef.
To be honest, I can and have made a meal out of these alone though 😉
Ingredient Notes
Potatoes
I like to use baby potatoes or fingerling potatoes for these country potatoes because it maximizes the amount of blistered skin (yum!), but you can definitely use Yukon Gold potatoes or russet potatoes, and just cut them into one-inch pieces.
Bell Peppers
Bell peppers are a non-negotiable in these country potatoes. I like to use both red bell pepper and green red pepper for the pop of color. But you can use whatever you have in the fridge. A little minced jalapeño pepper is nice too, for an extra kick!
Yellow Onion
Some recipes for country potatoes only use onion powder – but using diced yellow onion makes a HUGE difference in taste! You can definitely just use the onion powder seasoning but both the texture and taste would be different.
Garlic
I like to use minced garlic cloves because fresh garlic has such an elevated flavor and makes a huge difference in the dish! But you can definitely just use garlic powder if that is easy for you.
Olive Oil
I like to use olive oil for these breakfast potatoes. You can also swap out the olive oil for vegetable oil or canola oil – but olive oil has a few health benefits. The oil is going to help the seasonings stick to the potatoes, prevent the potatoes from sticking to the pan, and give you a crispier result.
If you would like to add bacon to your country potatoes, you can cook the bacon in the pan first, set it aside and crumble it, and then cook the veggies and potatoes in the bacon grease instead of oil. Toss the bacon back in after roasting.
Herbs & Seasoning
Feel free to add herbs and seasonings of your choice. Fresh rosemary or fresh thyme both lend such an amazing flavor to these country potatoes. Dried herbs and seasonings, or chili powder are also a great option. I personally loved adding a bit of Cajun spice in there, along with some extra cayenne for a little kick.
Cheese
The most important ingredient – a lot of shredded cheese! I like to use Monterey jack for this country potatoes recipe but cheddar, or any other nice melty cheese works too.
Step by Step Instructions
Preheat the oven to 425F. In a large bowl add the halved baby potatoes.
Now add the bell peppers, onion, garlic, olive oil, Cajun spice, a pinch of salt, black pepper, and cayenne pepper.
Toss it well to combine and transfer to a large skillet, this can be a cast iron skillet or an oven safe frying pan. Try to get all this into a single layer as much as possible.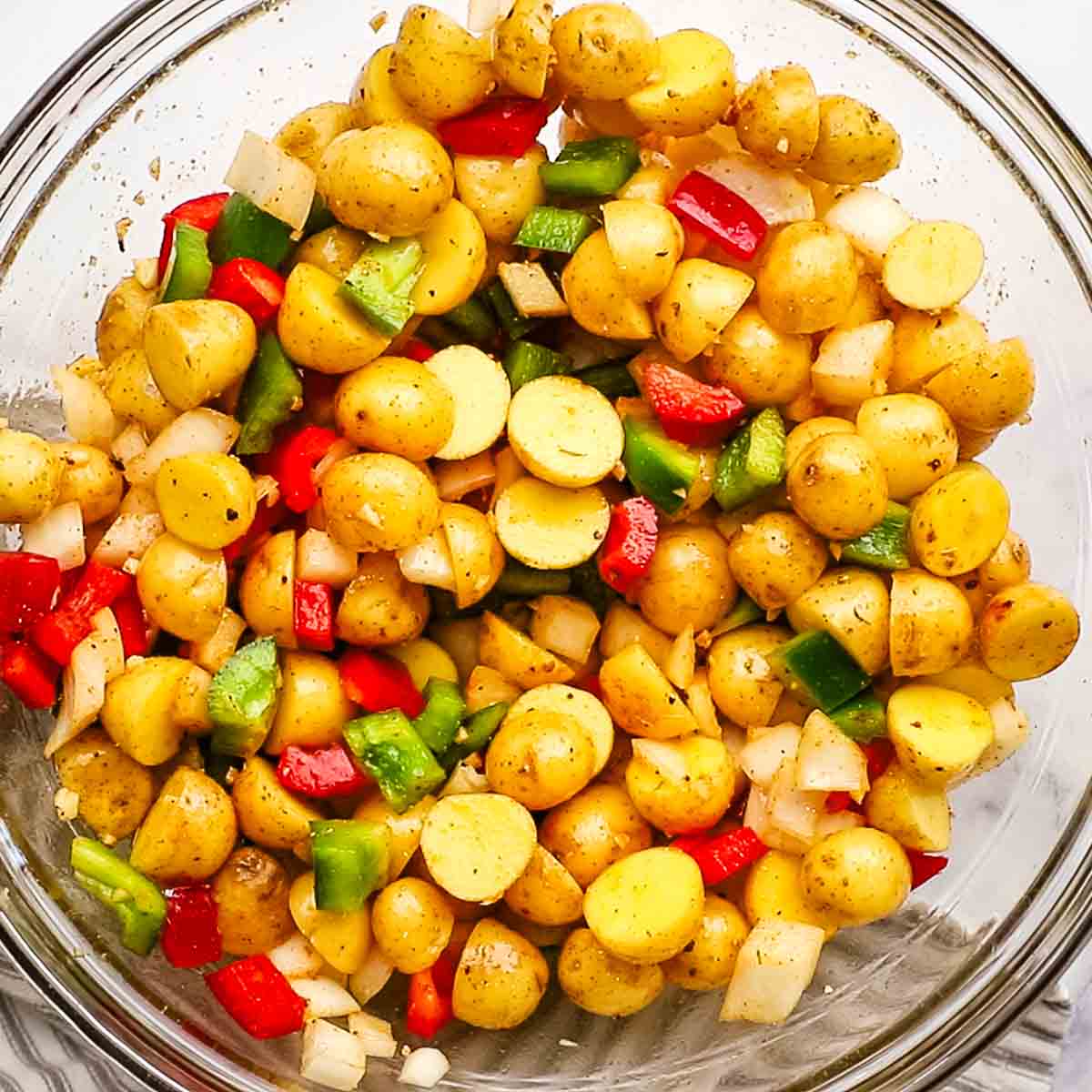 You can also roast these country potatoes in a sheet pan. Just spread the potatoes in a single layer on the sheet pan.
Roast the potatoes in the preheated oven. Stir halfway through and continue roasting.
After the country potatoes have turned golden brown and crispy, take them out of the oven and top with shredded cheese.
Now pop the skillet back into the oven for a few more minutes to melt the cheese.
These country potatoes have a tender interior and a perfectly crispy and golden brown exterior. This is a great side dish for any meaty main and one of my all-time favorite breakfast recipes.
Ways To Serve These Country Potatoes
The best thing about these cheesy country potatoes is that there are endless ways to serve them!
1. My perfect fall breakfast table would be incomplete without this sweet potato frittata, nutella french toast casserole, pumpkin oatmeal muffins, and these cheesy country potatoes.
2. Serve these home fries with a nice salad like this apple pecan salad and you're sorted for the sides with your Sunday roast.
3. These would also go great in your breakfast burritos or tacos.
Storage Instructions
These crispy potatoes are best served immediately for maximum crispiness and melty cheesiness. But if you have leftover potatoes, store them in an airtight container in the refrigerator for up to two days.
To reheat, pop them in the oven in a large skillet or just warm them up in the air fryer so you don't lose the crispy crust. You can also reheat them in the microwave but they won't be as crispy.
Make Ahead Instructions
If you want to meal prep these, just chop up all the ingredients and store in an airtight container. Then, you can toss everything together with the potatoes and roast!
More Easy Roasted Potato Recipes
Whether you're a fan of sweet potatoes or regular potatoes, there are so many easy and delicious way to enjoy roasted potatoes!
Frequently Asked Questions
Should you boil potatoes before roasting them?
This is really a matter of preference. If you are looking for a very crispy exterior, your best bet will be to use large potatoes, cut into chunks and parboiled before roasting. I prefer using small potatoes with a thin skin and roasting them on high heat. They may be somewhat less crispy, but to my taste, just as delicious.
What kind of potatoes are best for crispy country potatoes?
New potatoes are best for crispy potatoes because they have thinner skins than mature potatoes which helps to create a crispy exterior (unless you are parboiling large potatoes, as noted above). Also, their high moisture content helps to keep them moist and fluffy on the inside.
Cheesy Breakfast Potatoes
Cheesy breakfast potatoes are seasoned and tossed with bell peppers, onions, and garlic, then roasted to blistery perfection, and covered in melted cheese.
Print
Pin
Rate
Save
Saved!
Ingredients
1.5

lbs

baby potatoes

halved

1/2

red bell pepper

chopped

1/2

green bell pepper

chopped

1/2

yellow onion

chopped

2

cloves

garlic

minced

2

tablespoons

olive oil

1

teaspoon

Cajun seasoning

1/4

teaspoon

cayenne pepper

salt and pepper to taste

1

cup

Monterey Jack cheese

shredded
Instructions
Preheat the oven to 425 degrees F.


In a large bowl, toss together all ingredients except the cheese (potatoes, red and green bell peppers, onions, garlic, olive oil, Cajun seasoning, cayenne pepper, salt and pepper).

Transfer to a large (12 inch) cast iron pan or a large baking sheet and shake the pan to spread into a single layer.

Roast in the preheated oven for 30-40 minutes, after 20 minutes, until potatoes are browned and tender. Taste and sprinkle with additional salt and pepper if desired.

Sprinkle the potatoes evenly with shredded cheese, and return to the oven for another 5 minutes or so to melt the cheese. Serve immediately.
Nutrition
Calories:
210
kcal
|
Carbohydrates:
22
g
|
Protein:
7
g
|
Fat:
11
g
|
Saturated Fat:
4
g
|
Polyunsaturated Fat:
1
g
|
Monounsaturated Fat:
5
g
|
Cholesterol:
17
mg
|
Sodium:
121
mg
|
Potassium:
558
mg
|
Fiber:
3
g
|
Sugar:
2
g
|
Vitamin A:
693
IU
|
Vitamin C:
44
mg
|
Calcium:
161
mg
|
Iron:
1
mg