Roasted Asparagus and Potatoes
This simple side dish of roasted asparagus and potatoes, tossed with a garlicky, herby butter mixture and Parmesan cheese, makes the most of early spring asparagus and baby red potatoes.
Oven-roasted with garlic and herbs, and then sprinkled with Parmesan cheese, this is one vegetable side dish that everyone loves.
In case you hadn't noticed, I'm convinced that roasting even the most boring of vegetables is the absolute key to unlocking their flavor. See these maple balsamic roasted brussels sprouts and oven-roasted sweet potatoes with brown butter, or this roasted cauliflower with cumin and coriander for proof.
Not that I would dare to call potatoes boring, I mean they make the perfect side dish with so many meals – and there is just so much you can do with them! Fry them, boil them, bake them, roast them – they are delicious whatever you do.
Roasting asparagus on the other hand is a revelation! Briefly baked to crisp-tenderness with flavorful ingredients, asparagus to me just tastes like spring, and baby, or new, potatoes are their perfect partner.
Asparagus also happens to be jam-packed with vitamins, minerals, and antioxidants. It's also extremely low in calories and perfect for lighter spring dishes.
Which potatoes are best for roasting?
I love baby red potatoes for this baked asparagus and potatoes recipe. Their waxiness helps maintains a creamy inside, and their thin skin allows for good heat transfer.
If you can't find baby red potatoes, you can also use baby yellow potatoes, or regular red or yellow potatoes, cut into 1 inch pieces.
I prefer the creaminess of the waxier red or yellow potatoes in this recipe, but russet potatoes will also roast up nicely, if a little softer.
How to trim asparagus
The lowest section of the asparagus is quite woody and tough to eat. Finding the natural cutting point and then just bending the asparagus to break it is an easy technique to remove this woody part.
It should snap off at the right place, but to avoid waste, aim to snap where the green part of the stalks begins to fade to white.
Alternatively, you can simply place a bunch on a cutting board and use a knife to chop off about 1-2 inches from the end.
You can save these woody scraps to flavor stocks and broths. Just keep them in a freezer bag in the freezer with other vegetable scraps, and throw them in a pot of water to make a simple vegetable stock.
Ingredient Notes
Apart from the obvious heroes of the dish – the fresh asparagus and potatoes, this roasted red potatoes and asparagus dish only requires a handful of other ingredients.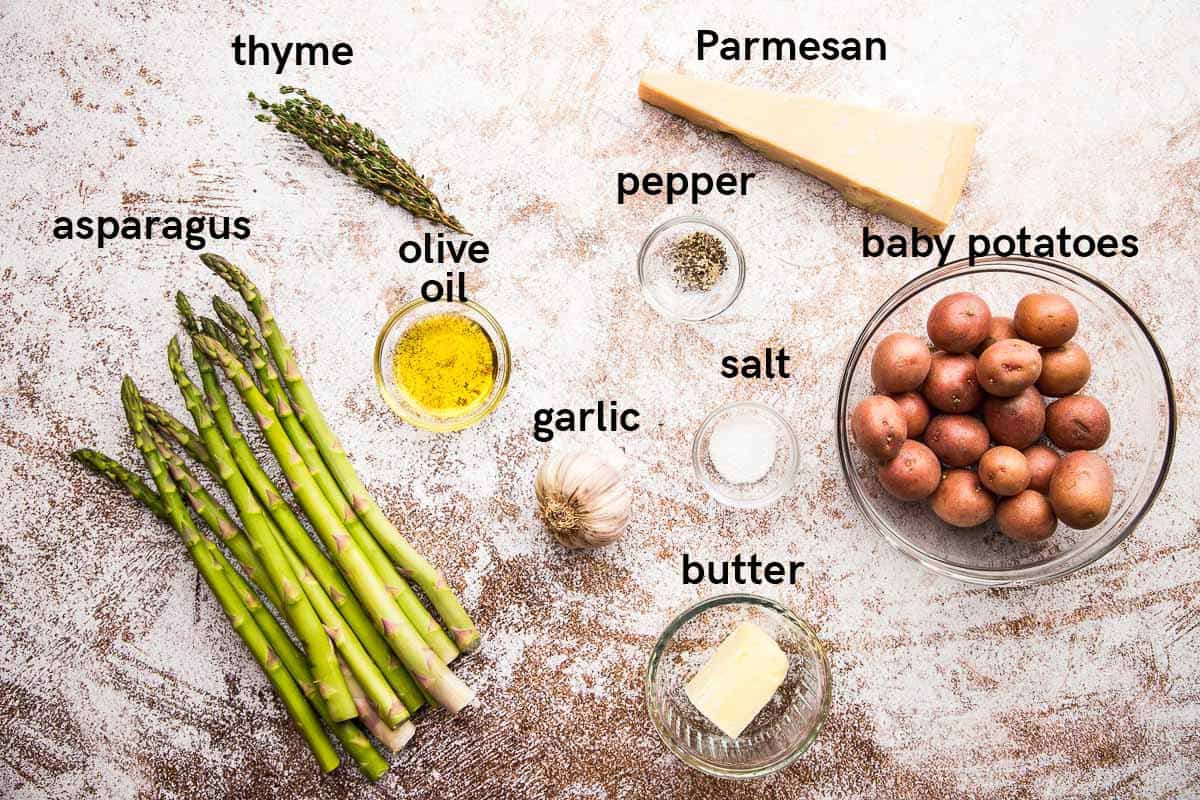 Olive Oil & Butter: I usually roast vegetables with only olive oil, but in the case of potatoes I find that adding in some butter aids with browning and flavor. Feel free to alter the ratios, or just skip the butter.
Spices & Seasoning: To season the vegetables, I love fresh thyme, salt, and pepper, and of course, a healthy amount of garlic. If you don't like thyme, try replacing another fresh herb. Finely chopped rosemary, or a combination of the two works well.
You can also use about 1.5 teaspoons of dried herbs or Italian seasoning if you don't have fresh herbs on hand.
Step-by-step roasted asparagus and potatoes
For a full visual, see the video in the recipe card at the bottom of this post!
2. Preheat the oven to 400 F. Trim the fresh asparagus and cut it into 2 inch pieces.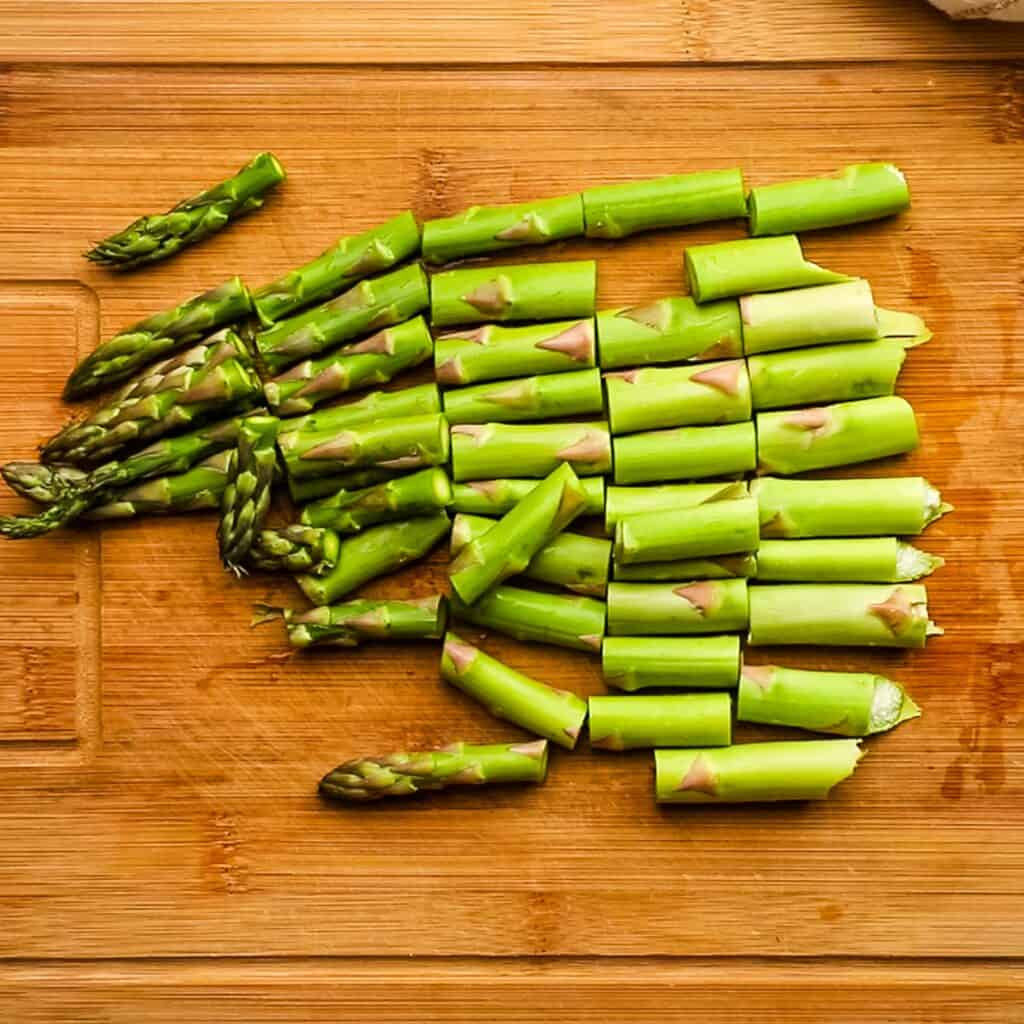 3. Cut the potatoes in half and set them aside.
4. Mix the fresh thyme, garlic, butter, olive oil, salt, and pepper in a small bowl.
5. Place the potatoes on a sheet pan and pour half of the mixture on the potatoes. Toss to coat the potatoes well.
6. Roast the seasoned potatoes in the oven for about 15 minutes.
7. After 15 minutes, take the potatoes out and add the trimmed asparagus and the rest of the seasoning on the pan. Toss to coat everything.
8. Roast the vegetables in the oven for 15 minutes till crisp tender.
9. Take the sheet pan out of the oven and sprinkle the vegetables with grated parmesan while warm.
10. Serve with your favorite meals.
Recipe variations and substitutions
This sheet pan asparagus and potatoes is a pretty basic recipe that you can add your own personal touch to according to your preference. Some easy ideas to vary the flavor of these baked asparagus and potatoes are:
Add more garlic and skip the fresh herbs if you are looking for a simple flavor.
Add crispy chopped bacon to the dish.
Skip the butter and Parmesan, or use dairy free butter to make this yummy dish completely vegan.
If you want a stronger flavor of fresh thyme, try sprinkling some fresh thyme on top of the roasted potatoes just before serving.
How to store
If you have leftovers, you can store them in a sealed container in the refrigerator for 2-3 days. Reheat by briefly warming in a hot skillet or oven.
Serving suggestions
We know how versatile potatoes are, and paired with asparagus, they make a great side dish for so many meals! I love pairing it meat mains like these maple soy-glazed pork chops or this Boneless Pork Lion Roast with Cranberry Orange Glaze, or these family favorite Grilled Chicken Thighs with Chimichurri. You can't go wrong with these simple sheet pan asparagus and potatoes!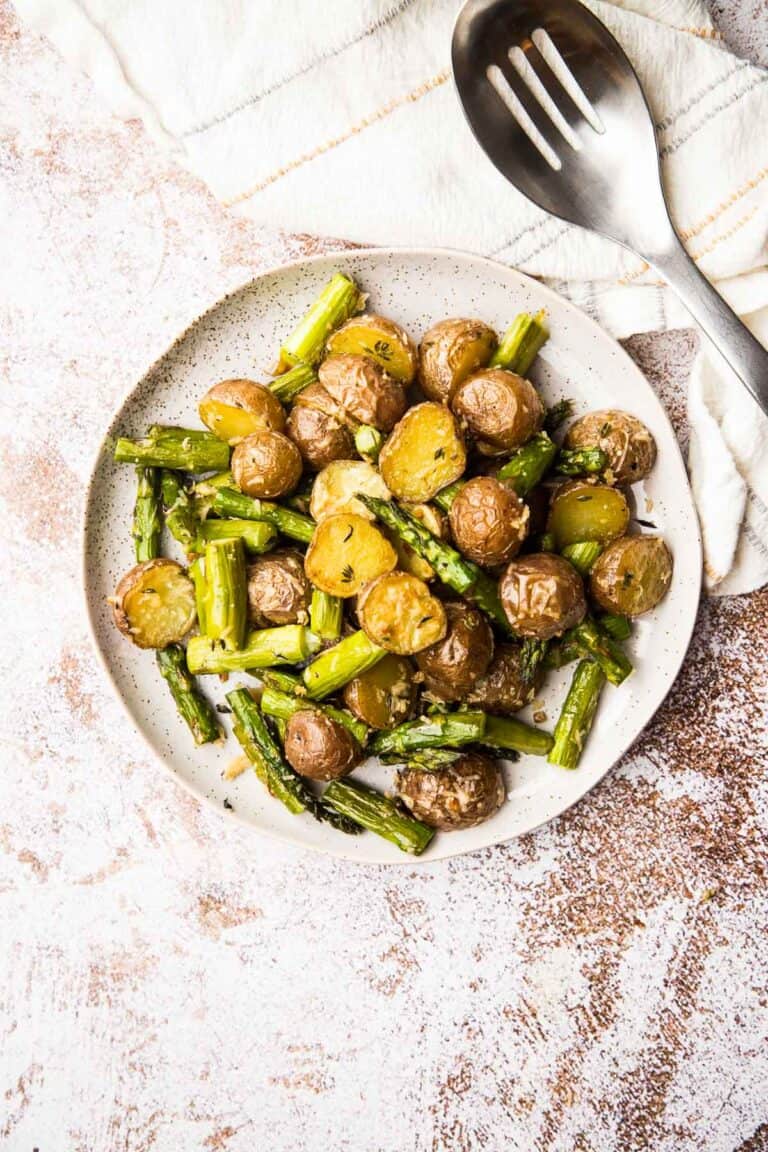 Frequently asked questions
Are red potatoes good for roasting?
Red potatoes have a rich and earthy flavour that's perfect for roasting. It is also a waxy potato that has high moisture and low starch content, which means its shape doesn't change much during cooking.
Do I need to peel the red potatoes before roasting?
You should wash your red potatoes to remove any dirt from the surface. However, whether or not you peel them is your own choice. I would advise you to leave the skin on and not peel them. The skin contains a lot of nutrients. It also crisps up while it cooks in the oven, giving the roasted asparagus and potatoes a lovely texture.
Is Asparagus good for you?
Asparagus has a low calorie count and is high in vitamins, minerals, and antioxidants, vitamins A, C, E, K, B6 (folate), fibre, copper, iron, calcium, and protein. It can also help with digestion, making it an excellent vegetable to include in your diet!
Roasted Asparagus and Potatoes
This simple side dish of roasted asparagus and potatoes, tossed with a garlicky, herby butter mixture, makes the most of early spring asparagus and baby red potatoes.
Print
Pin
Rate
Save
Saved!
Ingredients
1

bunch

asparagus

1 ½

lbs

baby red potatoes

1

tablespoon

fresh thyme*

3

cloves

garlic

minced

2

tablespoons

olive oil

2

tablespoons

butter

melted

1

teaspoon

kosher salt

½

teaspoon

freshly ground black pepper

¼

cup

grated Parmesan
Instructions
Preheat the oven to 425F

Trim the asparagus by snapping about 1-2 inches from the bottom of each stalk to remove the woody part. Cut into 2 inch pieces.

Cut the baby potatoes in half. Transfer to a large sheet pan.

In a small bowl, combine the fresh thyme, garlic, olive oil, butter, salt, and pepper.

Add half the mixture to the pan with the potatoes and toss to coat.

Transfer the pan to the oven and roast the potatoes for about 15 minutes.

Add the asparagus and remaining oil mixture to the pan and toss again to coat everything.

Transfer the pan back to the oven and roast another 15 minutes until vegetables are crisp tender.

Remove the pan from the oven and sprinkle the vegetables with grated Parmesan.

Serve warm.
Notes
*or 1.5 teaspoons dried thyme, rosemary, or Italian seasoning.
Nutrition
Calories:
190
kcal
|
Carbohydrates:
22
g
|
Protein:
5
g
|
Fat:
10
g
|
Saturated Fat:
4
g
|
Polyunsaturated Fat:
1
g
|
Monounsaturated Fat:
5
g
|
Trans Fat:
1
g
|
Cholesterol:
14
mg
|
Sodium:
513
mg
|
Potassium:
692
mg
|
Fiber:
4
g
|
Sugar:
3
g
|
Vitamin A:
784
IU
|
Vitamin C:
16
mg
|
Calcium:
76
mg
|
Iron:
3
mg