Chimichurri Chicken Thighs
This post contains links to affiliate websites, such as Amazon, and we receive an affiliate commission for any purchases made by you using these links. We appreciate your support!
Juicy, tender grilled Chimichurri chicken thighs are served with a flavor-packed chimichurri sauce that is used as both a marinade and topping for a perfect quick and easy summer meal!
Grilled chicken thighs are one of my favorite things to serve with this cilantro chimichurri sauce. Chimichurri, if you're not familiar is an herby, oil-based, Argentinian condiment typically served alongside grilled meats. Here's a brief history of chimichurri.
The tanginess of the sauce works perfectly with a juicy, slightly fatty cut of meat, like a steak or these chicken thighs.
Disclaimers…
I should note that it is NOT traditional in Argentina to use chimichurri as a marinade, but I just couldn't resist. It works so well as one, and I'm never one to say no to MORE FLAVOR. Are you?
Other point of possible contention… chimichurri does not traditionally contain cilantro. However I love its flavor here. Do feel free to just use more parsley instead of the cilantro if you prefer the more traditional recipe (or just don't care for cilantro)!
So these thighs are marinated in chimichurri for a few minutes (or a few hours) and then further slathered with it when they come off the grill. Seriously delicious.
Chimichurri is a 5-minute project that can be made in either a food processor or just by chopping everything finely by hand. Either way, you'll find that summer dining does not get much easier.
Step-by-step
Start by making the chimichurri. In a food processor, chop up a 1/2 cup of cilantro, 1/2 cup of parsley, 1 tablespoon fresh oregano, one small peeled shallot, 2 cloves of peeled garlic, and half a seeded jalapeno pepper.
Add 1 tablespoon of lemon juice, 1 tablespoon red wine vinegar, half a cup of olive oil, one teaspoon of kosher salt and some freshly ground pepper. Pulse just until the herbs are finely chopped, but not perfectly smooth. (You can chop everything by hand if you don't have a food processor!)
Trim any excess fat from the chicken thighs, place them in a baking dish or bowl, and season with salt and pepper.
Add 1/4 cup of the chimichurri to the thighs and turn to coat. Transfer to the refrigerator for 20 minutes or 2 hours, depending how much time you have.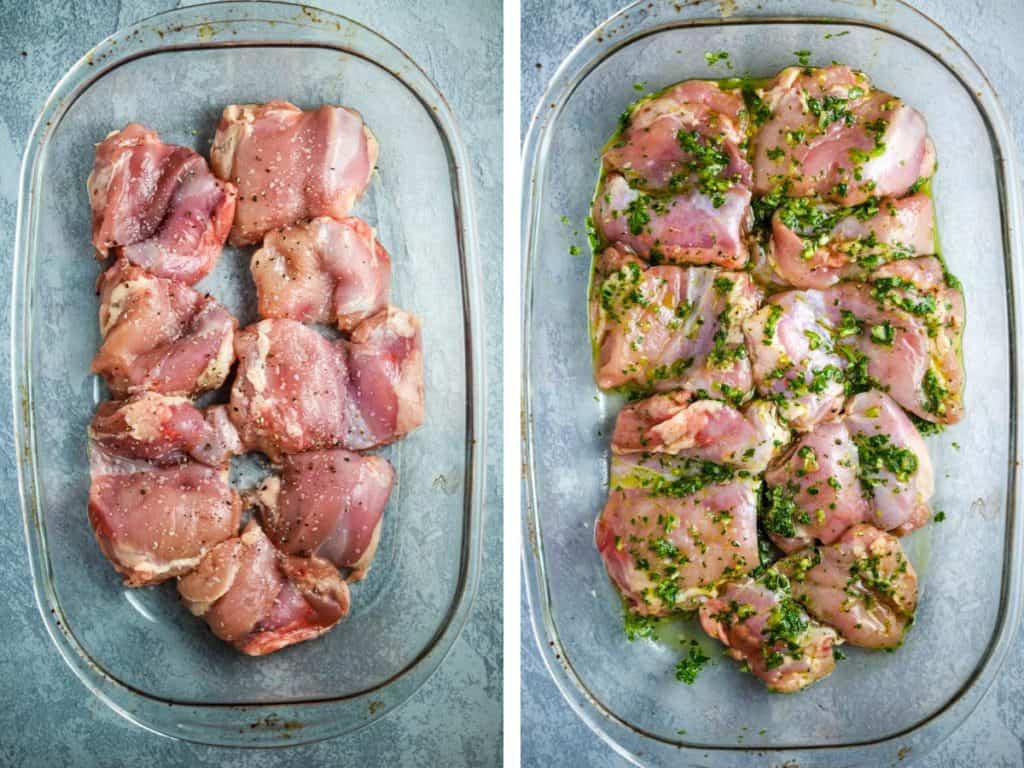 Remove the chicken from the fridge to let it warm up just a little while you heat up the grill to medium high.
Place the chicken on the grill and cook for about 5-6 minutes per side, until juices run clear.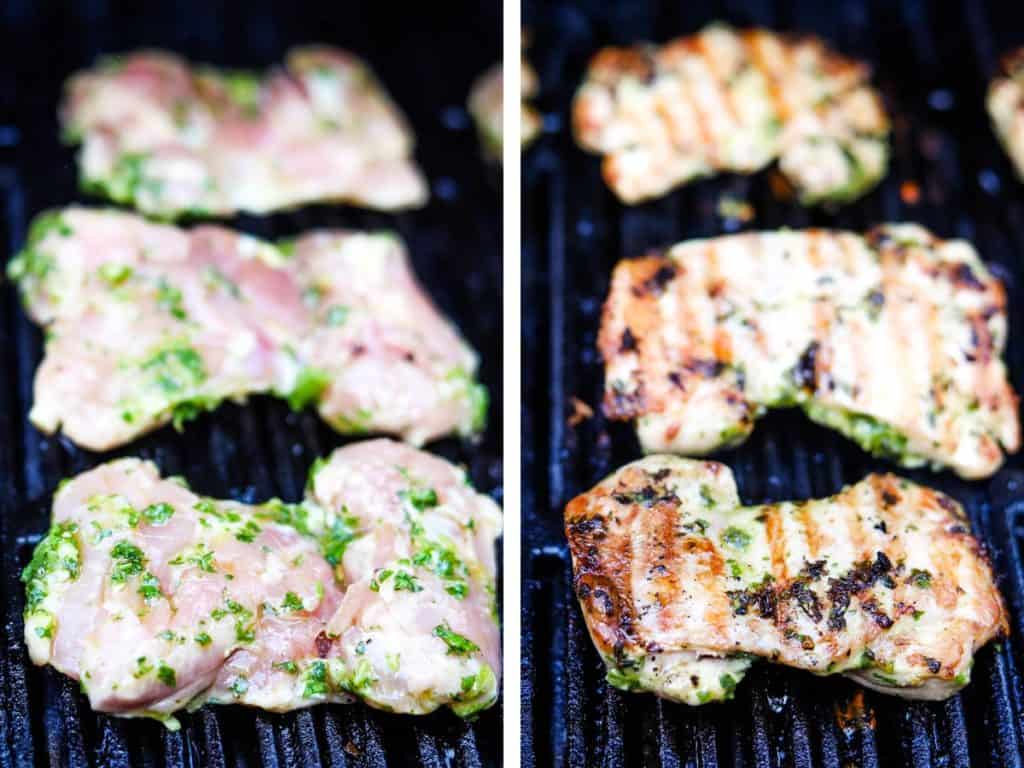 Serve with additional chimichurri on the side.
I love to serve these chimichurri marinated chicken thighs with grilled corn slathered with chimichurri, a fresh salad like this watermelon salad or baked coconut lime rice.
If you have leftover chimichurri, it is unbelievably good when swirled into this fresh summer corn soup.
Q & A
Can I use bone-in thighs, chicken breasts, or drumsticks instead of chicken thighs?
Totally! When I grill chicken breasts, I like to either cut them in half first, and then pound them to about a 1/2 inch thick, or butterfly them. They will take less time on the grill than thighs, so be sure to check them after about 6 minutes.

Breasts, being leaner than other cuts, dry out faster, so they benefit from less cooking time, which is why thinner is better.

As for drumsticks, or bone-in thighs, they will need a little extra time on the grill to fully cook, but otherwise can be treated the same as boneless, skinless thighs.

Can I cook these chicken thighs indoors?
Absolutely! A grill pan or cast iron skillet is your best bet for the juiciest thighs. Preheat the pan on medium high and cook the chicken for about 5-6 minutes per side.
How long can I marinate chicken thighs?
You can marinate your chicken thighs covered in the refrigerator for up to 24 hours. Bring to room temperature for 10-15 minutes before cooking to ensure even cooking.
Be sure to marinate at least 20-30 minutes (you can do this at room temperature) to get good flavor.
How long does it take to grill chicken thighs?
Boneless skinless chicken thighs will take about 5-6 minutes per side on medium-high heat. The internal temperature in the thickest part of the meat should reach 165F.
Make ahead
If you want to make the chimichurri ahead of time, it will keep in the fridge for up to 2 weeks, but for the best flavor, I wouldn't make it more than 1 or 2 days ahead.
Your chicken can be marinated for up to 24 hours, so you can assemble this meal up to a day and advance and cook them when you're ready to eat.
Storage
Cooked chicken thighs will keep in an airtight container in the refrigerator for 3-4 days.
Leftover chimichurri sauce can be frozen for 3-6 months in an airtight, freezer-safe container. An ice cube tray is a good way to freeze small portions. Freeze in the tray and transfer the cubes to a freezer bag to store.
Grilled Chicken Thighs with Chimichurri
Juicy, tender, grilled boneless skinless chicken thighs are served with a flavor-packed chimichurri sauce that is used as both a marinade and topping.
Print
Pin
Rate
Save
Saved!
Ingredients
1/2

cup

fresh cilantro

fresh

1/2

cup

fresh parsley

chopped, fresh

1

tablespoon

fresh oregano

or 1 teaspoon dried

1

small shallot

peeled

2

cloves

garlic

peeled

1/2

jalapeno pepper

seeded

1

tablespoon

fresh lemon juice

1

tablespoon

red wine vinegar

1/2

cup

olive oil

1

teaspoon

kosher salt

fresh ground pepper

2

lbs

boneless skinless chicken thighs*
Instructions
In a food processor, combine the cilantro, parsley, oregano, shallot, garlic, and jalapeño.

Add the lemon juice, red wine vinegar, olive oil, salt, and pepper and pulse until well combined and finely chopped.

Place the chicken in a baking dish, season with salt and pepper, and cover with a 1/4 cup of the chimichurri. Turn to coat the chicken completely. Marinate for 20 minutes to 24 hours in the refrigerator.

Take the chicken out of the fridge to warm up slightly while heating the grill to medium high. Cook the chicken about 5-6 minutes per side, until juices run clear.

Serve with extra chimichurri on the side.
Notes
*Chicken breasts, drumsticks, or bone-in thighs may be used instead. If using chicken breasts, cut them in half if they are large, and pound to 1/2 inch thick, if necessary. They will cook more quickly than thighs, around 4 minutes per side. Bone-in cuts will cook more slowly, so give them a couple of extra minutes.
*Although chimichurri sauce will keep for up to a week in the refrigerator, it tastes best when used within 1-2 days.
Nutrition
Calories:
444
kcal
|
Carbohydrates:
3
g
|
Protein:
44
g
|
Fat:
27
g
|
Saturated Fat:
5
g
|
Cholesterol:
215
mg
|
Sodium:
790
mg
|
Potassium:
644
mg
|
Fiber:
1
g
|
Sugar:
1
g
|
Vitamin A:
861
IU
|
Vitamin C:
15
mg
|
Calcium:
53
mg
|
Iron:
3
mg