Sheet Pan Dinner with Fish and Brown butter Sauce
This post contains links to affiliate websites, such as Amazon, and we receive an affiliate commission for any purchases made by you using these links. We appreciate your support!
This simple sheet pan dinner is easy and versatile. Throw any kind of fish, veggies and potatoes onto your pan, make an easy but magical 3 ingredient brown butter sauce on the side and dinner is ready!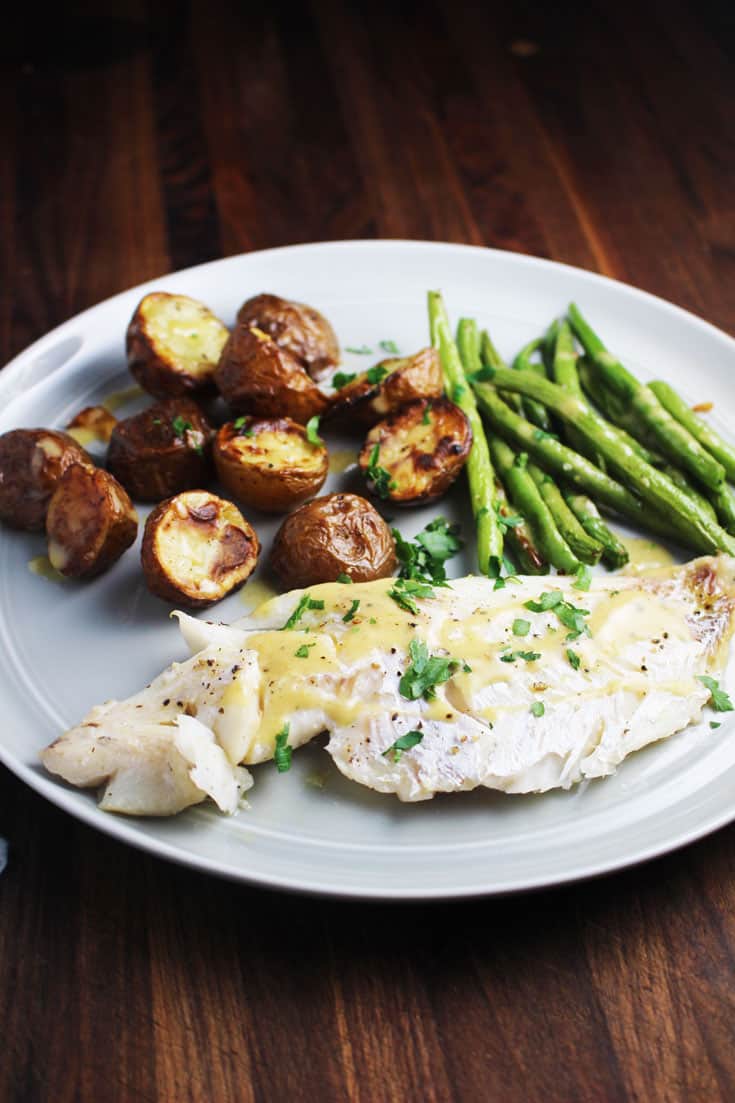 When I'm looking for a multi-component (so not "one pot") meal I can just throw onto a cooking surface with minimal prep and babysitting, I usually turn to the grill.
Well…when it's warm out. And not raining. Or snowing. But I feel like those days are way too few and far between in my neck of the woods :(.
The good news is, for the three quarters of the year that we're enduring all manner of crappy weather, there's a solution that works just as well as the grill. (Maybe even better, since, confession: lighting up the gas BBQ scares the living daylights out of me.).
The answer is: a sheet pan dinner! Throw some protein and veggies onto a sheet pan, bake for a while and there's dinner. No muss, no fuss.
Usually we opt for some type of meat and veggie combo like this sausage sheet pan dinner, but if you've never tried it before, fish is a great sheet pan option too!
Sustainable Fish
As with most of the recipes you'll find here, you can totally get creative with what you have on hand for this sheet pan dinner recipe. I used haddock, but any type of fish from salmon to snapper will work well.
I do like to go the extra mile and find sustainably sourced fish. If you have trouble finding quality wild-caught or responsibly farmed fish in your 'hood, you can get it online from Thrive Market.
I love this article from National Geographic about sustainable fishing, if you're looking for more info on that.
For the veggie component, I used string beans, but asparagus, carrots, broccoli or Brussels sprouts would be equally delicious.
Potatoes are kind of required though as far as I'm concerned ;).
The Sauce
Actually I firmly believe that the magical three-ingredient sauce you whip up while the rest of your meal is doing its thing in the oven could make an old shoe taste amazing.
Maybe don't try that one though.
The secret to the magic of this sauce is in the brown butter. Ever made brown butter? It can replace melted butter in pretty much anything and bring it to new heights of deliciousness.
For proof, just try to resist these brown butter crispy rice treats (my very first recipe on the blog!).
How to Make Brown Butter
Browning butter is really easy. Just melt the butter over medium heat in a light-colored pan. The light colored-pan is nice so you can see the solids browning at the bottom, which helps prevent burning the butter. There is no need to stir the butter while it's browning, but I like to swirl the pan now and then.
After about 5 minutes of sizzling, you will notice a nutty aroma, and you'll see that the bottom of the pan is starting to turn brown, and the butter itself is a deeper yellow. There will probably be some foam on top, but you can push it aside with a spoon to see the color.
As soon as it looks like this, remove from heat and pour the butter into a bowl. The butter can burn easily, even from the residual heat in the pan, so it's best to remove it as soon as it's ready.
That's it! Whiz the butter together with some lemon juice and mustard using an immersion blender, or a whisk. Add salt and pepper to taste, and pour on everything!
Ah, and while we're on the subject of fish, if you're looking for another easy super-flavorful fish recipe, try this family favorite, sriracha salmon.
Have a great weekend! 🙂
xx
Sound good to you? If you make this recipe, I would be THRILLED if you would take a pic and tag me on Instagram @ourhappymess!
And if you're looking for more easy dinner inspiration, follow me on Pinterest, Instagram, Facebook or Twitter. Or subscribe in the sidebar on the right to get every new recipe in your inbox 🙂
Sheet Pan Dinner with Fish and Brown Butter Sauce
This simple sheet pan dinner is easy and versatile. Throw any kind of fish, veggies and potatoes onto your pan, make an easy but magical 3 ingredient brown butter sauce on the side and dinner is ready!
Print
Pin
Rate
Save
Saved!
Ingredients
2

tablespoon

olive oil

4

6 oz haddock fillets

or tilapia, salmon, cod etc.

3/4

lb

green beans

trimmed

2

lbs

new potatoes

sliced in half (or regular potatoes, cut into 3/4-inch pieces)

salt and pepper to taste
Brown Butter Sauce
8

tablespoons

unsalted butter

(one stick)

1

lemon

zested and juiced

(3 tablespoons of juice are needed)

3

tablespoons

dijon mustard
Instructions
Preheat the oven to 400 degrees F.

On a large (half-sheet) sheet pan, toss the halved potatoes with one tablespoon of olive oil and sprinkle with a large pinch of salt and pepper. Bake in the preheated oven for 15 minutes, until almost tender, tossing once.

Remove the pan from the oven and toss the potatoes to one side. Add remaining tablespoon of olive oil to the other side of the pan and spread it around. Add the fish filets and green beans, spreading things out in one layer, as much as possible. Sprinkle with salt and pepper, and a little olive oil if desired. Return to the oven and bake for an additional 10-15 minutes, until the fish flakes easily with a fork. (This may take more or less time depending on the type of fish used).
Brown Butter Sauce
While things are in the oven, make the sauce.

Melt the butter over medium heat in a light-colored saucepan or skillet. Swirling the pan occasionally, cook until the butter solids begin to brown at the bottom of the pan and the butter turns golden and starts to smell nutty. Remove from heat immediately and transfer to a small bowl or measuring cup.

Add zest of one lemon and 3 tablespoons of lemon juice, and mustard. Whisk or blitz with an immersion blender until emulsified. Season with salt and pepper to taste. Pour over plated fish and vegetables. It is a rich sauce, so use judiciously ;).
Nutrition
Calories:
537
kcal
|
Carbohydrates:
46
g
|
Protein:
43
g
|
Fat:
20
g
|
Saturated Fat:
8
g
|
Cholesterol:
151
mg
|
Sodium:
627
mg
|
Potassium:
1793
mg
|
Fiber:
7
g
|
Sugar:
4
g
|
Vitamin A:
1065
IU
|
Vitamin C:
56
mg
|
Calcium:
93
mg
|
Iron:
3.2
mg