These oven-roasted harissa potatoes are a simple side dish with a spicy kick. Tossed with harissa, these potatoes are flavorful with a little heat, and pair perfectly with so many things.
Do you need another potato side dish in your life? Yes, you do. Because who doesn't love potatoes? Roasted, baked, mashed, or fried, this seemingly plain and basic vegetable is universally loved for a reason.
And while everyone has their own favorite ways of eating potatoes – my favorite has to be roast potatoes.
I love roasted asparagus and potatoes for a quick side, or these Easy Loaded Baked Potato Bites for a fun appetizer, but this time I really wanted to experiment with different spices and flavors.
And it turns out Harissa Potatoes are as good as they sound!
How to Make the Best Harissa Potatoes
What is Harissa?
Harissa is a spicy paste or sauce that is commonly used in North African and Middle Eastern cuisine.
It is made from a blend of hot chili peppers, garlic, olive oil, and various spices, which may include coriander, cumin, caraway, and mint. Other ingredients, such as roasted red peppers or tomatoes, may also be added to provide sweetness and balance out the heat.
Harissa is known for its fiery flavor and is often used to add heat and depth to dishes. It can range in spiciness from mild to very hot, depending on the type and amount of chili peppers used in the recipe.
How to use Harissa?
Harissa is typically used as a condiment or flavoring agent in dishes such as couscous, tagines, grilled meats, and vegetables.
It can be used as a rub or marinade for meat, added to soups or stews, like this red pepper carrot soup. It can also be used as a dip for bread or vegetables.
I have previously used harissa with sweet potatoes in my roasted sweet potato and baby kale salad, but I had never used it with regular potatoes. And of course, it worked great!
Ingredient Notes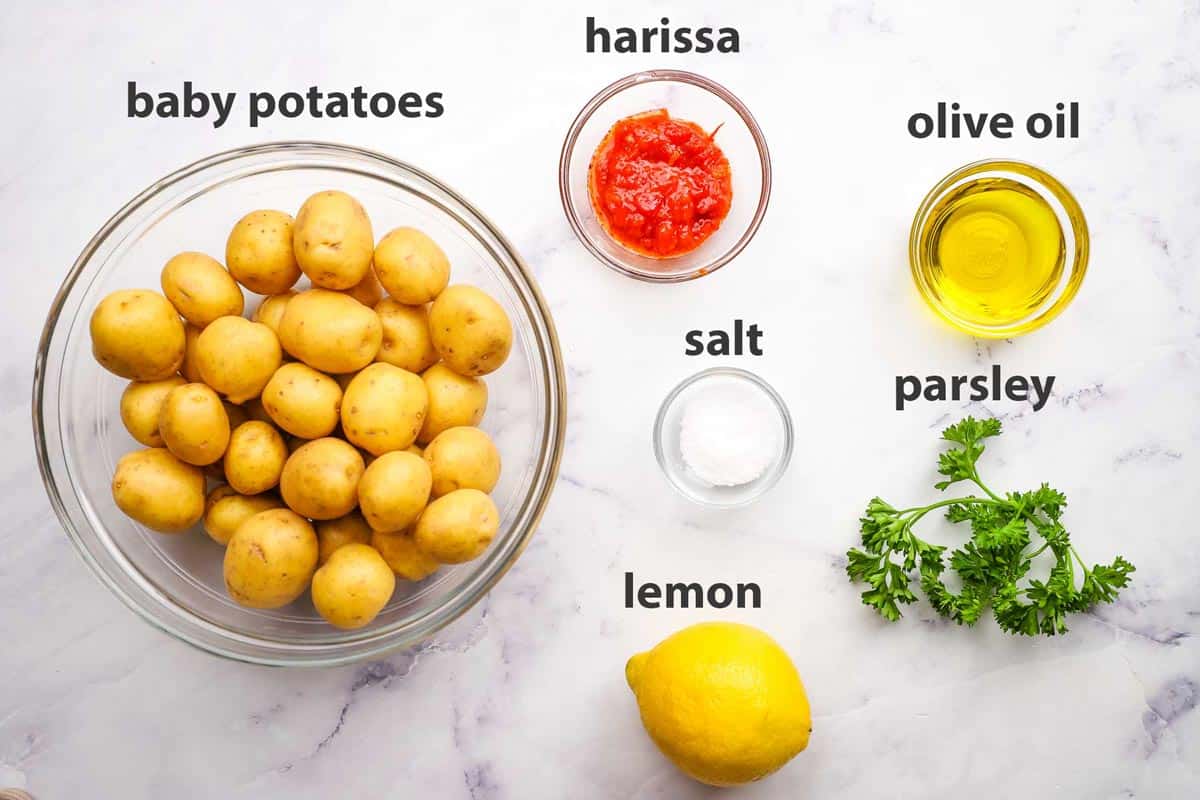 Baby Potatoes
Baby potatoes are my first choice in all roasting recipes because they require so little prep. But if you don't have baby potatoes available, Yukon gold potatoes cut into chunks work great, as do red potatoes. Waxier varieties like these work best for roasting.
Just make sure to cut them in small, equally sized pieces so that they cook evenly.
Harissa Paste
Harissa paste is pretty spicy and pungent on its own, so that's your major seasoning here, of course. You can adjust how much you use according to whatever brand you opt for.
I use this Mina brand Harissa paste, which is really more sauce-like in consistency, and it comes in both mild and spicy. I used the spicy variety in this recipe and found the heat level (about medium) perfect for these potatoes.
A small tip: Taste your Harissa paste before using it so that you can add it accordingly!
Olive oil
I like to use heart-healthy olive oil in this recipe to make these potatoes crispy and amazing, although any other oil with a high smoke point, such as vegetable or grape seed oil, will work great.
Lemon juice
Fresh lemon juice adds a nice acidity that goes perfectly well with the spice.
Step by Step Instructions
Preheat the oven to 425F.
Slice your baby potatoes in half.
3. Toss your potatoes in a bowl with the olive oil, salt, and harissa paste.
4. Take a large baking sheet and spread the potatoes on it in a single layer. Tip: if you want them extra browned and roasty, turn them all cut side down.
5. Roast in the oven for 25-28 minutes, tossing halfway through. Now toss them on the baking sheet with the remaining harissa paste, lemon juice, and parsley.
Your harissa potatoes are ready to serve!
Serving Suggestions
There are endless options for these to be served as side dish or as part of a bigger spread on holiday dinners. They're also pretty great just on their own. Anyway, here are some of my favs!
Roasted potatoes and Roasted Chicken Breasts with Boursin are a great combo.
Keep it veggie as a side with these Mediterranean Stuffed Peppers or Mediterranean Black Bean Burgers
Or try them from brunch with eggs or a goat cheese and sun dried tomato frittata!
Storage Instructions
Harissa potatoes, like most roast potatoes, are best when consumed right away.
If there are any leftovers, store them in an airtight container in the refrigerator for up to three days before "re-roasting" them for 10 to 15 minutes at 400°F in an oven with some heated oil and aluminium foil. (Although certain members of my family enjoy leftovers cold from the Tupperware container ;)).
If you have an air fryer, you can also cook them for ten minutes at 200°C with a spritz of oil spray.
You can also freeze them and reheat in the oven, covered with foil, at 400°F for about 20 minutes without defrosting.
Q & A
Can I make these in the air fryer?
Yes! If you don't feel like turning on the oven in the summer, you can use your air fryer for these. The potatoes should be cooked for 15 minutes in a single layer with the fryer heated to 400 degrees. But the cooking time can vary according to air fryer and the type of potatoes you use.
Is harissa very spicy?
Yes, it is! But it varies based on the brand, and many brands such as Mina have both mild and spicy varieties. Your best bet is to taste it before using and adjust the quantity used to your preference.
Can I use harissa powder instead of harissa paste?
If harissa spice powder is what you have, then yes you can! Just sprinkle it on as-is, to taste, like any other spice. Or combine it with a little water and oil to form a paste and use as directed.
Harissa Potatoes
These oven-roasted harissa potatoes are a simple side dish with a spicy kick. Tossed with harissa, these potatoes are flavorful with a little heat, and pair perfectly with so many things.
Print
Pin
Rate
Save
Saved!
Ingredients
1.5

lbs

baby potatoes

cut in half

2

tablespoons

olive oil

1

teaspoon

kosher salt

2

tablespoons

harissa paste

*see note

Lemon juice to taste.

Chopped parsley for garnish
Instructions
Preheat the oven to 425F

In a small bowl, toss the potatoes with olive oil, kosher salt and 1 tablespoon harissa paste.

Spread potatoes in a single layer onto a large baking sheet and roast in the preheated oven 25-28 minutes, tossing halfway through, until fork tender.

Toss roasted potatoes with the remaining tablespoon of harissa paste. Sprinkle with parsley and a squeeze of lemon juice.
Notes
*Harissa paste is a North African condiment that is easy to find in most well-stocked grocery stores. I like the Mina brand, which has more of chunky sauce consistency and is available in mild or spicy. I used the spicy variety in this recipe and the quantity used gave a medium level of heat. Otherwise, heat level varies by brand, so taste and adjust the amount used to your preference.
Nutrition
Calories:
200
kcal
|
Carbohydrates:
31
g
|
Protein:
4
g
|
Fat:
7
g
|
Saturated Fat:
1
g
|
Polyunsaturated Fat:
1
g
|
Monounsaturated Fat:
5
g
|
Sodium:
692
mg
|
Potassium:
744
mg
|
Fiber:
4
g
|
Sugar:
2
g
|
Vitamin A:
54
IU
|
Vitamin C:
35
mg
|
Calcium:
22
mg
|
Iron:
1
mg