This simple 15-minute tomato Alfredo sauce is full of traditional Italian flavors. Fresh tomatoes are quickly sautéed and simmered with cream and Parmesan, then tossed with pasta and sprinkled with fresh basil.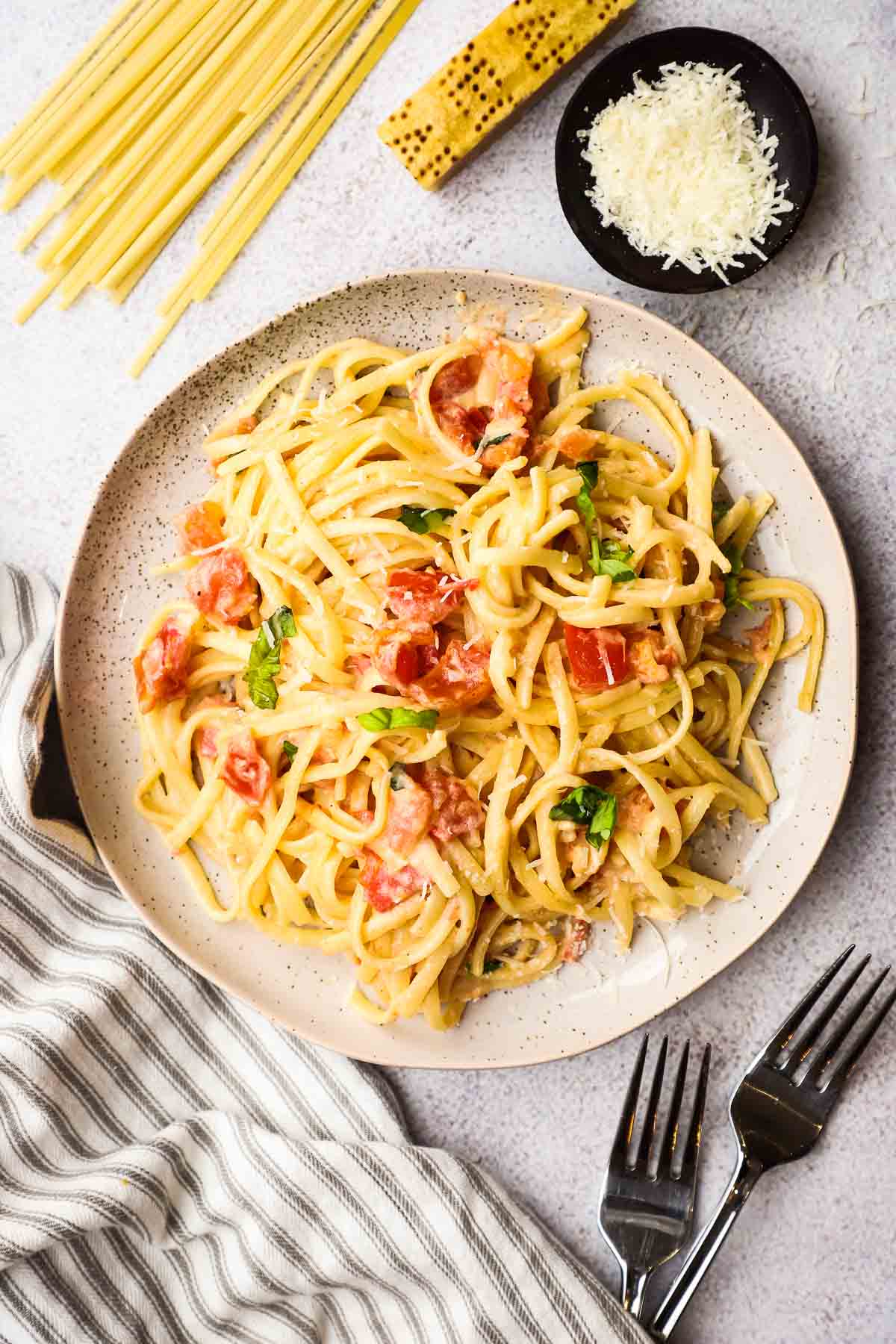 Picture this: a velvety sauce that marries the rich, indulgent goodness of Alfredo with the vibrant, tangy essence of ripe tomatoes. It's like a harmonious duet that will serenade your palate with each and every bite!
If you're looking to expand your repertoire of easy weeknight meals that require no advance prep, pasta night should be a must in your weekly menu.
From an easy pasta carbonara, a versatile cajun sausage pasta, or this Mediterranean inspired Halloumi pasta, most recipes will take max 30 minutes for you to get dinner on the table.
This tomato Alfredo sauce is going to be your new favorite pasta sauce this summer. Variations are endless, and you can have a restaurant-quality meal on the table in mere minutes. Like, FIFTEEN minutes!
The Inspiration for this Tomato Alfredo Sauce
Sometimes, you're just feeling a creamy pasta – but with something to cut the heaviness that comes with it, and tangy tomatoes are the perfect candidate for that.
The inspiration for this tomato alfredo sauce recipe is a simple rosé sauce I sometimes make by mixing a bit of cream into regular tomato sauce. Tasty for sure, but a bit heavy, and I was looking for a way to lighten it up for summertime using fresh tomatoes.
It was a wonderful surprise how easy this fresh tomato alfredo sauce turned out to be!
What is Alfredo Sauce?
Alfredo sauce is a creamy Italian sauce originating in Rome. The key ingredients are butter, cream, and Parmesan cheese. These humble elements come together to form a rich, velvety, smooth sauce that delicately clings to every strand of pasta.
While this sauce is Alfredo-style with cream, butter and Parmesan, I reduced the quantities of those heavy ingredients, and added fresh tomatoes for little bursts of juicy acidity.
This ridiculously simple tomato Alfredo sauce pasta dish is just fresh tomatoes sautéed a bit and mixed with cream. Add Parmesan and fresh basil, and it's positively bursting with the Italian flavors we know and love.
Ingredient Notes
Butter
Butter adds richness and depth of flavor to this tomato alfredo sauce. It helps create a velvety smooth sauce that coats the pasta beautifully. Opt for unsalted butter to have better control over the saltiness of the dish.
Garlic
Garlic is one of the star aromatic ingredients that infuses the dish with its distinct and irresistible aroma. It adds a savory note and a touch of boldness to this creamy tomato Alfredo sauce. Fresh garlic cloves will give you the best flavor.
Tomatoes
I like to use plum (or Italian) tomatoes for this recipe, because they are meatier, tastier, less juicy, and generally better for sauce, in my opinion, than regular tomatoes.
Tomatoes contribute freshness and a hint of acidity to balance the richness of the creamy sauce. I like to remove the seeds to prevent the sauce from becoming watery.
Heavy cream
Heavy cream is the not-so-secret ingredient that creates the luscious, velvety texture of this tomato Alfredo sauce. It adds richness and depth, making each bite a decadent delight. You can also use half-and-half for a lighter version, but the sauce won't be as thick.
Parmesan cheese
Parmesan cheese brings a nutty, salty, and complex flavor to the dish. Freshly grated Parmesan cheese provides the best taste and texture. It melts into the tomato Alfredo sauce, adding creaminess and enhancing the savory profile.
Unfortunately pre-shredded cheese does not melt nearly as well as cheese freshly shredded from a block.
Pasta
Long pastas like fettuccine and linguine are popular choices for Alfredo-style sauces, but you can use any pasta shape you prefer. Whether it's fettuccine, spaghetti, or penne, the key is to cook the pasta until al dente—firm to the bite—so it holds up well in the creamy sauce and doesn't get mushy.
Fresh basil
Fresh basil leaves are a fragrant and vibrant addition to the dish. They provide a pop of herbal freshness and a touch of sweetness. Chopping the basil just before using it helps release its natural oils, maximizing its flavor.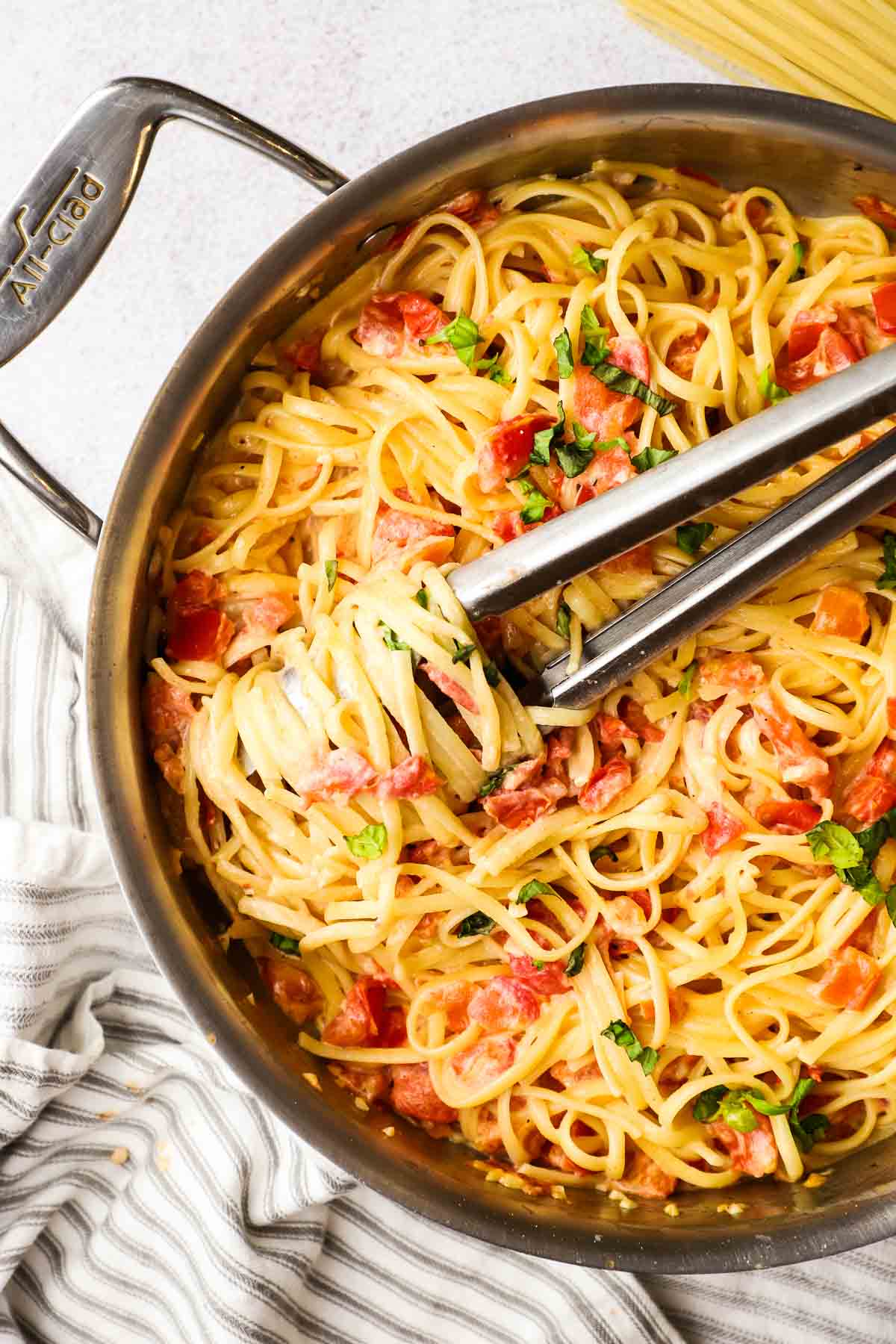 Step-by-Step Instructions
1. Begin by bringing a large pot of water to a boil. Cook the pasta according to the package directions until al dente. Remember to reserve about a cup of pasta water before draining. *Note: you can use a full lb of pasta for a slightly less saucy dish.
2. Meanwhile, melt the butter in a sauté pan or skillet over medium heat. Add the garlic and sauté for approximately half a minute until it releases its aroma.
3. Introduce the chopped tomatoes to the pan and sauté them for around 3 minutes until they slightly soften. This is the base for your tomato Alfredo sauce.
4. Lower the heat to medium-low and pour in the cream, allowing it to gently simmer until it thickens.
5. After about 5 minutes, add the shredded Parmesan cheese, salt, and pepper.
6. Drain the cooked pasta and toss it in the Tomato Alfredo sauce. If you desire a thinner sauce consistency, simply incorporate a splash or two of the reserved pasta water. (Note: I like to save some of the pasta water for re-heating leftovers too).
For the finishing touch, sprinkle the dish with freshly chopped basil and, if desired, an additional dusting of Parmesan.
Tips for the Best Tomato Alfredo Sauce
Quality Ingredients: Use fresh, ripe tomatoes for the best flavor in your tomato Alfredo sauce. Opt for high-quality Parmesan cheese and choose a good brand of canned tomatoes or use freshly diced tomatoes when they are in season.
Balance the Flavors: Adjust the amount of garlic according to your taste preference. Remember that garlic becomes milder when cooked, so don't be afraid to add an extra clove if you love that garlicky kick.
Pasta Water: Save some pasta water before draining your cooked pasta. Adding a splash of pasta water to the sauce can help loosen it up and create a silkier texture.
Creamy Consistency: If you desire a thicker sauce, simmer it a bit longer to reduce and thicken. On the other hand, if you prefer a thinner sauce, add reserved pasta water or a little milk until you achieve the desired consistency.
Seasoning: Taste the sauce before serving and adjust the seasoning with salt and pepper to your liking. Keep in mind that Parmesan cheese can be salty, so be cautious while adding additional salt.
Variations
Protein Boost: Enhance your tomato Alfredo sauce by adding cooked chicken, shrimp, or Italian sausage. Simply sauté the protein separately and toss it into the sauce along with the cooked pasta.
Veggie Delight: Customize your sauce by incorporating your favorite vegetables. Sautéed mushrooms, spinach, roasted red peppers, or sun-dried tomatoes can add delightful flavors and textures to your tomato Alfredo sauce.
Spicy Kick: For those who enjoy a bit of heat, consider adding red pepper flakes or a dash of hot sauce to your sauce. This will give it a spicy twist that complements the creamy and tangy tomato flavors.
Storage Instructions
To Refrigerate: Once prepared, tomato Alfredo sauce can be stored in the refrigerator for up to 3-4 days.
Allow the sauce to cool completely before transferring it to an airtight container. Make sure the container is sealed tightly to prevent any air exposure, which can cause the sauce to spoil faster.
When ready to use, gently reheat the sauce on the stovetop over low heat, stirring occasionally until warmed through. I like to save some pasta water to mix in to reheated pasta, to help restore the creamy consistency.
To Freeze: For longer-term storage, you can freeze the tomato Alfredo sauce. However, keep in mind that the texture of the sauce may change slightly upon thawing. To freeze, allow the sauce to cool completely and transfer it to a freezer-safe container or freezer bags. Label the container with the date and store it in the freezer for up to 3 months. Thaw the sauce overnight in the refrigerator before reheating it on the stovetop.
Can I lighten up the Tomato Alfredo sauce?
Absolutely! To lighten the sauce, you can use half-and-half or evaporated milk instead of heavy cream. Keep in mind that the sauce might be slightly less thick and rich, but it will still be delicious and creamy.
Can I reheat the Tomato Alfredo sauce?
Yes, you can reheat the Tomato Alfredo sauce. Place it in a saucepan over low heat and stir gently until warmed through. If the sauce thickens too much upon reheating, you can add a splash of milk or pasta water to loosen it up.
Can I make this recipe gluten-free?
Yes, you can make this recipe gluten-free by using gluten-free pasta. Ensure that all other ingredients, such as the tomatoes and cheese, are also gluten-free. Check the labels to confirm.
Tomato Alfredo Sauce
This simple 15-minute tomato alfredo sauce is full of traditional Italian flavors. Toss with pasta for a perfect weeknight meal.
Print
Pin
Rate
Save
Saved!
Ingredients
3

tablespoons

butter

2

cloves

garlic

minced

4

large plum tomatoes

seeded and chopped

3/4

cup

heavy cream

1/4

cup

parmesan cheese

finely grated

salt, pepper, and crushed red pepper

to taste

3/4

pound

dry linguine or other pasta shape*

2

tablespoons

fresh basil

chopped
Instructions
Bring a large pot of water to a boil and cook the pasta according to the package directions. Reserve a cup of pasta water before draining.*

In the meantime, melt the butter in a large saute pan or skillet over medium heat. Add the garlic and cook for about 30 seconds, until fragrant.

Add the chopped tomatoes and sauté for about 3 minutes, until they begin to soften a little. 

Reduce heat to medium-low and stir in the cream. Simmer until it starts to thicken, about 5 minutes. Stir in the shredded parmesan cheese. Season with salt and pepper to taste.

Drain the cooked pasta and toss it with the sauce until well coated. Add a splash or two of pasta water if you'd like the sauce to be thinner. Sprinkle with chopped basil and additional parmesan if desired, and serve.
Notes
*For larger portions and a slightly less saucy dish, you can use a full lb of pasta.
* I like to keep some pasta water to add when reheating leftovers.
Nutrition
Calories:
581
kcal
|
Carbohydrates:
68
g
|
Protein:
15
g
|
Fat:
28
g
|
Saturated Fat:
17
g
|
Polyunsaturated Fat:
2
g
|
Monounsaturated Fat:
7
g
|
Trans Fat:
0.3
g
|
Cholesterol:
77
mg
|
Sodium:
188
mg
|
Potassium:
396
mg
|
Fiber:
4
g
|
Sugar:
5
g
|
Vitamin A:
1537
IU
|
Vitamin C:
9
mg
|
Calcium:
135
mg
|
Iron:
1
mg