This is the best version of a classic moist carrot cake I have found. Perfectly spiced, with a great texture, this is the carrot cake of your dreams!
If you didn't think it could get better than traditional cream cheese frosting, I'm here to tell you that this BROWN BUTTER cream cheese frosting is about to change everything you thought you knew about frosting.
Back when Phil and I first started dating, I happened to make a carrot cake one day. It was a towering three layer affair that I made for no particular reason other than I felt like eating carrot cake. It was chock-full of good stuff like crushed pineapple, coconut, and toasted walnuts.
Yes, it was pretty awesome.
Quick disclosure: This post contains affiliate links. If you make a purchase through one of these links, I may make a small commission, at no cost to you. I will never recommend anything I don't personally use and love!
When Phil saw this, he got really excited. Carrot cake, it turned out, was his FAVORITE CAKE! Then he tasted it.
To his credit, he kept his feelings to himself more or less, but still, I came to understand that he did not enjoy pineapple or coconut in general, and nuts in cake was not something he endorsed either.
Basically I had ruined a perfectly good carrot cake.
So needless to say, when I decided to make a carrot cake for his birthday this year, it was the most classic, basic version I could find. But in no way is this a bad thing! Trust me, this moist carrot cake is super flavorful and everything you could ever want from a carrot cake.
I got this simple moist carrot cake recipe from the Model Bakery Cookbook, which I highly recommend if you love classic American desserts like I do. The recipes are simple, reliable, and out of this world good.
In case you're wondering...
Why is carrot cake made with oil?
Oil makes a moister cake than butter. Butter is great for mildly flavored cakes, like vanilla cake, where the buttery flavor can really shine through. But that buttery taste won't really make a difference in a spiced cake with bolder flavors.
For a really moist carrot cake, there's nothing like oil. I like to use canola oil for cake, because of its neutral flavor, but any vegetable oil will work well.
A few more notes about this easy, moist carrot cake
2 versus 4 layers
The recipe makes two thick 8-inch layers. I made a last minute call to slice the layers in half to make a four layer cake. You definitely don't have to do this. It totally depends on your preferred cake-to-frosting ratio.
If you do want to slice the layers, this is best done with a serrated bread knife. Here's a nice tutorial on how to evenly cut cake layers.
Brown Butter Cream Cheese Frosting
The frosting is where I decided to take a little turn off the beaten path (without getting too crazy). It's a classic cream cheese frosting, but made with one of my favorite flavor tricks: brown butter.
Yes, brown butter cream cheese frosting is exactly as good as it sounds. Of course, you could skip the browning step, but if you haven't yet discovered the miracle that is brown butter, this would be a great place to try it. (P.S. it's also amazing on this gingerbread layer cake).
And after you do, you'll want to go ahead and make this sheet pan fish with brown butter lemon sauce. And these brown butter crispy rice treats for dessert (if you're out of carrot cake) ;).
Nuts or no nuts?
I skipped the nuts in this cake since my husband's not into them, but I've included an optional cup of nuts in the ingredients, if you're a nut lover.
Walnuts are great, and so are pecans. Raisins or other dried fruits are also an option!
So, can carrot cake be made ahead?
For sure. In fact, like most cakes, muffins, and quick breads, I always find that carrot cake is even better the next day. More moist, more flavorful, and with a better texture.
It will keep for at least a week and stay really moist, but because of the cream cheese frosting, it is best stored in the refrigerator.
I've also heard that it freezes beautifully, even frosted, though I haven't tried this myself.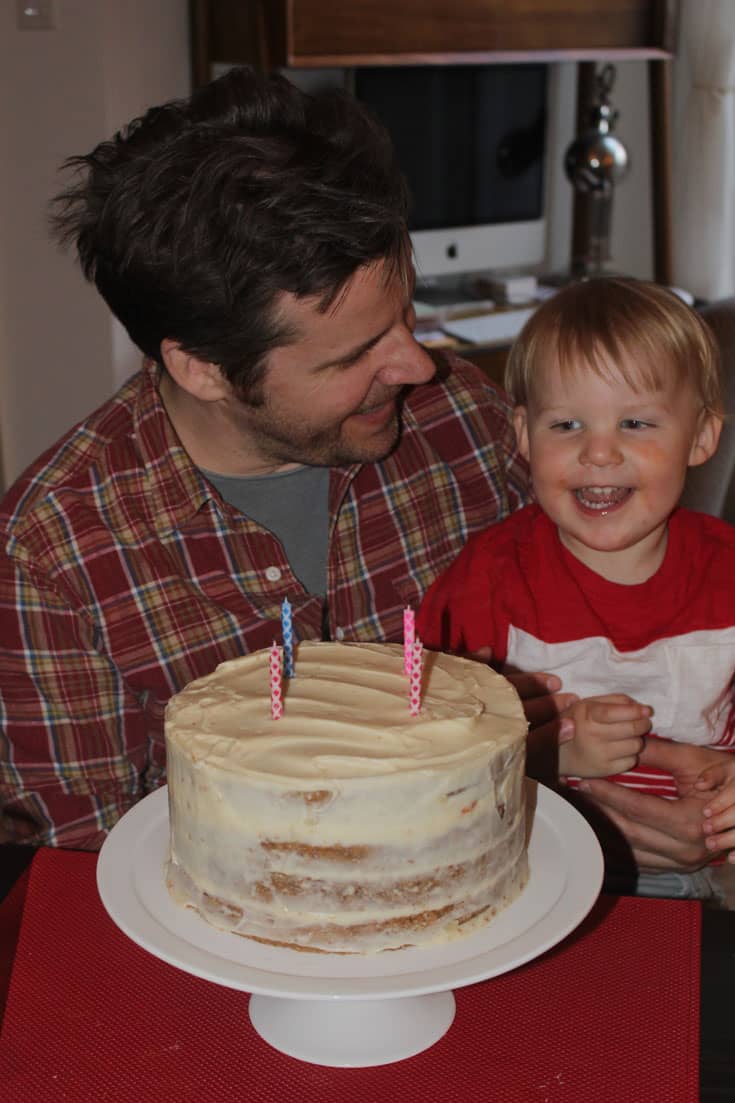 Happiest of birthdays to my dear husband Phil! xx
***
Sound good to you? If you make this recipe, I would love it if you would take a pic and tag me on Instagram @ourhappymess!
Or pin for later!
And if you're looking for more easy dessert inspiration, follow me on Pinterest, Instagram, Facebook or Twitter. Or subscribe in the sidebar on the right to get every new recipe in your inbox 🙂
Moist Carrot Cake with Brown Butter Cream Cheese Frosting
This is the best version of a classic moist carrot cake I have found. Perfectly spiced, with a great texture, this is the carrot cake of your dreams! If you didn't think it could get better than traditional cream cheese frosting, I'm here to tell you that this BROWN BUTTER cream cheese frosting is the BEST!

Print
Pin
Rate
Save
Saved!
Ingredients
Moist Carrot Cake
butter

for the pans

2

cups

all-purpose flour

plus extra for pans

2

teaspoons

baking powder

2

teaspoons

baking soda

2

teaspoons

ground cinnamon

½

teaspoon

kosher salt

4

eggs

at room temperature

1.5

cups

granulated sugar

1.5

cups

canola oil

or vegetable oil

3

cups

shredded carrots

1

cup

finely chopped walnuts

or pecans (optional)
Brown Butter Cream Cheese Frosting
¾

cup

unsalted butter

softened

8

oz

cream cheese

(one package, softened)

⅓

cup

packed light brown sugar

2

cups

confectioner's sugar

(icing sugar)
Instructions
Moist Carrot Cake
Preheat the oven to 350 degrees F. Butter two 8-inch cake pans. Line the bottoms of the pans with parchment paper. Sprinkle the bottoms and sides with flour and tilt to cover evenly. Tap out the excess flour.


Whisk the flour, baking powder, baking soda, salt and cinnamon together in a medium bowl until well combined.


In the bowl of a stand mixer, beat the eggs on high speed until foamy (about 3-4 minutes). With the mixer still running, slowly add the sugar and continue beating on high speed until the mixture is pale yellow, about 3 minutes.


With the mixer still running, very slowly add the oil (this is best done using a measuring cup with a spout. If the oil begins to separate from the egg mixture, stop and wait for it to emulsify before continuing to pour the oil in. It should take you a couple of minutes to add all the oil, and the en result should be a smooth, uniform mixture.


Reduce the mixer speed to low and add the flour mixture in thirds. Mix just until smooth, scraping down the sides of the bowl as needed.


With a rubber spatula, fold in the carrots and nuts (if using) until well combined.


Divide the mixture evenly between the two pans and bake for 40 - 45 minutes, until a toothpick inserted in the center comes out clean. Allow to the cakes to cool in the pans for 10 minutes and then turn out on a wire rack to cool completely.

Brown Butter Cream Cheese Frosting
Melt the butter in a medium saucepan over medium heat. Keep cooking, swirling the pan frequently until the foam begins to subside, brown bits start collecting on the bottom, and the butter starts to smell nutty. Keep a close eye on it, as it can burn quickly.

Transfer the brown butter to a bowl and let sit for a few minutes to cool. Transfer the bowl to the fridge or freezer for 15 minutes or so, until just set. If the butter hardens too much, it will not blend well, and will leave lumps in the frosting. If it is too hard you take it out of the fridge or freezer, let sit again a room temperature for a few minutes to soften.

Transfer to butter to a stand mixer, fitted with the paddle attachment. Add the brown sugar and cream cream cheese, and mix on medium-high speed for 5-6 minutes, scraping down the sides as needed until well blended,

With the mixer on low speed, gradually beat in the confectioner's sugar. Switch to high speed and beat for an additional 4-5 minutes until fluffy and no lumps remain.
Notes
Cake recipe adapted from the [amazon_textlink asin='1452113831' text='Model Bakery' template='ProductLink' store='ourhappymes00-20' marketplace='US' link_id='087ce4c2-5dd5-11e8-b5fe-259c4de2bf5b'] Cookbook.
Nutrition
Calories:
564
kcal
|
Carbohydrates:
72
g
|
Protein:
7
g
|
Fat:
28
g
|
Saturated Fat:
12
g
|
Cholesterol:
105
mg
|
Sodium:
388
mg
|
Potassium:
292
mg
|
Fiber:
2
g
|
Sugar:
52
g
|
Vitamin A:
6035
IU
|
Vitamin C:
2
mg
|
Calcium:
91
mg
|
Iron:
1.8
mg