This easy baked Cajun rice features the holy trinity of Cajun cooking, onion, celery and bell pepper, and is a flavorful side dish for so many meals.
Have you ever tried dirty rice? It is a traditional Cajun style rice dish from Louisiana made with white rice, meat (chicken liver, gizzards, or ground meat), vegetables, and spices.
The dish gets its name from the appearance of the cooked rice, which becomes "dirty" as the organ meat breaks down. It is bursting with flavor and so good on it's own or as a side.
But, if you're not into organ meats and still want to experience the flavor – this easy vegetarian Cajun rice recipe is perfect for you. This Cajun rice is baked, so it is super easy to make and also easily customizable.
It also goes well so many mains like this Easy Blackened Fish and these blackened fish tacos.
I first discovered baking rice when I made this baked coconut lime rice a while back and it's now my favorite way to prepare rice. Foolproof, low maintenance, and no overflowing pots. Just perfectly cooked rice every time.
Cajun Cuisine
Cajun cuisine is a distinct style of cooking that originated in the Acadian communities of Louisiana. It is known for its robust, flavorful, and spicy dishes that reflect the cultural heritage of the Cajun people like this Jambalaya.
The cuisine is characterized by its use of simple, rustic ingredients, often sourced from the surrounding environment. Rice is a staple ingredient in Cajun cooking and serves as a foundation for many dishes. And Cajun rice is a delicious dish that showcases the heart and soul of Cajun cooking.
What is the difference between Cajun and Creole Cooking?
Cajun and Creole cooking are both styles of cuisine that originated in Louisiana, but they have some distinct characteristics. Cajun cuisine is more rustic and often associated with the rural Acadian or "Cajun" communities.
It has a strong emphasis on hearty and spicy flavors. Cajun dishes typically feature ingredients like smoked meats, game, and seafood, as well as the "holy trinity" of onions, celery, and bell peppers.
Spices like cayenne pepper, paprika, and thyme are commonly used to give Cajun dishes their signature kick.
On the other hand, Creole cuisine has more of a city influence, especially from New Orleans. It has a mix of French, Spanish, African, and Caribbean culinary traditions.
Creole dishes tend to be more refined and often feature a wider range of ingredients. Creole cooking incorporates flavors from various cultures, including a blend of herbs and spices like bay leaves, parsley, and basil.
It also commonly uses ingredients like tomatoes, okra, and roux (a mixture of flour and fat) to create rich and flavorful sauces.
Ingredient Notes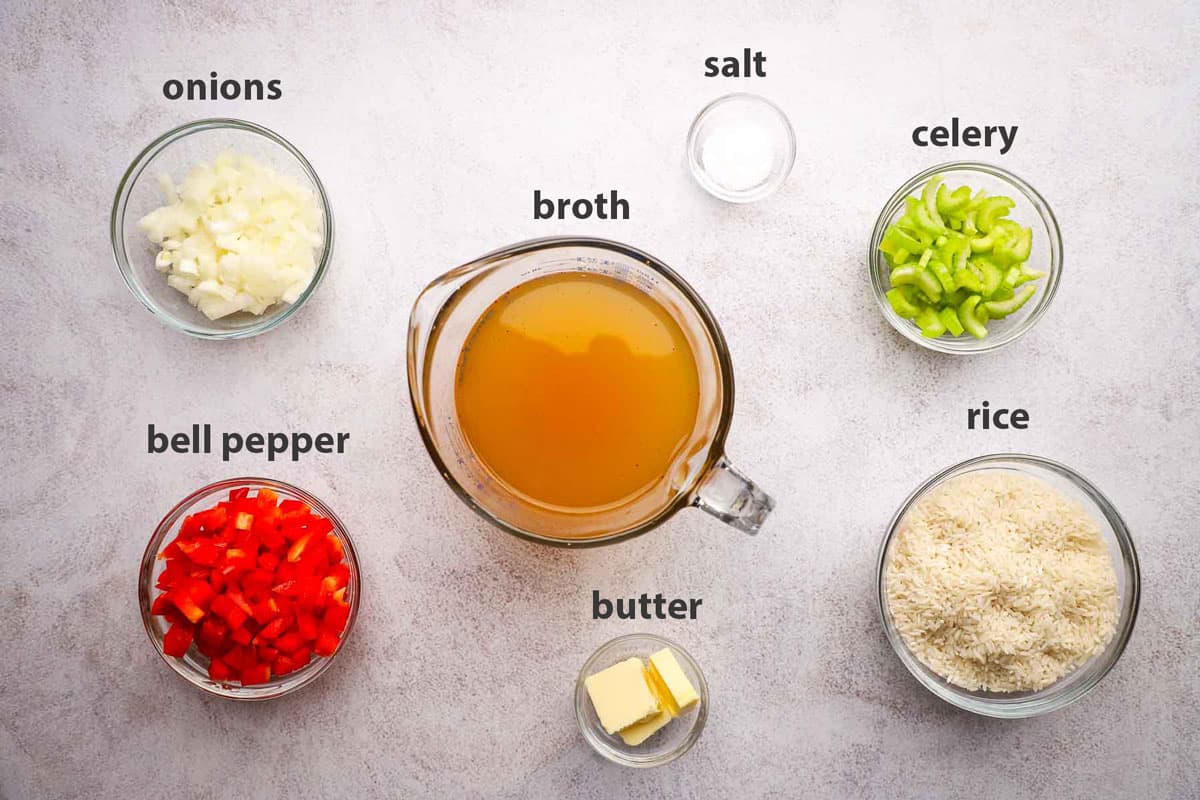 Butter
Butter is a key ingredient in Cajun cuisine, adding a distinct flavor and richness to this Cajun rice. I use unsalted butter but salted butter works just as well, and you can reduce the amount of added salt in the recipe if you like and adjust the seasoning to taste.
Onion
Yellow onion is the preferred choice for this Cajun rice recipe. It brings a sweet and slightly pungent flavor to the dish, serving as the aromatic base for building the flavors. Its natural sweetness helps balance out the spices and adds depth to the overall taste.
Celery
Celery is an essential component of the Cajun flavor profile and complements the other ingredients perfectly in this Cajun rice pilaf.
Bell Pepper
I use red bell pepper for this recipe, but you can also use green or yellow.
Chicken Broth
Use low-sodium or unsalted chicken broth in this recipe. If you only have chicken broth with added salt, you can omit the additional salt.
Rice
For the best results, stick to long-grain white rice in this Cajun rice recipe. Different types of rice have varying starch levels, and using long-grain white rice ensures the desired texture and consistency.
Cajun seasoning
With its unique combination of heat, smokiness, and earthiness, the seasoning is what gives your Cajun rice that signature kick. You can make the Cajun seasoning on your own using the blend in this Cajun blackened fish recipe, or use store bought!
Step By Step Instructions
1. Get your sauté pan or a large, heavy pan with a snug lid ready. Place it on the stovetop over medium heat and add the butter to it.
2. Once the butter has melted, add the chopped onions, peppers, and celery and let them cook for about 4-5 minutes.
3. Stir in the rice and continue cooking, stirring frequently to lightly toast the rice. Be careful not to let it burn.
4. Slowly pour in the chicken broth, salt, and Cajun seasoning. Stir everything together until well combined.
5. Bring the mixture to a boil on the stove, then cover the pan tightly with a lid. If your lid doesn't fit tightly, you can cover the pan first with a sheet of aluminum foil and then with the lid to prevent steam from escaping.
6. Transfer the pan to a preheated oven and bake for 20-25 minutes, until the liquid is absorbed and the rice is tender.
How to Turn Cajun Rice into Dirty Rice
All you need to do is add meat to the recipe to turn this vegetarian cajun rice pilaf into dirty rice!
Choose your protein: You can use chicken gizzards, livers, ground beef, or other meats of your choice in this Cajun rice. Adjust the cooking time accordingly based on the type and cut of meat.
Brown the meat: In a skillet or saucepan, melt butter or heat oil over medium-high heat. Add the meat and cook until browned, breaking it up into small pieces. Cook until the meat is cooked through and has a nice brown color.
Now continue with the rest of the recipe steps as instructed for the Cajun rice.
Tips to Make the Perfect Cajun Rice Every Time
Choose the right rice: Opt for a long-grain rice variety for your Cajun rice, as they tend to cook up fluffy and separate rather than sticky. Avoid using short-grain or sticky rice.
Rinse the rice: Before cooking, rinse the rice under cold water until the water runs clear. This helps remove excess starch and prevents the Cajun rice from becoming too sticky.
Use a heavy-bottomed pan: When cooking your Cajun rice, opt for a heavy-bottomed pan or pot. This helps distribute heat evenly and reduces the risk of burning or sticking.
Let it rest: Once the Cajun rice is cooked and the liquid is absorbed, remove the saucepan from the heat and let it rest for 5-10 minutes. This resting period allows the rice to steam and become fluffier.
Fluff with a fork: After the resting time, use a fork to gently fluff the Cajun rice, separating the grains without breaking them. This step helps to release any excess moisture and prevents clumping.
Storage Instructions
To store Cajun rice properly, allow it to cool completely before transferring it to airtight containers or resealable bags. Divide the rice into smaller portions for convenience and store them in the refrigerator for up to 4-5 days.
If you want to store the Cajun rice for longer, you can freeze it in freezer-safe containers or bags labeled with the date. Frozen Cajun rice can last for up to 3 months in the freezer.
When ready to enjoy the stored Cajun rice, thaw it in the refrigerator overnight if frozen, and reheat it thoroughly either in the microwave or on the stovetop with added liquid to prevent drying.
How spicy is Cajun rice?
The level of spiciness in Cajun rice can vary depending on the amount of Cajun spices or seasoning used. It's typically known for its flavorful and slightly spicy profile, but you can adjust the heat by adding more or less seasoning.
Can I substitute Cajun seasoning with other spices?
If you don't have Cajun seasoning readily available, you can create your own blend using spices like paprika, cayenne pepper, garlic powder, onion powder, thyme, oregano, and black pepper.
Cajun Rice
This easy baked Cajun rice features the holy trinity of Cajun cooking, onion, celery and bell pepper, and is a flavorful side dish for so many meals.
Print
Pin
Rate
Save
Saved!
Ingredients
Rice Pilaf
3

tablespoons

butter

1/2

large yellow onion

chopped

1

red bell pepper

chopped

1

stalk

celery

chopped

1.5

cups

long grain white rice

3

cups

chicken broth

2

teaspoons

kosher salt

1

teaspoon

Cajun seasoning

or to taste
Instructions
Rice Pilaf
Preheat the oven to 375 degrees F.


Heat a saute pan, or any large heavy pan with a tight-fitting lid, on the stove over medium heat. Add the butter.


When the butter has melted, add the chopped onions, peppers and celery and cook, stirring occasionally, until softened (4-5 minutes).


Stir in the rice, and toast until lightly browned, stirring frequently so it doesn't burn. Slowly pour in the chicken broth, salt, and Cajun seasoning, and stir to combine.

Bring to a boil on the stove, then cover with a tight-fitting lid. If your lid is not tight-fitting, cover the pan first with a sheet of aluminum foil, and then with the lid, to prevent steam from escaping.

Bake 20-25 minutes until all the liquid is absorbed and the rice is tender. Remove from the oven and leave the lid on to let the rice steam another 5 minutes. Fluff with a fork and serve.
Nutrition
Calories:
237
kcal
|
Carbohydrates:
40
g
|
Protein:
5
g
|
Fat:
6
g
|
Saturated Fat:
4
g
|
Polyunsaturated Fat:
0.4
g
|
Monounsaturated Fat:
2
g
|
Trans Fat:
0.2
g
|
Cholesterol:
17
mg
|
Sodium:
1265
mg
|
Potassium:
156
mg
|
Fiber:
1
g
|
Sugar:
2
g
|
Vitamin A:
993
IU
|
Vitamin C:
26
mg
|
Calcium:
27
mg
|
Iron:
1
mg