Soft, moist, and packed with banana flavor, these banana pecan muffins are better than any bakery muffin. Optional pecans are sprinkled on top for extra crunch and nutty flavor.
Fall is undeniable here, and NOTHING says fall to me like a soft, moist banana nut muffin. Well ok. Muffins in general actually. Apple cinnamon muffins, cinnamon roll muffins, banana oatmeal chocolate chip muffins, cranberry orange muffins... etc.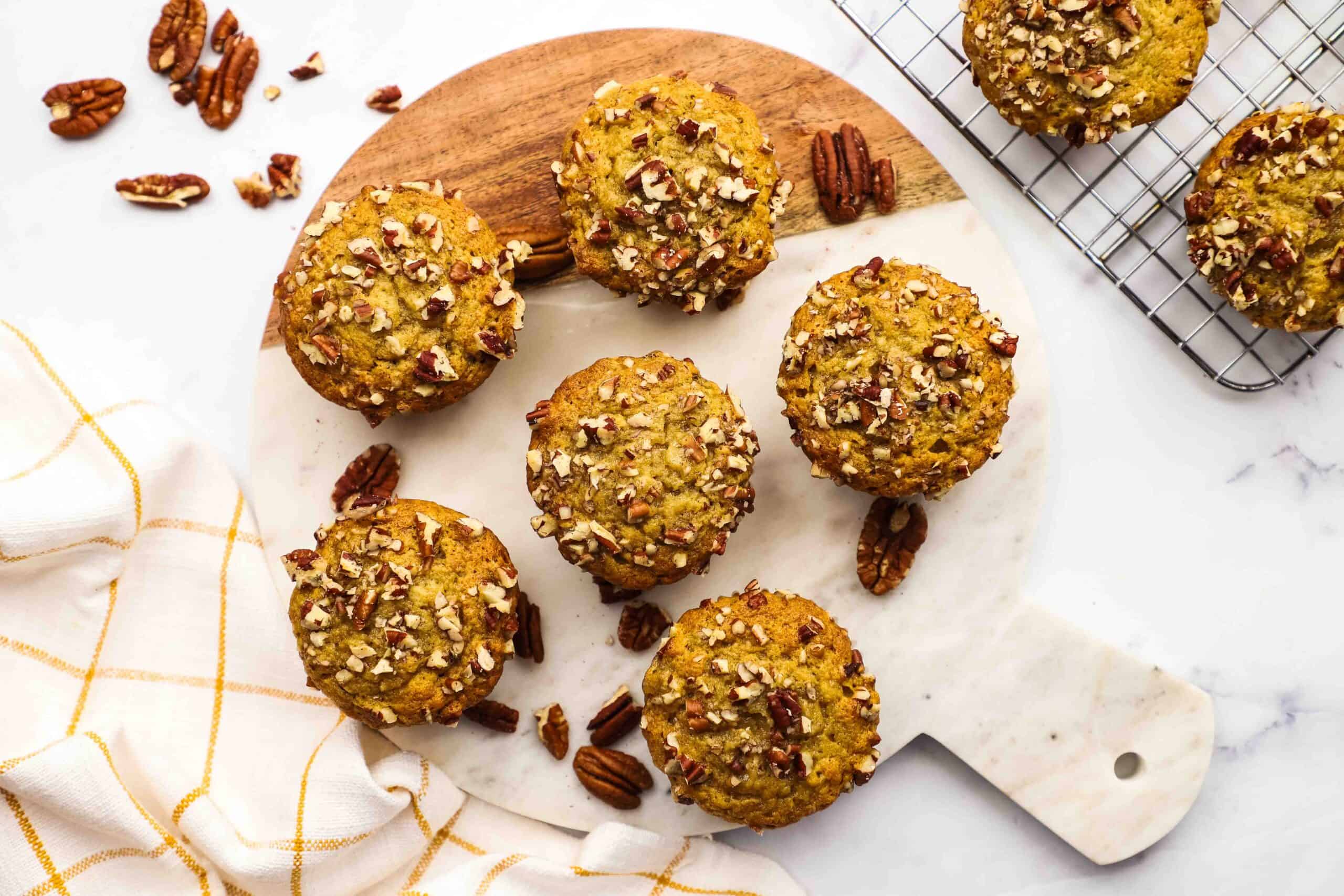 BUT, my favorite, has to be a classic banana muffin, and this is absolutely the most perfect version of homemade banana muffins I have found.
These banana pecan muffins stay fresh for days and are the perfect breakfast on the go.
Ingredient Notes
Bananas
First of all, it's important that you start with the right bananas. Many recipes will tell you to choose "overripe" bananas.
You can tell when bananas are past their prime. The stem is black, dried, and wrinkly, and the flesh is mushy and mealy. The peel comes off too easily and the flavor when baked has an odd metallic taste to it.
Contrary to conventional wisdom, I do not think these bananas are ideal for anything, much less the best banana muffins.
Instead, I like to use bananas that are very ripe - deep yellow, not green, with a few black spots. The flesh should be moist and the scent should make you want to eat it on the spot.
If your bananas are too green, give them a couple more days on the counter. You won't regret it.
Light Brown Sugar
I use light brown sugar in this recipe, but you can use dark brown - or granulated sugar if you prefer.
Step-by-Step Instructions
Cut two bananas in half and place them in your stand mixer bowl. Now add the brown sugar and whip on medium high speed until smooth.
2. Now add the melted butter, eggs, and vanilla in the banana sugar mixture and keep whipping for 2-3 minutes.
3. In a separate bowl, mash the two remaining bananas with a fork until only small lumps remain.
4. Now whisk together the flour baking soda, and salt in a separate bowl.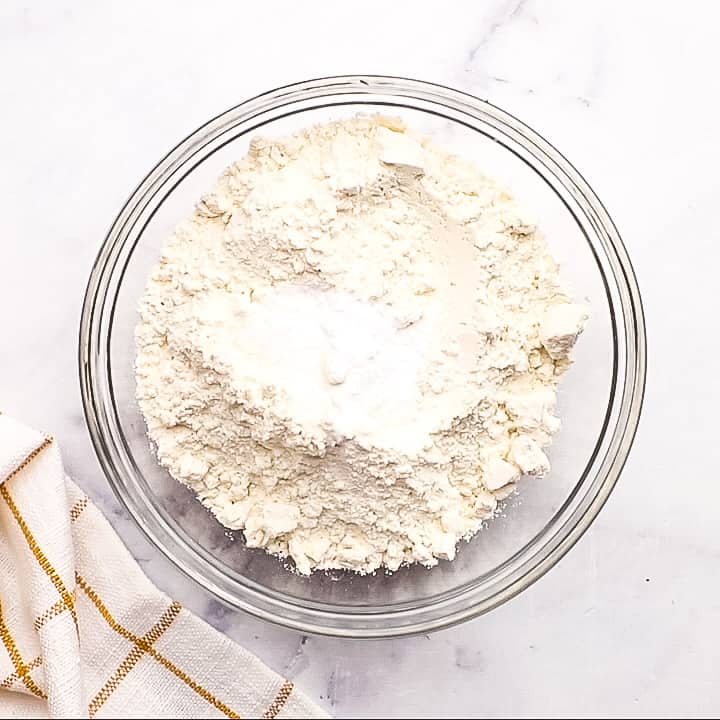 5. Remove the bowl from the stand mixer and fold in the flour mixture until just combined. Stir in the mashed bananas.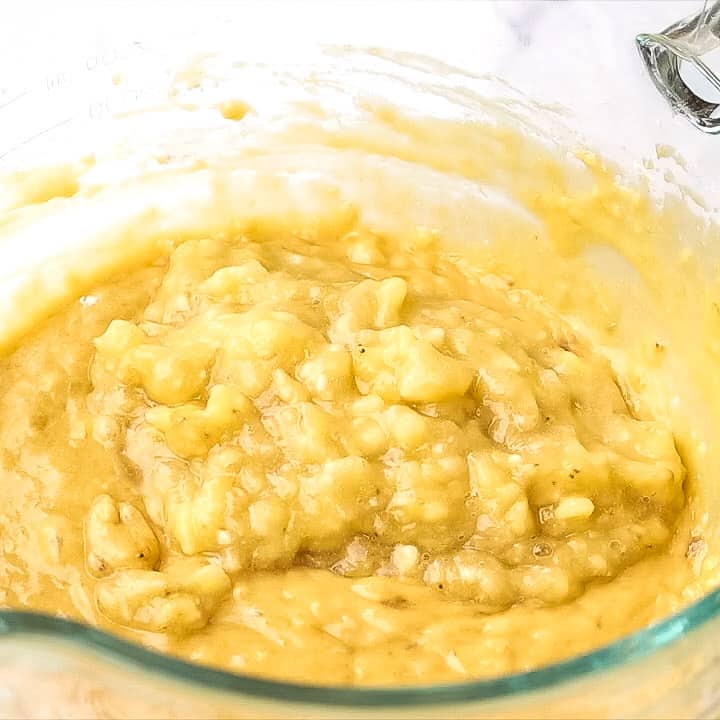 6. Divide the batter evenly into muffin cups and sprinkle the top with pecans. Bake till they're done.
Tips for the Best Banana Pecan Muffins
In this recipe half the bananas are whipped with the brown sugar for a few minutes until you get a smooth mixture. This way you will ensure that the batter is fully permeated with amazing banana flavor, without those big mushy chunks of banana ruining the texture.
Another tip is totally optional and is really a matter of personal preference. I like to sprinkle the pecans on top of the muffins before baking, instead of mixing them into the batter.
I absolutely love the flavor combination of bananas and pecans, but I personally find that they can take away from the texture when baked into the muffins.
This also makes it easy for those who don't like nuts at all to simply pick them off. Of course, if you are a banana muffin purist, you can leave them out entirely.
Eggs are more easily incorporated into the batter when brought to room temperature. Put the eggs in a bowl of lukewarm water for a few minutes if they're cold.
Make sure you measure your flour accurately - by weighing it or using the spoon and level method. The most common mistake that results in a dense muffin is using too much flour.
Don't be stingy with the butter. The melted butter is essential for a tender and moist crumb because there is no additional "liquid" in the recipe. Sub with oil if you wish, but I love the taste of butter in these muffins.
Take care not to overbake. After 18 minutes, insert a toothpick in the center to check for doneness. If the toothpick comes out with wet batter, bake for a few more minutes.
Can I use frozen bananas?
Yes, you can. At room temperature, let the frozen bananas thaw. Drain off any extra liquid, then mash the ingredients and use them as directed in the recipe.
How can I ripen my bananas faster?
If your bananas aren't ripe enough, put them on a baking sheet and bake at 350°F for about 10 minutes, or until the skin turns dark and the bananas are soft. Let the bananas cool down a bit, then peel them, put them in a bowl, and mash them up!

If you have some bananas that are almost ripe, you can put them in a closed paper bag, and the ethylene they give off will make them ripen faster.

Here are a few more ways to quickly ripen bananas.
Banana Muffins Variations
Bananas are a versatile ingredient and pair so well with other flavors. Here are few things you can add in this batter other than topping them with pecans.
Chocolate chips
Pumpkin spice
Cinnamon
Walnuts
Peanut Butter cups (chopped or mini size)
Storage Tips
The muffins will stay good on the counter for about three days when stored in an airtight container at room temperature. You can also store the banana muffins in an airtight container in the refrigerator for up to a week. These muffins are delicious warm or cold.
If you want to bake a batch and enjoy them for a long time, you can flash-freeze them on a sheet pan lined with a silicone baking mat or parchment paper, after which you can transfer them to a large freezer-safe bag.
More of our favorite muffins
Banana Pecan Muffins
These favorite banana pecan muffins are perfectly moist and packed with banana flavor.
Print
Pin
Rate
Save
Saved!
Ingredients
2

cups

all-purpose flour

1 ½

teaspoons

baking soda

½

teaspoon

salt

4

very ripe large bananas

1

cup

packed light brown sugar

¾

cup

butter, melted and cooled

2

large eggs

1

teaspoon

pure vanilla extract

½

cup

pecans, toasted and chopped
Instructions
Preheat the oven to 350 degrees F. Line a 12-cup regular-sized muffin tin with paper liners.

Cut two of the bananas into pieces and place in the bowl of a stand mixer fitted with the whisk attachment, or use a hand mixer. Add the brown sugar and whip on medium high speed for around three minutes or until pretty smooth.

Add the melted butter, eggs and vanilla to the banana sugar mixture, and keep whipping for another 2 - 3 minutes, until well combined.

Mash the remaining two bananas in a small bowl until mostly smooth, with only small chunks remaining.

In a medium bowl, whisk together the flour, baking soda and salt. Remove the bowl from the stand mixer and fold in the flour mixture with a rubber spatula until just combined. Fold in the mashed bananas.

Divide the batter evenly in the muffin cups. Sprinkle the tops with pecans and bake for about 18 to 20 minutes until a toothpick inserted in the center comes out clean.
Notes
Storage: Store in an airtight container at room temperature for up to 3 days. To freeze, place the muffins on a baking sheet lined with a baking mat or parchment and freeze. Transfer to an airtight freezer-safe container or ziplock bag.
Adapted from the Food Network Banana Nut Muffins  
Nutrition
Calories:
322
kcal
|
Carbohydrates:
43
g
|
Protein:
4
g
|
Fat:
15
g
|
Saturated Fat:
7
g
|
Cholesterol:
57
mg
|
Sodium:
351
mg
|
Potassium:
217
mg
|
Fiber:
1
g
|
Sugar:
22
g
|
Vitamin A:
420
IU
|
Vitamin C:
3.4
mg
|
Calcium:
31
mg
|
Iron:
1.4
mg