This homemade pepperoni pizza recipe with peppers and onions is my family's very favorite pizza. With a chewy, flavorful crust, the perfect pizza sauce, and loads of pepperoni, vegetables, and cheese, it's better than your average takeout pizza by a mile.
Let's get something out of the way. I guess you might be wondering what all those vegetables are doing on a pepperoni pizza.
That's fair.
*This post probably contains affiliate links. Please see my full disclosure policy for details.
It's not that I think the combo of bread, meat and cheese is any way lacking. I just love the flavor and crunch that vegetables add to the mix, so I always add some peppers and onions to our pepperoni pizza. Do feel free to leave them off if you prefer the classic version!
What's the difference between pepperoni and salami?
Full disclosure: technically what you see on this pizza is actually salami. Pepperoni and salami are, however, pretty much the same thing. Both are cured Italian sausages made with beef or pork and spices. Pepperoni is simply a spicier variant of salami.
The spiciness of pepperoni is great for pizza and if you have access to good quality pepperoni from a deli, definitely go for it. My local deli has really great salami, and it's available mild or spicy.
I get either, depending on whether kids will be eating it or not. I just have less confidence in the pepperoni I find at the grocery store, which tends to be manufactured by big conglomerates, so that's why I choose salami.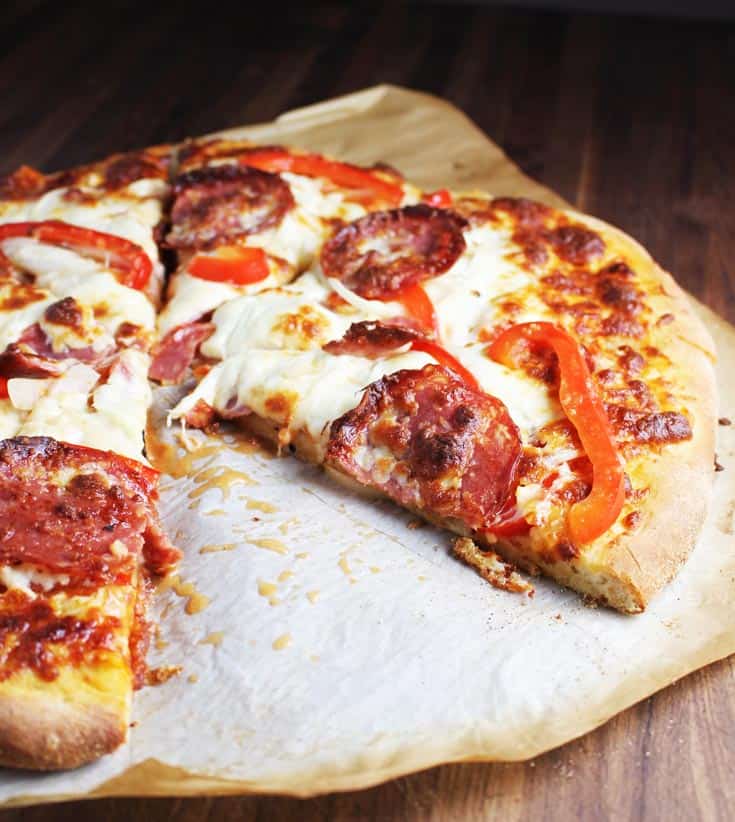 How to make homemade pepperoni pizza
This pizza is 100% homemade, using our best pizza dough recipe and my favorite quick and easy pizza sauce.
The pizza dough takes less than an hour and the pizza sauce less than 10 minutes to make, but both can be made ahead and frozen or refrigerated.
Preheat a pizza stone at the highest temp your oven will go. Mine goes to 550F. A pizza stone is absolutely hands down the best thing to bake a pizza on, if you ask me.
Slice or chop up half an onion and half a pepper. Again, feel free to forego the veg if you're a PPP (Pepperoni Pizza Purist. #notreallyathing).
Spread the pizza dough into a large thin circle on top of a piece of parchment paper sprinkled with semolina or flour. I like to use my hands for this – by which I don't mean that I spin it around in the air like a pizza pro. Rather I just spread it into a circular shape with my fingers like a non-pro. A rolling pin works too.
Slather a cup or so of pizza sauce over the dough, to about a 1/2 inch from the edge.
4. Sprinkle about half your toppings evenly over the pizza. Opinions vary on the best way to top a pizza, but I like a double layer of toppings, because 1) more is better, and 2) I think this helps the cheese adhere better so it doesn't just slide off when you take a bite.
5. Sprinkle the mozzarella and parmesan evenly over the pizza and cover with the rest of the toppings. I like to sprinkle a little extra cheese over everything for good measure – and to prevent the toppings from burning.
6. Carefully transfer the pizza and parchment to the pizza stone in the oven. If you have a pizza peel, this is ideal, but sliding it onto the back of a baking sheet and then onto the pizza stone, while more dangerous, works too.
7. Bake in the preheated oven. At 550F, I find a pizza takes about 8 minutes to bake. Ovens vary, so keep an eye on it!
8. Slice with a pizza wheel and serve!
Enjoy xx
Sound good to you? If you make this pepperoni pizza recipe, I would be thrilled and honored if you would take a pic and tag me on Instagram @ourhappymess!
Or pin for later! ↓↓↓
And here are a few other pizza posts and recipes!
Quick and Easy Homemade Pizza Sauce
And if you're looking for even more easy dinner inspiration, follow me on Pinterest, Instagram, Facebook or Twitter. Or subscribe in the sidebar on the right to get every new recipe in your inbox 🙂
Homemade Pepperoni Pizza
This homemade pepperoni pizza with peppers and onions is my family's very favorite pizza. With a chewy, flavorful crust, the perfect pizza sauce, and loads of pepperoni, vegetables, and cheese, it's better than your average takeout pizza by a mile.
Print
Pin
Rate
Save
Saved!
Servings:
4
servings (8 slices)
Ingredients
1

recipe

Pizza dough

or use a store bought crust

1

cup

Pizza sauce

or use store bought

20

slices

pepperoni

or salami

1/2

red bell pepper

thinly sliced

1/2

yellow onion

thinly sliced

12

oz

mozzarella

shredded

1

oz

parmesan cheese

shredded
Instructions
Place a pizza stone or pan on the middle rack of the oven, and preheat the oven as high as it will go.

On a large square piece of parchment paper, sprinkle a little flour or semolina. Place the pizza dough on the parchment paper and spread it thinly into a large circular shape with your fingers.

Cover the pizza dough with pizza sauce to about a 1/2 inch from the edge. Use as much or as little sauce as you like.

Evenly distribute half the peppers, onions and pepperoni across the top of the pizza. Sprinkle with most of the mozzarella and parmesan, reserving a handful for the top.

Add the remaining peppers, onions and pepperoni, and sprinkle with the remaining cheese.

Carefully transfer the parchment and pizza to the pizza stone in the oven with a pizza peel. If you don't have a pizza peel, slide the parchment and pizza onto the back of a large baking sheet and transfer to the pizza stone. Wear oven mitts and be careful not to burn yourself!

Bake the pizza for 8-10 minutes. Time will vary based on how hot your oven gets. Once the crust is golden brown and the cheese is melted, remove from the oven and let the pizza rest for a couple of minutes before slicing.
Nutrition
Calories:
597
kcal
|
Carbohydrates:
54
g
|
Protein:
32
g
|
Fat:
28
g
|
Saturated Fat:
14
g
|
Cholesterol:
82
mg
|
Sodium:
1851
mg
|
Potassium:
346
mg
|
Fiber:
2
g
|
Sugar:
10
g
|
Vitamin A:
1360
IU
|
Vitamin C:
24.3
mg
|
Calcium:
525
mg
|
Iron:
3.9
mg