The Best Semolina Pizza Dough (Quick and Easy!)
This homemade semolina pizza dough has the perfect texture, flavor and chewiness. Best of all, it's ready to go in under an hour. If you've been searching in vain for a great pizza dough recipe, look no further!
When it comes to food, I'm easily tempted by the next shiny object. But the one recipe I am supremely loyal to is my pizza dough recipe.
For years, I never had much luck with homemade pizza dough, and would sheepishly put a ball of frozen dough in my cart whenever the craving struck.
Then one day I decided to put on my big girl pants and conquer pizza dough once and for all.
I tweaked and tinkered with this recipe for a long time, but then I finally got it and I have not looked back since. I honestly can't imagine a chewier, more flavorful, less cardboardy crust and so I am done looking. Done.
And now I'm sharing all this hard work with you, dear reader, because, well, I have my moments.
Alright, let me explain why I think this is the best pizza dough ever.
The Best Flours for Pizza Dough
Semolina
I think the addition of semolina is really what sets this pizza dough recipe apart from most others I've seen.
Semolina is a coarse flour made of durum wheat. It's often used to make homemade pasta and is pretty easily found in most grocery stores. I particularly like Bob's Red Mill semolina. It adds great flavor and texture to this dough.
All-purpose vs. bread flour
My first attempts used just all-purpose flour, as I'd seen in many recipes. I found the texture too crispy, not chewy enough, and the taste kind of bland.
So I experimented with incorporating varying amount of bread flour, which is higher in gluten and contributes more "chew".
As it turned out, the specific ratio was critical. Too much bread flour and the dough was dense and hard to chew. I find the ideal ratio to be exactly half and half, for the best texture.
It takes less than an hour to make
I've seen pizza dough recipes that call for up to a week of fermenting. Although a long fermentation builds flavor, I've found that the above mix of flours makes for a very flavorful dough, without the long wait.
This semolina pizza dough takes only 45 minutes to an hour to rise, making it perfect for last minute pizza cravings.
How to make semolina pizza dough
In the bowl of a stand mixer, combine the all-purpose flour, bread flour, semolina, yeast, sugar, and salt. You can also knead this dough by hand and mix it up in a regular bowl.
Add water and stir until it starts to come together. If using a mixer, fit it with the dough hook.
Knead the dough with the dough hook until it comes together into a smooth ball. If the dough is still sticking to the sides of the bowl, you can spinkle in a little additional flour until it pulls away from the sides. It should still be sticking to the bottom. Do not add too much flour or the dough will be tough.

Drizzle olive oil on the inside of the bowl and roll the ball of dough around until it's well coated.
Cover the bowl with a clean towel and let the dough rise in a warm place until it's doubled in size.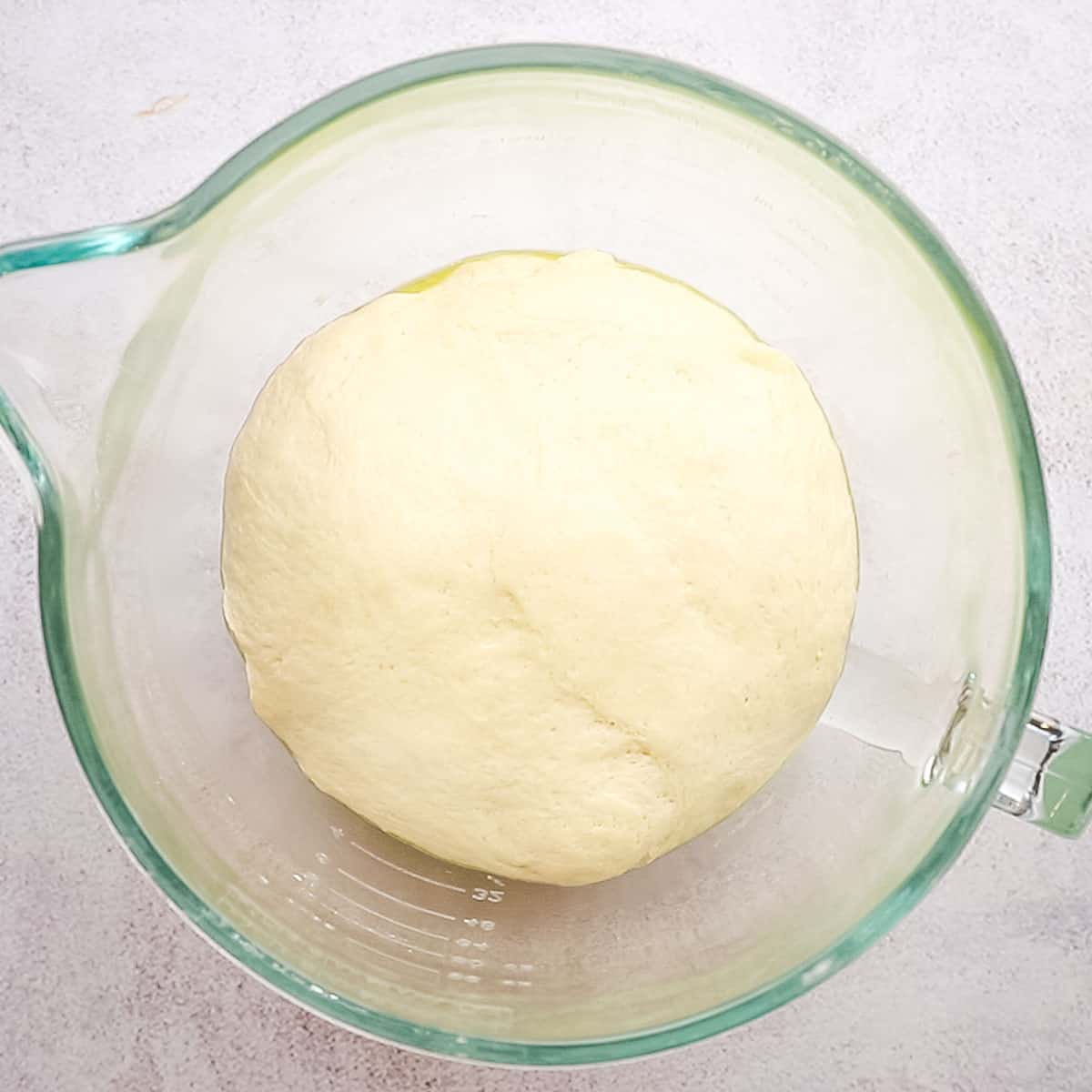 Punch the dough down to deflate.
6. Form the dough into a ball again and transfer to a large sheet of parchment paper.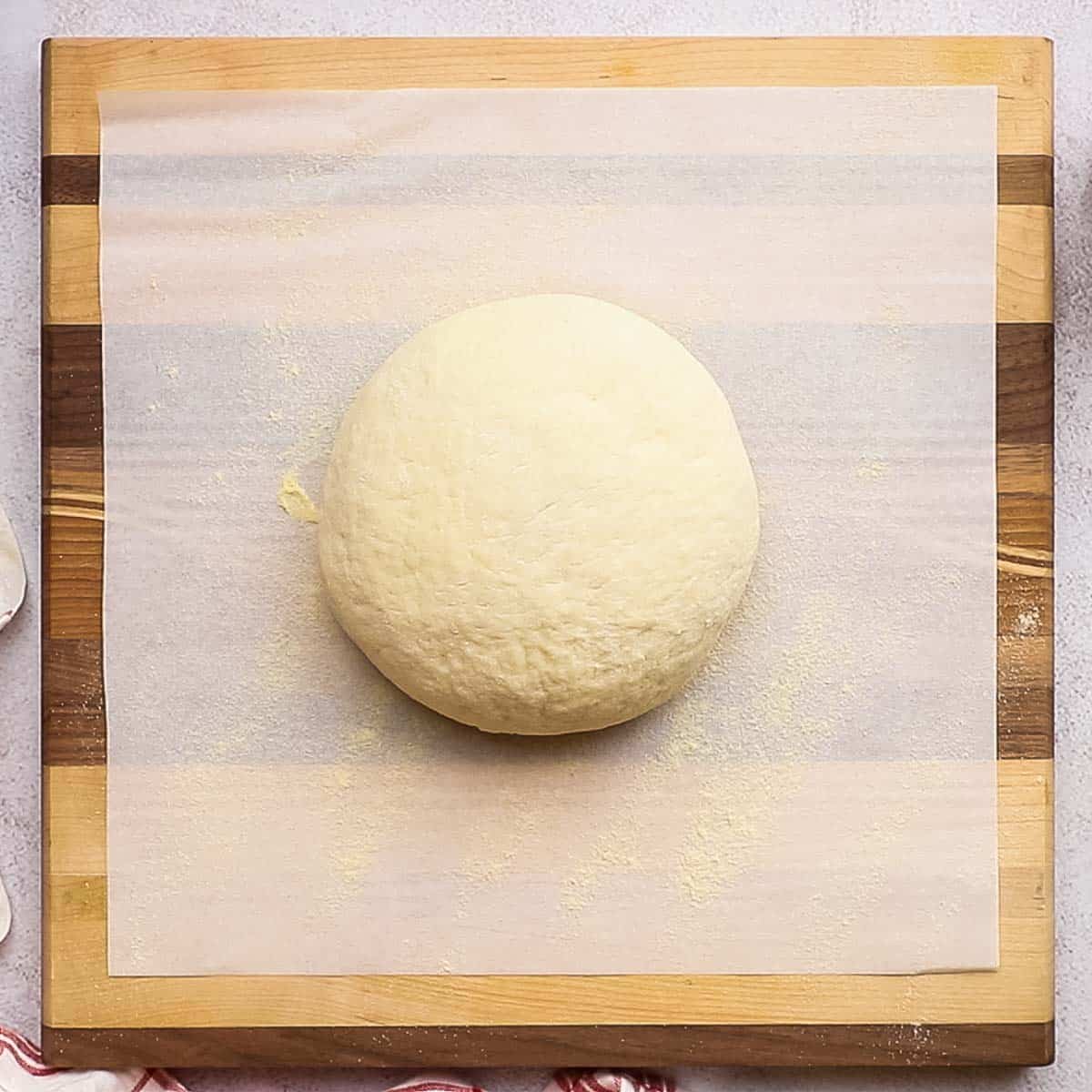 7. Using your hands, stretch the dough out into a 14-inch circle.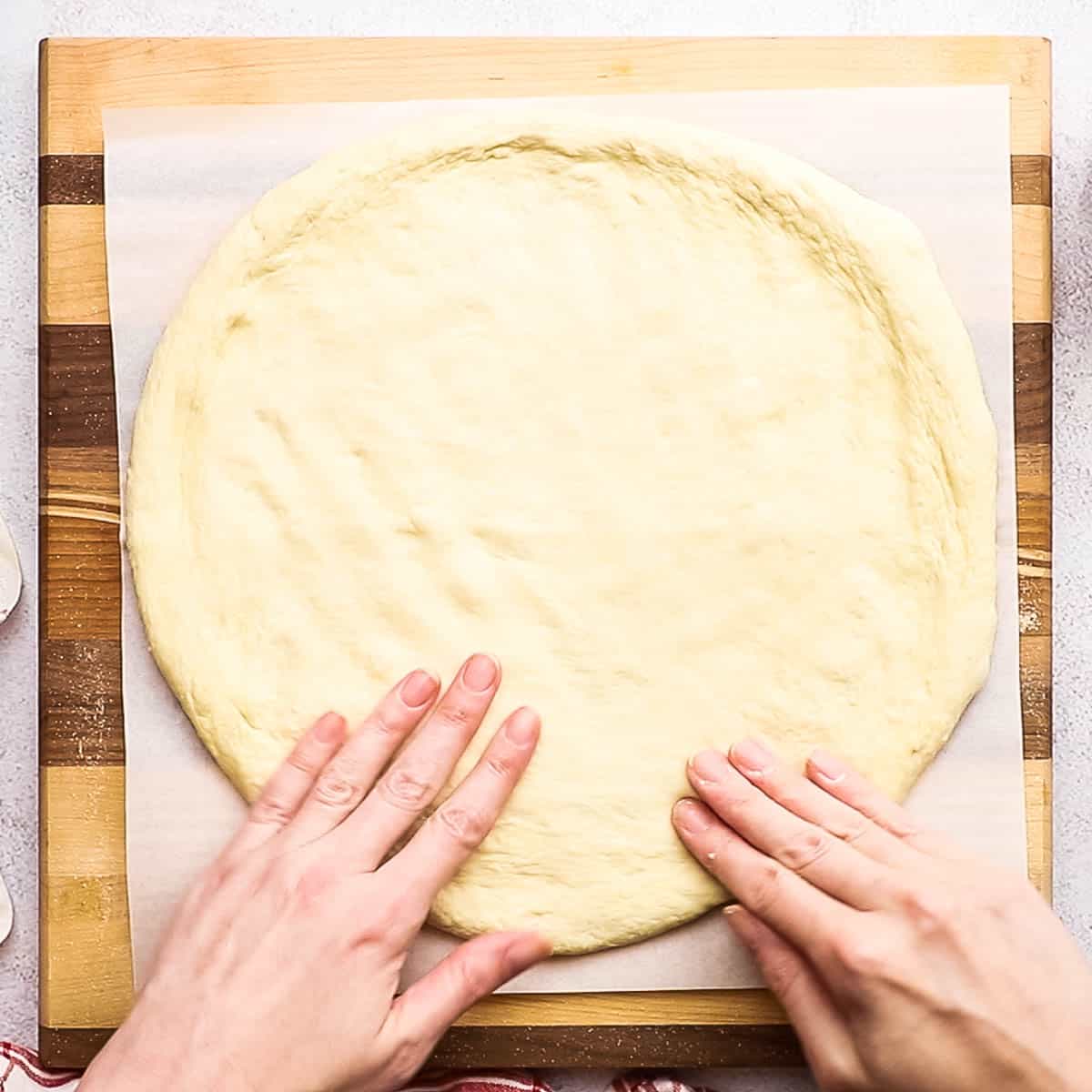 How to stretch it out
This dough also happens to be the easiest dough I've ever worked with.
A problem I've had with every other dough, store bought or homemade, was that it would just resist any attempt at stretching and snap back, making it impossible to get anything resembling a circular shape.
To be fair, the culprit is usually not the recipe itself, but the temperature of the dough. Cold dough means the gluten strands are tighter and more resistant to stretching. Letting the dough come to room temperature before trying to work with it will usually help a lot.
The thing about THIS dough is that, because it's so quick to make, it's easy to just make it an hour before dinner time, so it never has to go into the fridge.
So you're working with dough that's all warm and relaxed. I find that plopping the risen dough onto a large parchment sheet and just quickly spreading it into a circle with my fingers works great. No need to spin it in the air, unless you're into that!
See this post from The Kitchn for more tips for handling pizza dough.
I usually stretch this dough into a large 14-inch circle for a traditional crust, but if you love a soft, thick dough, you can use this to make a thick crust pizza.
Top your pizza
Here are some topping ideas for your pizza.
The Best Way to Bake Pizza
Unless you happen to own an Ooni pizza oven (swoooon!), in which case I highly recommend this Ooni pizza dough recipe, the VERY BEST way I have found to bake pizza at home is to use a pizza stone.
If you don't have one, they are quite inexpensive (no need to get fancy, I've been using the same $10 pizza stone for 12 years).
To use a pizza stone, simply place it in the oven while the oven is preheating to the highest temperature it can go (mine goes up to 525 F).
The pizza stone will get so hot that once you transfer your dough onto it (parchment sheet and all), it will immediately start cooking the bottom of the pizza and ensure that you don't end up with burnt cheese and toppings and a raw crust underneath.
It can be tricky to transfer the pizza to the pizza stone, so you may want to get yourself a pizza peel if you make pizza often. Otherwise the back of a baking sheet or a large cutting board works too!
Freezing Pizza Dough
This recipe makes one large 14 inch pizza. To freeze it, just follow the recipe to the end, letting it rise completely, shape it into a ball and wrap in a couple layers of plastic wrap.
You can also divide it into 2, 3 or 4 smaller balls for smaller or individual size pizzas and wrap them separately.
You can freeze the dough for up to 3 months and then thaw overnight in the refrigerator. Be sure to bring it to room temperature for at least 30 minutes before you work with it so it's easier to stretch.
Ingredients
1

cup

all-purpose flour

1

cup

bread flour

1/2

cup

semolina

2

teaspoons

quick-rise (bread machine) yeast

1

teaspoon

sugar

1

teaspoon

kosher salt

1

cup

warm water

olive oil

for coating the bowl
Instructions
In the bowl of a stand mixer, whisk together the flours, semolina, yeast, sugar and salt.

Add the warm water and stir, just until it starts to come together.

Fit the dough hook to the stand mixer and mix on low speed for about 5 minutes until the dough comes together in a smooth ball. The dough should still be a little sticky and will stick to the bottom of the bowl, but if will not come away from the sides at all, add more flour, one tablespoon at a time, mixing until it comes together. Do not add too much flour or the crust will be tough. 

Drizzle a little olive oil down the inside of the bowl and roll the ball of dough around to coat the dough and the inside of the bowl.

Cover the bowl with a tea towel and put in a warm place to rise for 45 minutes to an hour, until doubled in size.* 

Towards the end of the rising time, place a pizza stone on the middle rack of the oven, and preheat the oven and pizza stone to the highest temperature it will go (mine goes to 550F).

Once it has doubled, punch the dough down and form it back into a ball. Sprinkle a little semolina onto a large piece of parchment paper. Using your fingers, form the dough into a 14-inch circle on top of the parchment. Add sauce and toppings as desired.

Using the parchment paper to lift, transfer the pizza and parchment paper to a pizza peel, wooden cutting board, or the back of a large baking sheet. Open the oven door and carefully slide the pizza and parchment onto the hot baking stone.

Bake 8-12 minutes until golden and cooked through. Time will depend on how hot your oven is, and on whether you are baking on a preheated stone or using a pizza pan. At 550F, mine takes 8 minutes.
Notes
*To speed up the rising time a little for the first rise,

I like to turn the oven on for a couple of minutes, then turn it off so that the inside temperature is like a hot summer day, and let the dough rise in there for the first few minutes to kickstart it. I then remove the dough from the oven to preheat the oven and pizza stone for the pizza.
Nutrition
Calories:
155
kcal
|
Carbohydrates:
32
g
|
Protein:
5
g
|
Fat:
1
g
|
Saturated Fat:
0.1
g
|
Polyunsaturated Fat:
0.2
g
|
Monounsaturated Fat:
0.1
g
|
Sodium:
293
mg
|
Potassium:
59
mg
|
Fiber:
1
g
|
Sugar:
1
g
|
Vitamin A:
0.3
IU
|
Vitamin C:
0.003
mg
|
Calcium:
8
mg
|
Iron:
1
mg