This post contains links to affiliate websites, such as Amazon, and we receive an affiliate commission for any purchases made by you using these links. We appreciate your support!
Tender, buttery cinnamon roll muffins are filled and topped with cinnamon and brown sugar and drizzled with a cream cheese glaze for an indulgent breakfast or snack.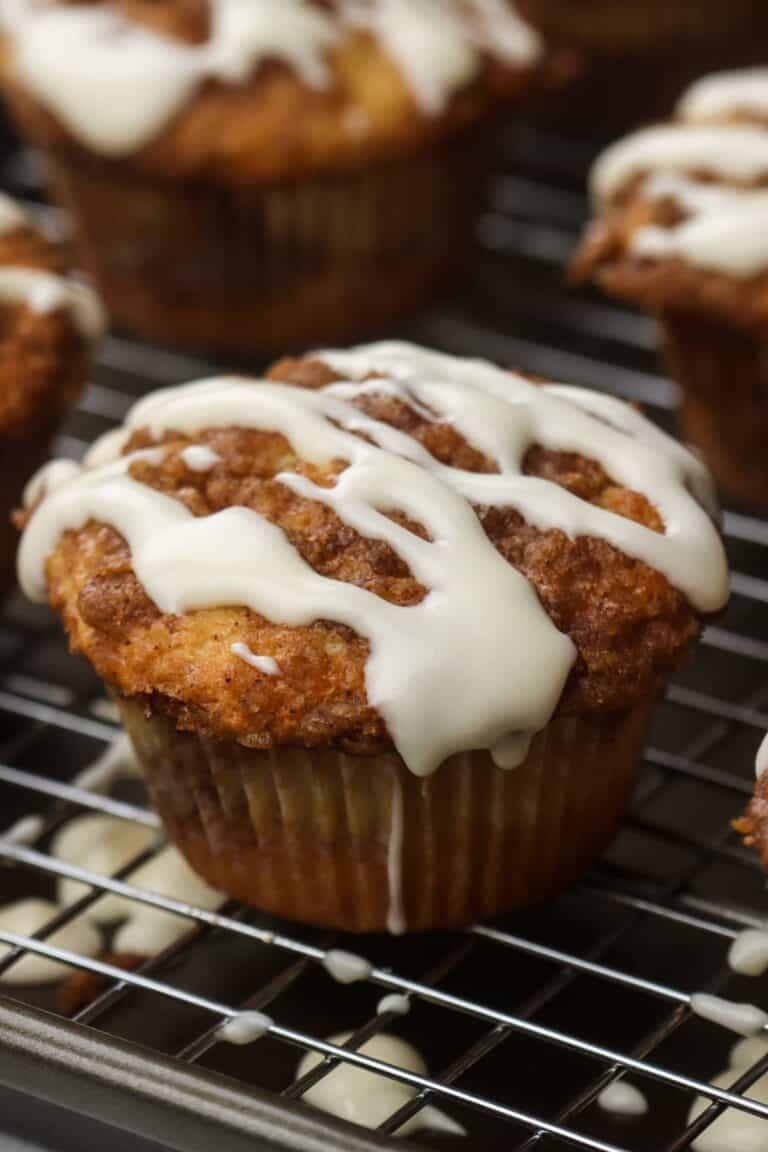 It took me a few tries to get this one right, but boy was it worth it!
Cinnamon rolls are one of my very favorite things, but I usually leave it to to someone else to make them, since they are, in all honesty, a bit of a pain.
But not in muffin form!
No yeast. No wasting time clearing the clutter from your counter for rolling space (just me?).
Most importantly, no waiting for hours for your cinnamon roll fix.
Admittedly, these muffins are not really of the "healthy" variety. If you're looking for those, try these healthy raspberry muffins or banana oatmeal chocolate chip muffins instead.
Actually, my husband questioned whether a muffin with "frosting" could reasonably be considered breakfast food. Fair point.
But let's not get carried away with semantics! I will leave it to you to decide what they are and when to eat them.
The simple sweet and tangy cream cheese glaze I used to drizzle these muffins and complete the cinnamon roll flavor profile is the same one used in this cranberry orange muffins recipe.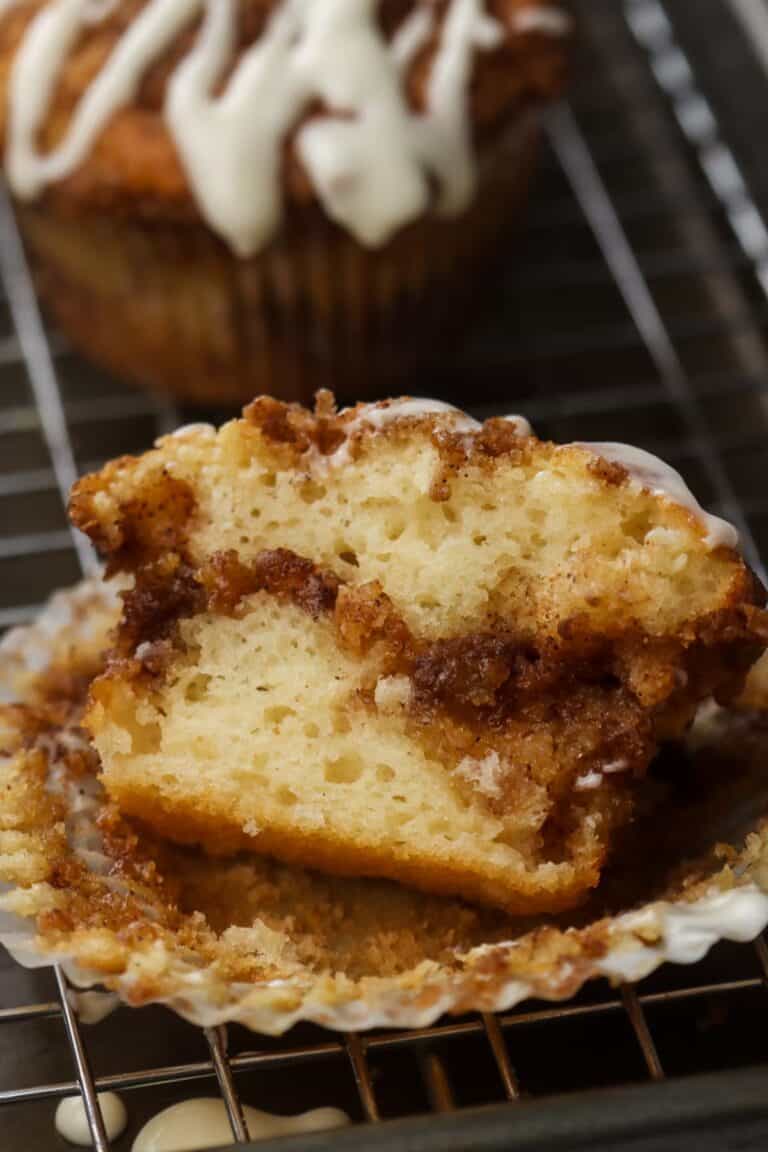 Cinnamon Roll Muffins Vs. Cinnamon Rolls
These muffins are layered with cinnamon sugar and drizzled with a cream cheese glaze, the main components that make cinnamon rolls what they are.
Unlike a real cinnamon roll, cinnamon roll muffins require no yeast or waiting time, they're quicker, easier, and basically have all the flavors of cinnamon rolls in less than 40 minutes.
Most of the ingredients in this recipe are nearly identical to those in a cinnamon roll. The main difference is that muffins, considered 'quick-breads', are leavened with baking powder instead of yeast.
Ingredient Notes
Butter
This recipe calls for unsalted butter that has been melted and cooled. During the mixing of the batter, butter coats the proteins and starches, resulting in a finer crumb.
Because melted butter has already released a significant portion of its water content, the finished treats are soft and dense, as well as flavorful.
A neutral oil like vegetable or canola oil will also work, but I love the flavor of butter in these muffins.
Note: Make sure you have cooled down your butter down for a few minutes or you might end up with scrambled eggs.
Sour Cream
The sour cream in this recipe gives the muffins a rich taste and and keeps them moist. You can also substitute this with an equal amount of full fat plain yogurt.
Buttermilk is another option, though lower in fat than sour cream, so the muffins will be less rich.
Baking Powder
Given this is a no-yeast recipe, a leavener is needed to help the muffins rise. Baking powder works as the leavener in this recipe.
Step by Step Recipe
You probably already have most of the ingredients for these cinnamon roll muffins in your pantry and fridge. So let's make them!
Make the filling
Take a small bowl and mix the brown sugar, cinnamon, and flour together.
2. Add the cold butter in the bowl and work it in the cinnamon sugar with your hands. Set it aside.
Make the muffin batter
3. Take a large bowl and mix the eggs, sour cream, milk, melted butter, and vanilla extract. Whisk together until smooth.
4. In another bowl, take the flour, sugar, baking powder, and salt. Mix it well.
5. Add the dry mixture to the wet ingredients and stir it gently with a wooden spoon or rubber spatula. The batter will be thick.
6. Grease a standard muffin tin and line it with muffin cups. Pour about two tablespoons of the muffin batter in each cup. Add about 2 tablespoons of filling on top.
7. Cover the filling with another 2 tablespoons of batter, and sprinkle with the remaining filling.
10. Bake the muffins in the oven for 20 to 25 minutes.
11. In a medium bowl, mix together the cream cheese, butter, vanilla, and powdered sugar. Beat in the milk 1 tablespoon at a time until you reach a drizzling consistency.
12. Drizzle the glaze on top of the baked muffins.
Tips for Success
Use muffin papers (baking cups or liners). As a general rule, I try to avoid muffin liners. While needed for cupcakes, in the case of muffins they are usually just wasteful and unnecessary. Not so for these muffins. I tested them twice without the papers and the topping just bubbles over the entire pan. The liners keep the topping contained and the muffins from sticking to the pan.
Don't skip the flour in the filling/topping. While classic cinnamon rolls don't usually have flour in the cinnamon filling, in the case of these muffins, without the small amount of flour, the filling just melts into the batter as it bakes and you don't get that lovely ribbon of filling.
Don't overbake: Overbaking leads to dry muffins, especially for muffins made with butter. Test with a toothpick in the center as soon as they look set. In my oven, these take around 23 minutes. Remove the muffins from the pan as soon as they are cool enough to handle and transfer to a wire rack.
Don't overmix. Another important thing to remember is not to overmix the batter or your muffins won't end up as nice and fluffy as you'd want.
Tip to Measure Flour
When it comes to measuring flour, you can either weigh it (my preferred method!), or use the "spoon & level" method.
To use the "spoon & level method, use a spoon to scoop flour into a measuring cup, and then using the back of a knife, level off the measuring cup.
Do not use your measuring cup to scoop out the flour. This results in the flour being packed into the cup, and too much flour being added to the recipe.
Too much flour leads to baked goods that are tough, hard, and dry.
Frequently Asked
What are cinnamon roll muffins?
Cinnamon roll muffins are the muffin version of the loved cinnamon roll made without a yeasted dough. They are filled with a cinnamon sugar filling and topped with a cream cheese glaze.
How do you make your muffins fluffy?
Use room temperature ingredients. When eggs and dairy are at room temperature, they combine to form a smooth mixture that traps air and expands when heated in the oven. Your muffins will be fluffy and light as a result of this expansion.
Why are my muffins dry and dense?
One of the major reasons your muffins might turn out to be dry and dense is because you might not be adding the correct amounts of ingredients. Make sure you are measuring your flour (see spoon & level tips above) and all other ingredients properly. Over-mixing your batter can also lead to muffins that are too dense. Mix by hand and only until just combined.
Can I make the muffin batter ahead of time?
Yes! Make the batter and keep it in the refrigerator until you're ready to bake. To avoid dense muffins, bake your muffins within the next 24 hours. In order to bake, spoon the batter into muffin tins and bake them for 12 to 15 minutes. The batter does not need to be stirred.
Can I freeze these muffins?
Yes you can! Wrap each (unglazed) muffin in plastic wrap and then store the muffins in a freezer bag once they have cooled completely. Take a muffin out of the freezer and let it sit on the counter for at least an hour to properly thaw before serving. In addition, muffins can be microwaved in 15-second increments.
How do I store Cinnamon Roll Muffins?
The best way to store these muffins is the store the muffins and glaze separately. Put the unglazed muffins in an airtight container at room temperature for 3-4 days, and the glaze in an airtight container in the refrigerator. Storing muffins in the refrigerator can dry them out.
More Favorite Muffins
Cherry Muffins with Coconut Streusel
Ingredients
Filling/Topping
1

cup

brown sugar

2

tablespoons

all-purpose flour

1

tablespoon

cinnamon

4

tablespoons

cold butter

cut into pieces
Muffins
2

large eggs

1

cup

sour cream

1/4

cup

milk

⅓

cup

unsalted butter

melted and slightly cooled

2

teaspoons

vanilla extract

1 ¾

cup

all-purpose flour

½

cup

granulated sugar

1

tablespoon

baking powder

¼

teaspoon

salt
Cream Cheese Glaze
3

ounces

cream cheese

softened

3

tablespoons

butter

softened

3/4

cup

powdered sugar

1/2

teaspoon

pure vanilla extract

2-3

tablespoons

milk
Instructions
Topping/Filling
Combine the brown sugar, cinnamon, and flour. Work in the cold butter with your fingers until crumbly.. Set aside.
Muffins
Preheat oven to 375 F. Grease a standard 12-cup muffin tin. (Note that this recipe makes about 15 muffins, so you can either use another muffin tin for the remaining muffins, or make 2 batches).

In a large bowl, whisk together the eggs, sour cream, milk, melted butter, and vanilla extract. Set aside.

In a medium bowl, whisk together the flour, sugar, baking powder, and salt.

Stir the flour mixture into the egg mixture with a wooden spoon or rubber spatula.

Put about 2 tablespoons of batter in each cup.

Sprinkle about 1 tablespoon of filling into the cups, on top of the batter.

Add another 2 tablespoons of batter to each muffin cup, over the filling.

Sprinkle another tablespoon of filling on top.

Bake in the preheated oven for 22-26 minutes, until the top springs back when touched and a toothpick inserted in the center comes out clean.

Allow the muffins to cool in the pan on a wire rack for 15 minutes and then transfer to the rack to cool completely.
Glaze
In a medium bowl, beat together the cream cheese, butter, vanilla, and powdered sugar.

Beat in milk, one tablespoon at a time, until you reach a drizzle-able consistency.

Drizzle the glaze over the cooled muffins.
Notes
*Muffin liners are essential in this recipe, to contain the filling/topping.
*Store muffins and glaze separately. Unglazed muffins can be kept at room temperature in an airtight container for 3-4 days, and the glaze should be stored in an airtight container in the refrigerator.  
Nutrition
Calories:
309
kcal
|
Carbohydrates:
41
g
|
Protein:
3
g
|
Fat:
15
g
|
Saturated Fat:
9
g
|
Polyunsaturated Fat:
1
g
|
Monounsaturated Fat:
4
g
|
Trans Fat:
1
g
|
Cholesterol:
61
mg
|
Sodium:
131
mg
|
Potassium:
169
mg
|
Fiber:
1
g
|
Sugar:
28
g
|
Vitamin A:
503
IU
|
Vitamin C:
1
mg
|
Calcium:
89
mg
|
Iron:
1
mg