This post contains links to affiliate websites, such as Amazon, and we receive an affiliate commission for any purchases made by you using these links. We appreciate your support!
This vegan chocolate mug cake with raspberries takes about 5 minutes to make, start to finish. It is rich, dark, moist and perfect for satisfying a sudden chocolate craving.
NOTE: This recipe, photos, and post have been updated since it was first published in 2018. The changes made to the recipe are detailed in the recipe card, in case anyone wants to make it the old way.
Tips for an EASY night in
How do you feel about Valentine's Day? I'm kind of on the fence. I mean it doesn't make me furious the way it does some people, but I can't say I've ever gone out of my way to celebrate in any significant way either.
The only time I can remember eating out on Valentine's Day was a couple of years ago when Phil and I were in NYC for a few days. The fact that it also happened to be Valentine's Day was pure coincidence.
But you know, an evening at home can be special too, with just a little extra effort. And I do mean "a little".
Maybe start with a 15-minute pasta dish like this pasta carbonara or this vegetarian pasta with fresh tomato cream sauce. A baked pasta dish like this baked tortellini with roasted vegetables is a perfect make-ahead option.
Or if you prefer more exotic flavors, this 20-minute (vegan) udon stir fry. Or for a little heat, these little sriracha honey meatballs.
After that the only other thing you need for the perfect low key, low stress Valentine's Day meal is dessert. Preferably chocolate.
5-minute vegan chocolate mug cake
I know making dessert on a weeknight might sound crazy (or is that just me?).But hear me out. I'm about to tell you how you can make a deep, dark, moist vegan chocolate mug cake for two in about 5 minutes. FIVE MINUTES.
Have you seen these microwave mug cake recipes around? Did you just dismiss them thinking "no way that can be good". I know I did.
But, figuring that it was a pretty low-risk proposition (5 minutes of my time, and tiny quantities of ingredients I always have on hand), I finally caved and decided to try it.
To say I was amazed would not be an understatement. This chocolate raspberry mug cake is rich, delicious, satisfying, and… it is completely vegan!
When I was developing this recipe, my goal was not to make it vegan… it was just to make a delicious, easy, and quick chocolate raspberry dessert. Well, somehow it turned out to be both.
INGREDIENT NOTES
The ingredients used in this recipe are super simple and there's a good chance you already have what you need.
Cocoa Powder
First things first. Chocolate is probably the most important part of this recipe, so it is important to use good quality cocoa powder.
This recipe uses unsweetened cocoa powder as it gives me the margin to control the amount of sugar, and where I want the sweetness to come from in the recipe.
I also use dutch-process cocoa powder for it's rich chocolate flavor, but natural cocoa powder will work too in this recipe, since it's leavened with baking powder. See this helpful guide to cocoa powders from King Arthur Flour.
Raspberries
Fresh
I have used fresh raspberries in this recipe. They are an excellent choice if you have them on hand. However, frozen raspberries work just as well, and tend to be a more affordable option.
Frozen
To use frozen raspberries, simply defrost them thoroughly first. Raspberries are a naturally delicate fruit. Using them frozen in this mug cake will prevent it from baking correctly, resulting in a very under-cooked, almost pudding-like mug cake.
Simply remove the necessary amount of frozen raspberries and place them in the refrigerator to thaw. Pat the raspberries dry with a paper towel in the morning or before making the chocolate raspberry mug cake to ensure any ice particles have been removed.
I've also used the defrost setting on my microwave with success plenty of times.
Almond Milk
This recipe is completely vegan, hence the almond milk. The almond milk helps make for a more moist and flavorful cake, and not to forget the various health benefits it has.
The almond milk can be essentially substituted with any plant-based milk of your choice, or if you are not making a vegan recipe, you can use dairy milk.
Water will also work, although the cake will be less rich.
STEP-BY-STEP INSTRUCTIONS
So, let's get started on the recipe!
Make the dry batter by whisking cocoa powder, flour, sugar, baking powder, and salt in a bowl.
2. Add in your oil and almond milk, and whisk it until smooth to get your cake batter ready.
3. Put 1 tablespoon of chocolate chips in the bottom of a standard-size microwave-proof mug.
4. Pour half of the prepared cake batter into the mug.
5. Add in the remaining chocolate chips and raspberries and top it with the rest of the batter.
6. Put the cake in the microwave for about 90 seconds on high.
7. Top the cake with icing sugar and fresh raspberries if desired, and serve warm.
This recipe has no eggs so don't worry about under baking it. I actually prefer it kind gooey, like a cross between cake and pudding. You can devour it warm topped with your favorite ice-cream, or frozen yogurt.
Recipe Variations
This is a great basic vegan chocolate mug cake recipe, and you can add so many variations to it other than the raspberries. Some of my favorites include:
Nutella
Replace the raspberries OR chocolate chips with Nutella. Raspberry Nutella Mug Cake would taste pretty great too!
Peanut Butter
You can use peanut butter (or any other nut butter) instead of the raspberries or chocolate in this recipe. It adds a perfectly nutty and creamy taste to the cake.
Nuts
You can just add your favorite nuts in the base of this chocolate mug cake or just add nuts in this recipe – it would be amazing either way!
Toppings
You can top this Vegan Chocolate Mug Cake with ice cream, whipped cream, more chocolate chips, butterscotch chips, or even peanut butter chips. Oh, and sea salt caramel!
Microwave Method
This recipe took 90 seconds to prepare in my microwave, on full power. You can cook it a bit longer if you want a slightly more tender cake, but take care not to overcook or it may be dry.
Keep in mind that microwave timings vary depending on the brand and type of microwave.
Since there are no eggs in the recipe, there is no danger in undercooking it, and feel free to do so if you like a gooey chocolate mug cake (my personal favorite!).
Oven Method
Not everyone owns or feels comfortable using a microwave and this recipe is also really easy to make in the oven.
Pour the cake batter into a 6-inch or 2-cup oven-safe ramekin and bake for 10-12 minutes, or until the desired texture is obtained.
Mug Cake for Two
This recipe yields one standard-size mug cake, so double it if you want two. You can change the number of servings in the recipe card and it will do all the math for you!
Mug Cake FAQs
Are Mug Cakes Actually Good?
A mug cake can be just as delicious as a full-size cake. The ingredients are the same, it is simply cooked more quickly than a regular cake since it is a single serving and uses the time-saving microwave cooking method.
Why is my mug cake rubbery?
Overcooking is usually the culprit when a mug cake comes out dry or rubbery. To avoid over-baking, take it out 15-20 seconds before the recommended time and test it by placing a fingertip on the top. The top should be slightly tacky. If it is dry it is likely overcooked. If it's still wet, just bake a few seconds longer.
Are mug cakes safe to eat?
Definitely. Even a mug cake with eggs in it is perfectly safe to eat as long as it is fully cooked. A mug cake with no eggs, like this one, is safe even if slightly gooey or underbaked.
How can I make a mug cake healthier?
If you want to make a slightly healthier version of this recipe, here is what you can do.
Sugar: You can cut the amount in half, or use maple syrup instead of the sugar.
Oil: You can use melted coconut oil or applesauce instead of vegetable oil.
Flour: Instead of the all-purpose flour, you can use white whole wheat flour.
How do I store a mug cake?
Microwave mug cakes are supposed to be consumed as soon as they are prepared, and they are definitely at their best fresh and still slightly warm.
Oh, and I probably don't need to tell you this, but you don't need to be a Valentine's Day enthusiast to make yourself some chocolate cake.
In fact if you feel like going ALLL out, this chocolate caramel cake is one of my most popular recipes ever!
Sound good to you? If you make this recipe, I would be THRILLED if you would take a pic and tag me on Instagram @ourhappymess!
And if you're looking for more easy dinner inspiration, follow me on Pinterest, Instagram, Facebook or Twitter. Or just subscribe in the sidebar on the right to get every new recipe in your inbox 🙂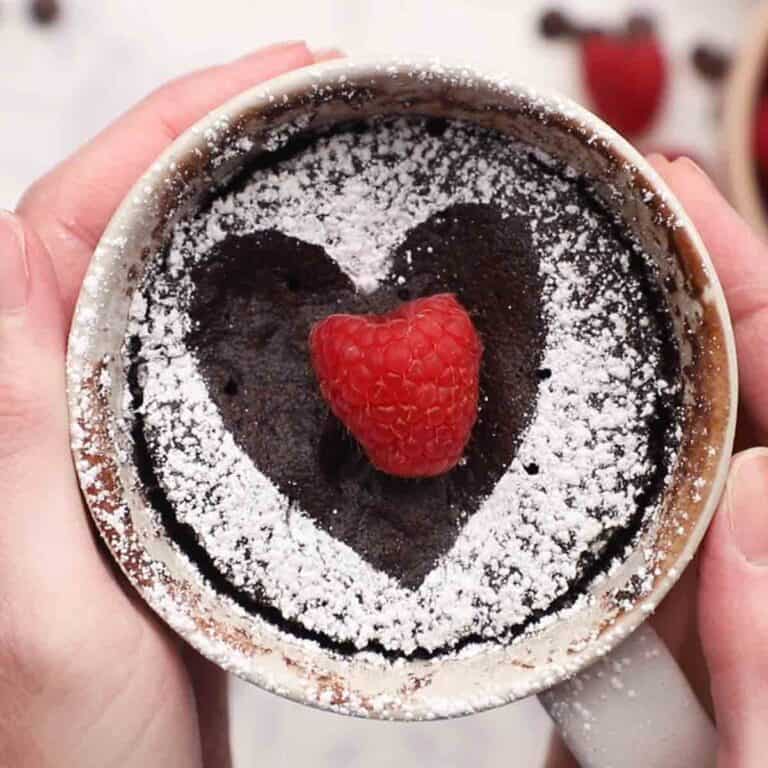 Chocolate Raspberry Mug Cake
This vegan chocolate mug cake with raspberries takes about 5 minutes to make, start to finish. It is rich, dark, moist and perfect for satisfying a sudden chocolate craving.
Print
Pin
Rate
Save
Saved!
Ingredients
2

tablespoon

chocolate chips*

3

tablespoons

all-purpose flour*

2

tablespoons

unsweetened cocoa powder

2

tablespoons

sugar

1/2

teaspoon

baking powder

1/8

teaspoon

salt

2

tablespoons

vegetable oil

4

tablespoons

almond or other milk

5-6

raspberries

fresh, or thawed from frozen
Instructions
Put 1 tablespoon of chocolate chips in the bottom of a standard-size mug. 

In a small bowl, whisk together the dry ingredients (flour, cocoa powder, sugar, baking powder, and salt) until no lumps remain. Add the oil and milk and stir until smooth.

Pour half the batter into the mug, drop in the remaining chocolate chips and the raspberries, and cover with the remaining batter.

Microwave on high for about 90 seconds. (Note that microwave times may vary). Serve warm.
Notes
*This recipe has been modified slightly since it was originally published in 2018 to decrease the flour from 3 to 4 tablespoons, and to add an extra tablespoon of chocolate chips to the raspberry layer. I find these changes make for a moister result.
I know many enjoyed the original version, so I wanted to highlight this in case you prefer to make it the old way!
Nutrition
Calories:
364
kcal
|
Carbohydrates:
70
g
|
Protein:
6
g
|
Fat:
9
g
|
Saturated Fat:
5
g
|
Polyunsaturated Fat:
1
g
|
Monounsaturated Fat:
1
g
|
Trans Fat:
1
g
|
Cholesterol:
5
mg
|
Sodium:
394
mg
|
Potassium:
394
mg
|
Fiber:
6
g
|
Sugar:
43
g
|
Vitamin A:
71
IU
|
Vitamin C:
3
mg
|
Calcium:
213
mg
|
Iron:
3
mg