Simple tofu wraps make the perfect quick, healthy lunch. These vegan tortilla wraps are filled with powerhouse ingredients to get you through the day!
Are you a lunch skipper?
I'm going to level with you here, lunch is almost always an afterthought for me. When I worked in an office, I diligently brought my leftovers or frozen tv dinner and sat down at an actual table every day.
Now that I work at home, I almost always look up suddenly to find it's 3 pm and I'm starving, but well, it's almost dinner time so... granola bar it is.
Lately I've discovered that the trick is in preparing something ahead of time, and wraps are perfect for that. You can make a few of these easy, delicious, and healthy vegan tofu tortilla wraps in about 20 minutes.
Who doesn't love a good wrap? They're easy to make, and they're so customizable - a few simple ingredients, your favorite vegetables, and you have lunch-on-the-go or a quick dinner at the end of a long day.
If you are like me and you love tofu - but you don't really want to spend more than 20 minutes in the kitchen, don't worry, I got you!
On my more adventurous days, I would whip up this super Easy Kung Pao Tofu, but sometimes I am just feeling wraps more than rice or noodles.
WHY USE TOFU?
Tofu is the hero in this recipe - there are a lot of ways to make good plant-based wraps, but tofu is so easy to flavor to your taste. In this case, I briefly marinate it in tamari or soy sauce and then give it a quick dip in a nutritional yeast mixture, which gives it a cheesy nutty flavor.
Tofu, also called bean curd, is prepared by squeezing curdled soy milk into a solid block. It's super easy to use and can be sliced into various shapes and cooked in a variety of ways.
Some people are of the opinion that it's boring, but it's simply a blank canvas for any flavor or texture you care to give it! Not to mention, it also has a plethora of health benefits.
PRESSING TOFU FOR THE WRAPS
This recipe uses extra-firm tofu, which is the best option for pan-frying, deep-frying, or baking your tofu.
Pressing is a technique for removing part of the moisture and making it simpler to cook with. In some recipes, if the tofu is excessively wet, it will break up during cooking, which may not be what you want.
Pressing tofu will definitely improve its texture when cooked and is the best way to get a crispy texture. Pressed tofu will also absorb flavors much more readily.
Pressing tofu is easy and doesn't even require a tofu press. Here's a good guide to pressing tofu.
INGREDIENT NOTES
Tofu
I use a 12-oz block of extra firm pressed tofu for this recipe. See above for notes about pressing.
Firm tofu will work too, but stay away from silken tofu since it is too soft.
Tamari
This recipe uses tamari, and you might be wondering what that is.
Tamari (or tamari shoyu) is a fermented soybean sauce from Japan. It has a thicker consistency and a more balanced flavor than Chinese soy sauce, making it an excellent choice for dipping and seasoning. It's also gluten-free and vegan.
Tamari is great, but soy sauce works just as well for this recipe, so don't hesitate to use it if you don't have a gluten sensitivity.
Nutritional Yeast
I use nutritional yeast to coat the tofu and make it super nutty and savory. Nutritional yeast is a staple of vegan cooking, and has some great health benefits.
Note: If you don't need these wraps to be vegan, you can also use parmesan cheese in the coating.
Vegetables
For this recipe, I used lettuce, tomato, avocado, and red onion. But, there is no hard and fast rule when it comes to vegetables. You can add or subtract whatever you like.
STEP-BY-STEP RECIPE
Drain the tofu and cut it into 8 half-inch sticks.
2. Coat the tofu sticks with the tamari or soy sauce.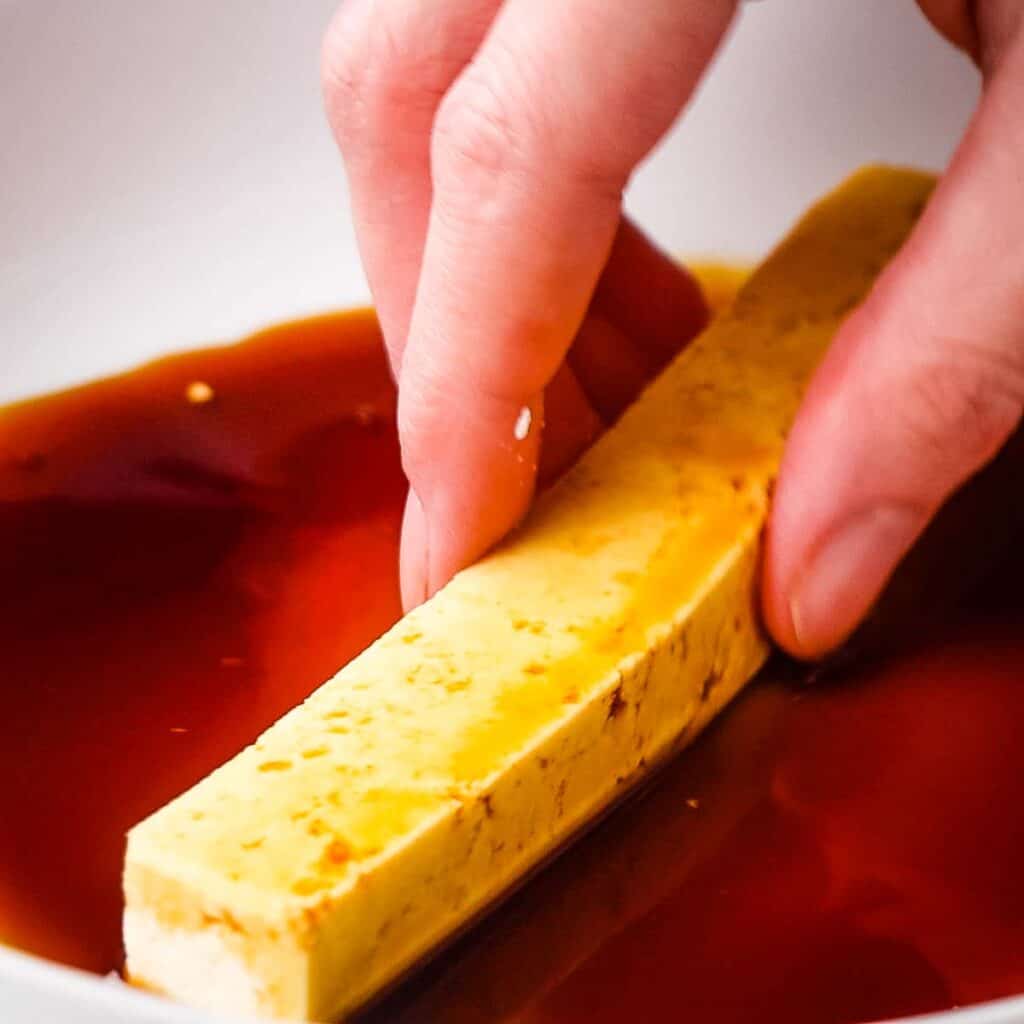 3. In a separate bowl, mix the nutritional yeast, garlic powder, salt and pepper.
4. Coat the tofu sticks in the nutrional yeast mixture.
5. Heat a large non-stick pan and pan fry the tofu sticks for 2-3 minutes on each side, until they are golden brown.
6. Spread the vegan mayo on the tortilla, layer the veggies, tofu, vegan cheese, and wrap the tortillas.
HOW TO FOLD A TORTILLA WRAP
If you are struggling with how to fold your wrap without losing all the fillings, here is a step-by-step guide to folding a wrap the right way.
Make sure you are using a soft tortilla, and it is not too small to make the wrapping process easier. I prefer 10-inch tortillas for this recipe.
2. Pile a moderate amount of filling on the tortilla, not too much because that is the recipe for disaster.
3. Fold in the sides almost to the point where they touch, but leave an inch or two between them so that some of the filling shows through.
4. Turn the tortilla 90 degrees and keep the side flaps pulled in while bringing the bottom flap over the edges with your thumbs. Continue to draw the bottom flap taut and use it to wrap around the filling and side flaps, rolling one or two more times until everything is secure.
STORING & MEAL PREP
If you aren't going to eat them right away, you can also make them ahead of time put them in the fridge or freezer in a lunch bag. If you're concerned about the avocado browning, you can rub some lime or lemon juice on it right after slicing.
Another option is to prepare the tofu ahead of time and store it in a separate container. Use another container to keep the vegetables and because sliced tomatoes spoil fast, it is better to use cherry tomatoes. Then, when you're ready to eat, put everything together.
MORE VEGAN RECIPES
I've been loving incorporating more vegan recipes into our diet, so if you're like us and trying to reduce your consumption of animal products, here are a few more vegan recipes we love.
Ingredients
12

oz

block extra-firm tofu

pressed and sliced lengthwise into 8 half-inch sticks

2

tablespoons

tamari or soy sauce

2

tablespoons

nutritional yeast

½

teaspoon

garlic powder

pinch

of salt and pepper

4 10-

inch

tortillas

4

tablespoons

vegan mayonnaise

1

ripe avocado

sliced

1

ripe tomato

thinly sliced

4

lettuce leaves

½

medium red onion

thinly sliced into rings

4

slices

vegan cheese

optional
Instructions
Pour the soy sauce or tamari into a shallow dish.

Place the nutritional yeast, garlic powder, and salt and pepper in a separate shallow dish and stir to combine.

Place the tofu sticks in the dish with the tamari or soy sauce and turn to coat.

Coat generously in the nutritional yeast mixture by pressing them down.

Heat a large non stick pan over medium heat. Add the tofu sticks and cook 2-3 minutes per side, until golden brown.

Spread a tablespoon of vegan mayo in a circle onto the centre of a tortilla. In a line down the centre, layer the avocado, tomato, lettuce, red onion, optional vegan cheese, and tofu. Sprinkle with additional salt and pepper and roll up*
Notes
*For a gluten-free version, use gluten-free tortillas and tamari instead of soy sauce.
*See the post above and video for a step-by-step tutorial on rolling a wrap.
Nutrition
Calories:
484
kcal
|
Carbohydrates:
52
g
|
Protein:
17
g
|
Fat:
23
g
|
Saturated Fat:
4
g
|
Polyunsaturated Fat:
3
g
|
Monounsaturated Fat:
8
g
|
Sodium:
1177
mg
|
Potassium:
731
mg
|
Fiber:
7
g
|
Sugar:
6
g
|
Vitamin A:
2107
IU
|
Vitamin C:
15
mg
|
Calcium:
131
mg
|
Iron:
5
mg