This post contains links to affiliate websites, such as Amazon, and we receive an affiliate commission for any purchases made by you using these links. We appreciate your support!
Chewy udon noodles, loads of crisp tender vegetables, and a perfectly balanced stir fry sauce make this udon stir fry (yaki udon) a weeknight favorite.
A little chopping and less than 10 minutes of cooking are all that's needed for a vegan meal that beats takeout any night!
My favorite local dumpling place, Harbin makes homemade noodles that rival their best dumplings and I really wanted to try replicating them at home. I love how these turned out!
I've been loving vegetarian stir fries at home lately, for their ease, speed, and versatility. Meals like these gochujang noodles or this easy vegetarian Kung Pao Tofu are always well received by the family, too!
In this easy udon stir fry, the vegetables are quickly stir fried in stages to ensure everything is perfectly cooked, and then tossed with thick, chewy udon noodles. The perfect sesame stir fry sauce coats everything.
Best of all, it all takes about 20 minutes.
*This post contains affiliate links. As an Amazon associate, I earn from qualifying purchases. Please see my full disclosure policy for details.
Yaki Udon Origin
Yaki Udon is a stir fried Japanese noodle dish traditionally prepared with an assortment of vegetables and protein, coated in a soy based sauce. Yaki Udon is fairly simple to make, and is widely eaten as a late night snack in Japan.
Yaki Udon is made using Japanese udon noodles that are completely vegan, thick, chewy, wheat noodles made with just wheat, water, and salt.
This version is made with just veggies, but these scrumptious stir fried noodles are so versatile and easily customizable, that you can pair them with shrimp, meat, and just just about any vegetables!
Ingredient Notes and Substitutions
Toy Choy
I used a smaller variety of pak choy in this recipe called toy choy. But most grocery stores carry a variety of Asian green vegetables that will do the job nicely in this stir fry. Look for bok choy or baby bok choy, or Chinese broccoli for instance. Here's a list of easily found Asian greens.
I love the thick crunchy stems of these vegetables, but you can also use a cabbage like napa cabbage (Chinese cabbage) or savoy cabbage.
Regular broccoli or broccolini will work too.
I chopped my toy choy into quarters, but you can cut them to your preferred size, keeping in mind they will shrink quite a lot as they cook.
Soy Sauce
I prefer to use low-sodium soy sauce in this recipe. Regular soy sauce in this quantity would be too salty.
Udon Noodles
For this recipe, I used the shelf-stable udon noodles like these that are available in vacuum-packed packages in the Asian section of the grocery store. You can also use frozen or semi-dried udon noodles.
Adding Meat
Although this is a vegetarian version, Yaki Udon often includes meat such as chicken or pork. This should be stir fried before the veggies and set aside. Add it back at the end with the noodles.
How to Make this Udon Stir Fry Step-by Step
Super customizable and simple to make, this Udon Stir Fry is going to be a family favorite.
Here is the step-by-step recipe.
Take your vacuum-packed udon noodles out of the package and soak them in hot water to loosen them while you prepare the remaining ingredients.
Note: If you are using frozen udon noodles, cook them in a large pot of boiling water for a minute, or according to the package directions. Once they are cooked, take them out and rinse them under cold water. If you are using semi-dried udon noodles, you need to boil them for around 8 minutes first.
2. Make your sauce by mixing together the soy sauce, vegetable broth, rice vinegar, sesame oil, and hot chili oil.
3. Heat one tablespoon of vegetable oil over medium-high heat in a large pan and cook your garlic and ginger in the oil by stirring constantly for around 30 seconds.
5. Now add in your carrots, and cook them for about 1 minute, while constantly stirring.
6. Add the mushrooms and green onions to the pan and cook for another minute.
7. Add your toy choy and stir fry for two more minutes until they are crisp tender.
8. Add the udon noodles to the pan and stir fry for additional two minutes till they are combined with the vegetables.
9. Add the sauce and stir fry to combine until it thickens and coats the noodles. Continue cooking for a minute or two to heat everything.
10. Sprinkle the chopped green onions on top and serve.
Tips for Success
Soak your noodles
I usually buy the shelf-stable, vacuum-packed udon noodles, which are super convenient. You can put them directly into the stir-fry as-is, but I prefer to let them soak in hot water (out of the package) to help loosen them up first. Otherwise you will need to toss them around quite a bit to get them apart without breaking them.
I like to let them soak for about 10 minutes or so while I'm prepping and cooking the vegetables.
Cook vegetables in stages
For perfectly cooked vegetables, I recommend cooking in stages as described in the recipe, since they all cook at different rates. Each vegetable is cooked at medium high heat and only briefly, so this does not add a lot of time to the recipe.
Stir constantly
It's not called a stir fry for nothing! Since everything is cooked on medium-high heat, stirring constantly as you cook and add ingredients keeps things from burning.
Have all your ingredients ready before you start
This is critical for any stir fry. There may be a few minutes of prep work to be done first, but once the cooking starts, it goes VERY quickly. If you don't want anything to burn, you'll want your ingredients ready to go before you start.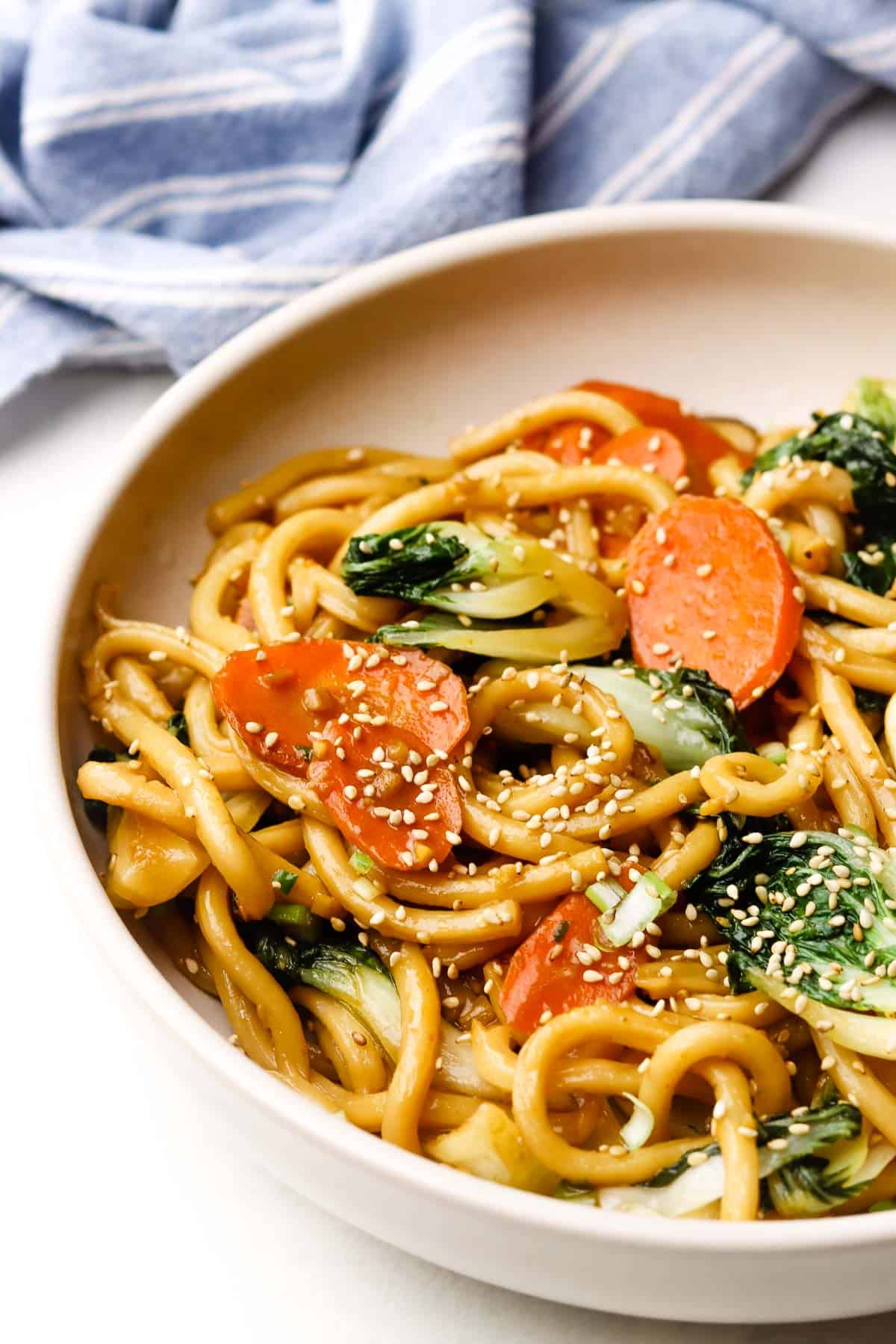 Udon Stir Fry
Chewy udon noodles, loads of crisp tender vegetables, and a perfectly balanced stir fry sauce make this udon stir fry (yaki udon) a weeknight favorite.
Print
Pin
Rate
Save
Saved!
Ingredients
14

oz

udon noodles*

shelf-stable, vacuum-packed

1/4

cup

low-sodium soy sauce

1/4

cup

vegetable broth

1

teaspoon

rice vinegar

1

tablespoon

sesame oil

1

tbsp

vegetable or canola oil

2

cloves

garlic

minced

1

tablespoon

ginger

grated or minced

2

carrots

thinly sliced on the bias

4

oz

mushrooms

thinly sliced

3

green onions cut into 1 inch pieces

8

oz

toy choy or baby bok choy*

quartered

chopped green onion and sesame seeds for garnish

1

teaspoon

hot chili oil
Instructions
Soak udon noodles in hot water to loosen them while you proceed with the remaining steps.

In a small bowl or measuring cup, combine, the soy sauce, vegetable broth, rice vinegar, sesame oil, and chili oil.

Heat 1 tablespoon of oil in a large pan over medium high heat. Add the garlic and ginger and cook, stirring constantly for 30 seconds.

Add the carrots, and cook stirring constantly about 1 minute.

Add the mushrooms and green onions and cook 1 minute.

Add the toy choy and stir fry about 2 minutes longer until crisp tender.

Add the udon noodles and cook, stirring to combine with the vegetables, about 2 minutes longer.

Add the soy sauce mixture and toss to combine until the sauce thickens and coats the noodles. Stir fry another minute or two to heat.

Sprinkle with green onions and sesame seeds and serve.
Notes
*Udon noodles are also available dried or frozen. Follow the package instructions for preparation for a stir fry.
*Pak Choy, bok choy, baby bok choy, or broccoli may be used instead. See the post for more suggestions.
*This makes 2 large portions or 4 side portions.
Nutrition
Calories:
527
kcal
|
Carbohydrates:
79
g
|
Protein:
20
g
|
Fat:
17
g
|
Saturated Fat:
2
g
|
Polyunsaturated Fat:
7
g
|
Monounsaturated Fat:
4
g
|
Trans Fat:
1
g
|
Sodium:
2418
mg
|
Potassium:
509
mg
|
Fiber:
9
g
|
Sugar:
15
g
|
Vitamin A:
15479
IU
|
Vitamin C:
60
mg
|
Calcium:
171
mg
|
Iron:
2
mg