This post contains links to affiliate websites, such as Amazon, and we receive an affiliate commission for any purchases made by you using these links. We appreciate your support!
My new favorite way to eat a roast beef sandwich features perfectly cooked, juicy, roast beef piled onto a chewy roll or baguette, slathered with Boursin cheese!
As sandwiches go, one of the only ones that can make me pause when browsing a restaurant menu is roast beef. A roast beef sandwich always sounds terrific in theory. I can practically taste it just thinking about it.
Too bad it is almost always better in my head. The WORST is when I take a chance and order it, and instead of the juicy, medium-rare sliced meat of my dreams, I get cold cuts between dry slices of bread.
The other thing I struggle with is the toppings and condiments. A grilled chicken sandwich is a blank canvas that you can easily dress up with a flavorful condiment like this sun dried tomato aioli. But not every condiment compliments roast beef, and few really make the beefy flavor shine.
I feel like mustard is the traditional condiment in a roast beef sandwich, but although a hot dog without mustard may be a travesty, I just can't get on board with it in my roast beef sandwich. Mayo is too wimpy flavor-wise, and let's not even talk about ketchup.
Horseradish mayo, or a creamy horseradish sauce are delicious, but the pungent flavor isn't always something I'm in the mood for. Sometimes I want something milder.
As far as toppings go, red onion, or caramelized onion is a given, but are you supposed to put a tomato slice in there? Fresh lettuce? What is an easy but a GOOD roast beef sandwich?
As is turns out, there is a right answer to these questions! THIS is my perfect, easy roast beef sandwich recipe. A perfectly cooked beef roast, sliced thin just like deli roast beef and piled onto ciabatta, a French bread like baguette, or any other chewy bread, slathered generously on both sides with herb and garlic Boursin cheese, with sliced red onion and a handful of arugula.
This is one of those easy recipes that comes together in no time, especially if I have some leftover roast beef from this top round roast beef recipe. It is the perfect way to use up the roast beef leftovers but it doesn't taste like leftovers at all!
What Makes a Good Roast Beef Sandwich?
The best roast beef sandwiches start with well-seasoned, medium-rare beef roast, and I don't mean gray deli meat. I use top round round roast beef, which is an inexpensive cut of meat but perfect for sandwich recipes or as a good old Sunday roast with some au jus or gravy.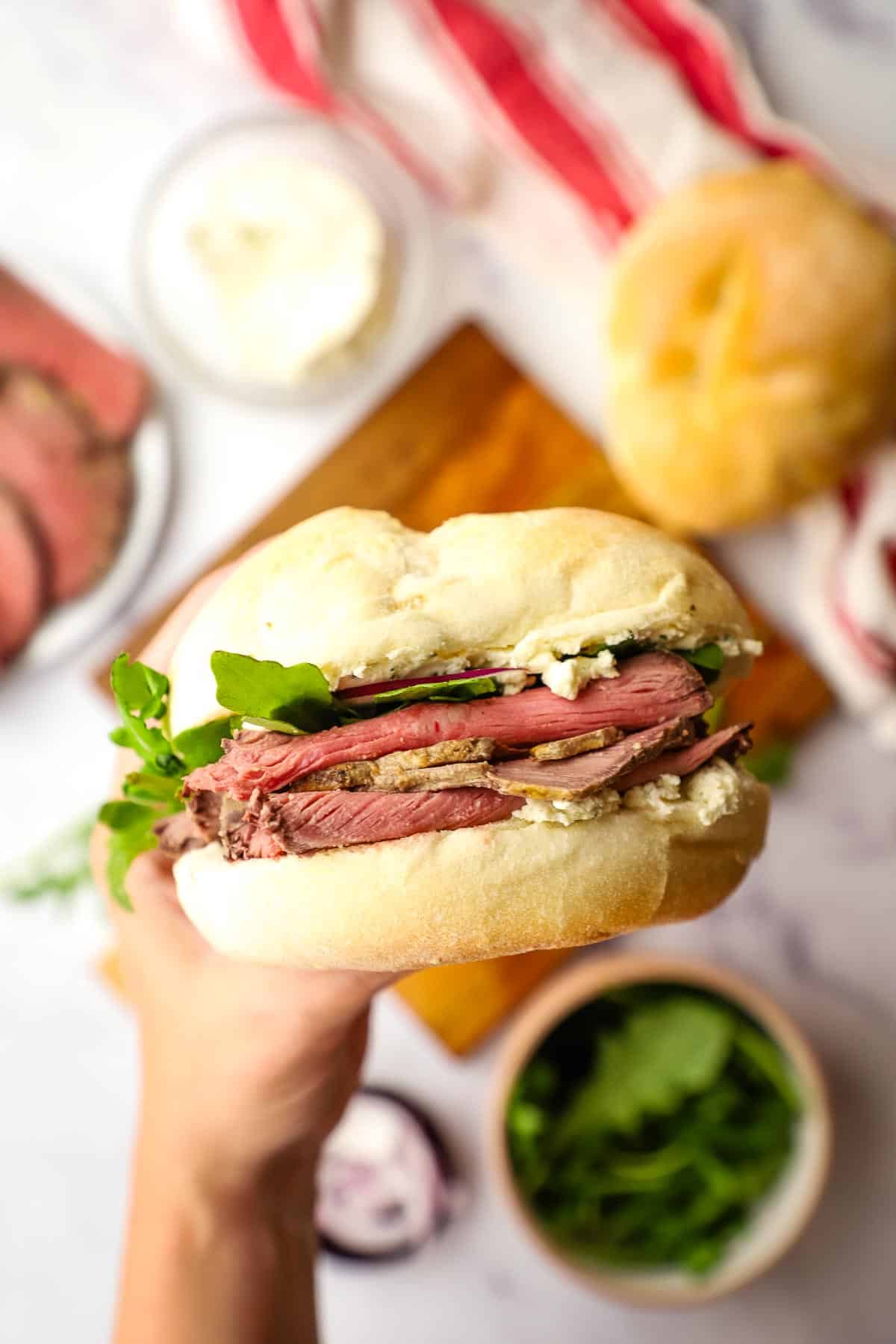 The condiments and toppings are really up to you – I have found my two favorites – Boursin cheese and arugula that I believe are perfect for cold – or hot roast beef sandwiches. But you can use fresh lettuce, juicy tomatoes, caramelized onions, provolone cheese, swiss cheese, and even mozzarella cheese would go great!
A good roast beef sandwich should also have a balance of flavors, with the richness of the beef roast being complemented by the creaminess of the cheese and the crunchiness of the bread and vegetables. So choose your bread, toppings, and condiments according to this.
How to Make the Perfect Beef Roast
I love using a cast iron skillet for roasts. It's the perfect size, easy to clean, heats evenly, and makes sure your beef roast is cooked to tender perfection. I don't sear this particular roast, but if you do, you can sear it in the large skillet and transfer straight to the oven since it's oven-safe. I use mine constantly and highly recommend this crazy affordable Lodge cast iron skillet.
Another thing I always use when making a roast is this meat thermometer. Makes it easy to check the internal temperature of the meat and takes all the guesswork out of knowing when your beef roast is done.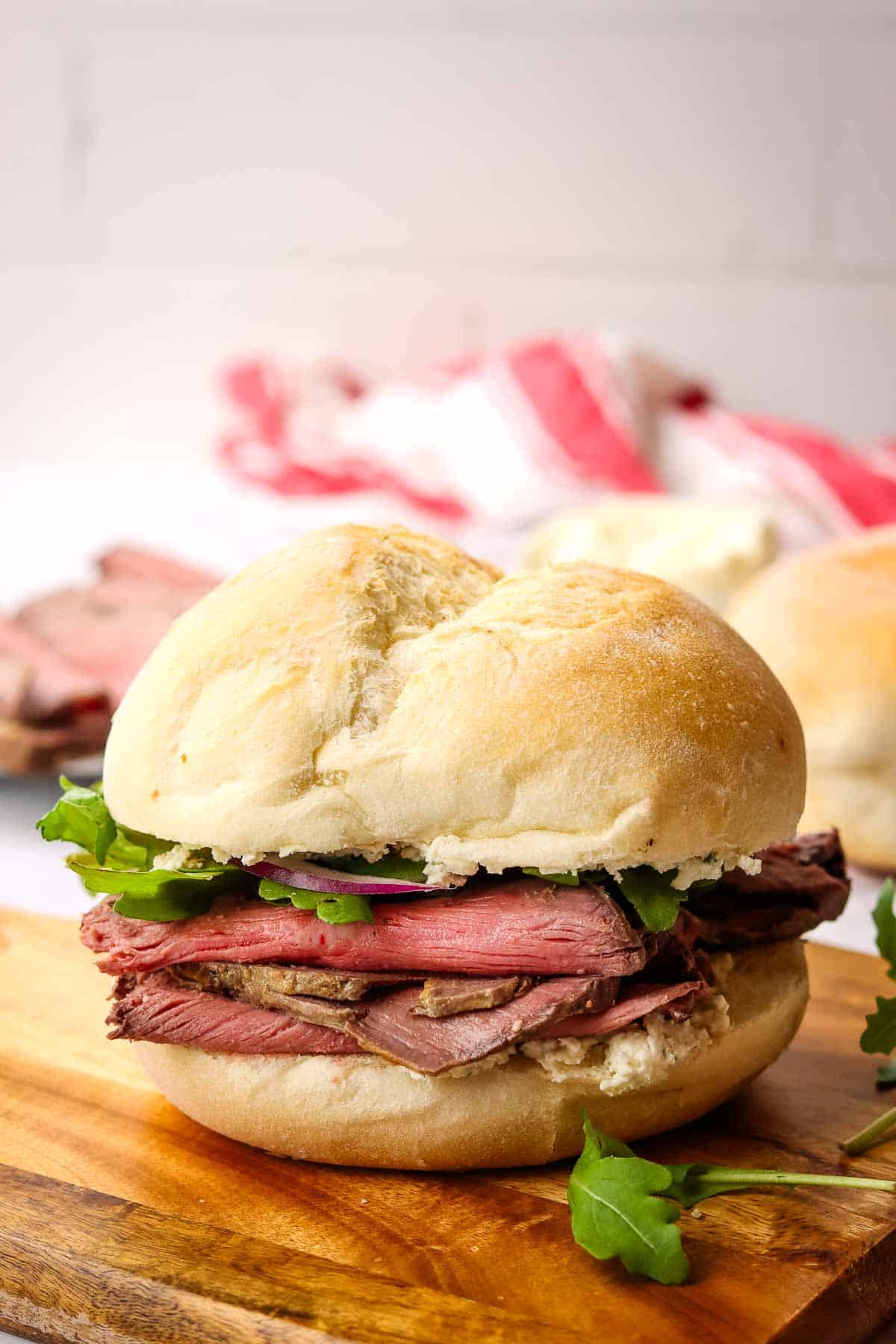 If you're worried that making beef roast for the sole purpose of putting it in a roast beef sandwich is like wearing your prom dress to work, think again. You can get your roast in the oven in under 5 minutes, and have your roast beef sandwich 40 minutes later, and it is world's above the roast beef from your grocery store deli counter.
Ingredient Notes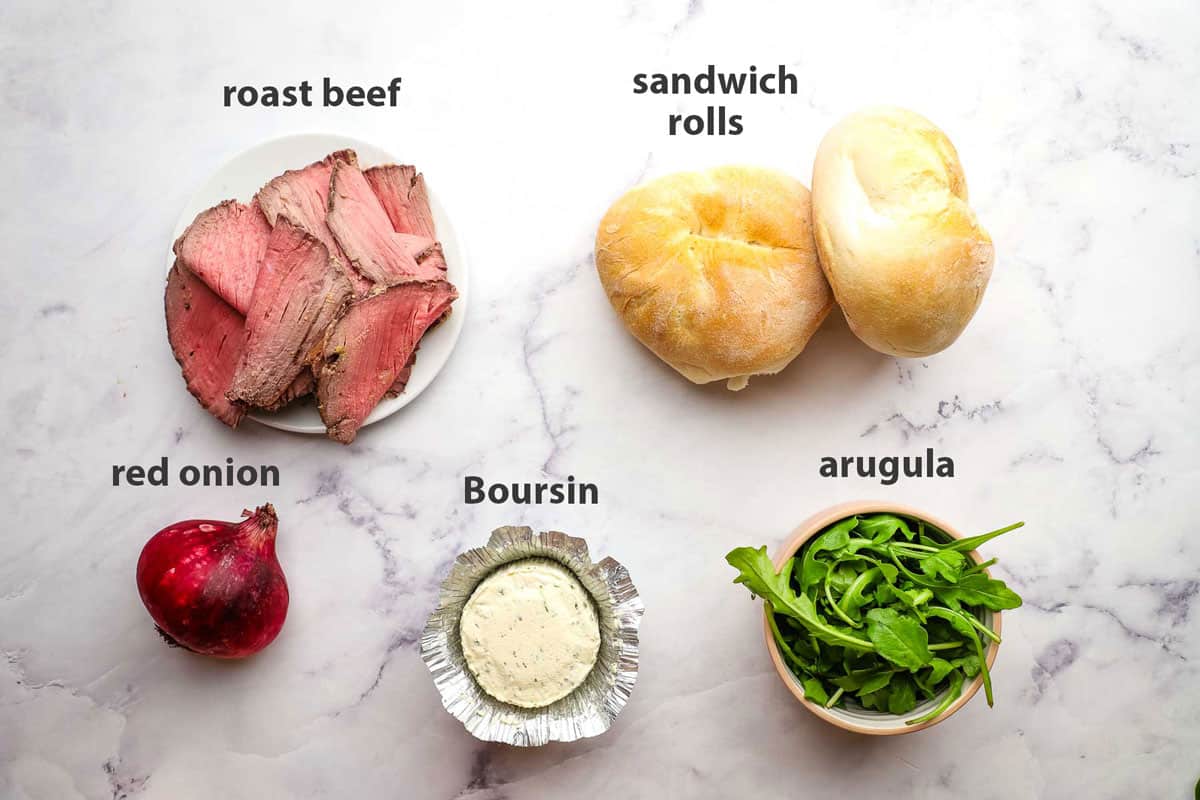 Bread
When choosing bread for this sandwich, it is important to consider the texture. The bread should be sturdy enough to hold up to the weight of the roast beef and other toppings.
I like to use ciabatta or baguette for this recipe since I like a chewy roll for roast beef. However, you can use any type of bread that you like, such as hoagie rolls, any French bread, rye, or even a regular sandwich bun.
Beef Roast
I use top round roast for this recipe but you can use any other inexpensive cut like a bottom round, or eye of round roast.
Be sure to let the roast rest for at least 15 minutes before slicing, and slice it thin so it's as tender as possible. Toast your roll and add the warm beef for a hot roast beef sandwich, or make yourself some cold cuts for a cold sandwich.
Boursin cheese
Boursin cheese is a creamy, crumbly, spreadable cheese that comes in a few different flavors. I personally love using the herb and garlic flavor for this roast beef sandwich recipe.
If you love Boursin cheese like me – I bet you will also love this Boursin Chicken recipe. I even put it on pizza!
Red Onion
Red onion is a good choice for this roast beef sandwich because it adds a bit of sweetness and crunch. You can slice it as thinly or thickly as you like.
Caramelized onions would also taste great in this roast beef sandwich recipe, if you want to go the extra mile.
Arugula
Arugula is a peppery green that has a slightly bitter flavor and a crunchy texture. Arugula is a good choice for this roast beef sandwich because it adds a nice contrast to the other flavors. However, you can use any type of greens that you like, such as fresh lettuce, spinach, or kale.
Step by Step Instructions
1. Preheat your oven to 425°F. Make small cuts all over your beef roast and stuff them with garlic slices.
2. Season the meat generously with freshly ground black pepper and slather it with Dijon mustard.
3. Place your prepared roast in a large skillet or a roasting pan, and put it in the preheated oven.
4. Roast it for the first 15 minutes at 425°F to develop that lovely outer crust. Then, lower the oven temperature to 375°F and continue cooking until the internal temperature of your beef roast reaches 130-135°F. This typically takes about 25-30 minutes more for a small 1.5-2 lb roast like this one. For more details on cooking times and temperatures for roast beef, see this top round roast beef post.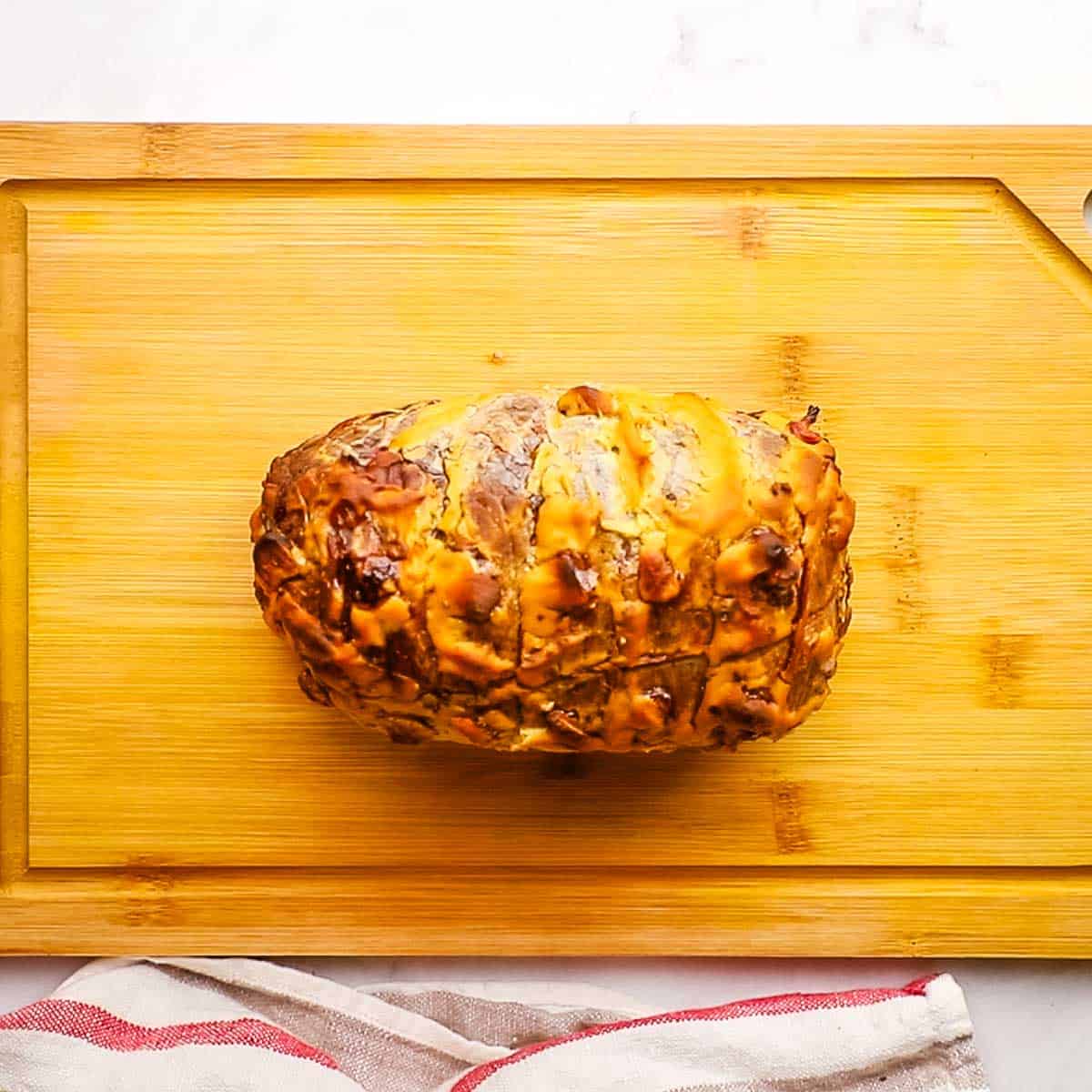 5. Take it out of the oven and let it rest for 10-15 minutes. Now remove the garlic clove and slice it thinly.
6. To assemble. Slice your chosen bread and spread Boursin cheese generously on the top bun and the bottom bun.
7. Pile the thin slices of roast beef, arugula, and red onion. Top with the other half.
There you have it – my version of a perfect roast beef sandwich. This is a great recipe for whenever you have leftover roast beef from your Sunday family dinner. Just store your roast beef leftovers in an airtight container – and enjoy this quick sandwich whenever you want.
Roast Beef Sandwich with Boursin
My new favorite way to eat a roast beef sandwich features perfectly cooked, juicy, roast beef piled onto a chewy roll or baguette, slathered with Boursin cheese!
Print
Pin
Rate
Save
Saved!
Ingredients
1

1.5 lb

beef top round roast*

tied with string

2

garlic cloves

1/4

cup

dijon mustard

black pepper, to taste

baguette, ciabatta, or other chewy roll

1

5.2 oz

package herb and garlic Boursin cheese

a few handfuls

arugula or other greens

1/2

small red onion, thinly sliced
Instructions
Preheat the oven to 425 degrees F. Cut the garlic into several pieces, make small cuts here and there into the roast and stuff the garlic pieces in.

Sprinkle the meat with black pepper and slather with the mustard. Place the roast in a cast iron skillet or roasting pan and transfer the oven.

Roast for 15 minutes. Reduce the heat to the 375 degrees F and cook until the meat registers 120-125 degrees F on a meat thermometer, about 25-30 minutes longer.

Remove from the oven and let rest for at least 15 minutes. Remove the garlic cloves and string. Slice thinly.

Assemble sandwich: Spread a sliced baguette or roll with Boursin cheese on both sides, and pile meat and arugula onto the bread. Top with other half of bread.
Notes
*bottom round or eye of round can be substituted for the top round roast.
Nutrition
Calories:
577
kcal
|
Carbohydrates:
34
g
|
Protein:
47
g
|
Fat:
27
g
|
Saturated Fat:
13
g
|
Polyunsaturated Fat:
2
g
|
Monounsaturated Fat:
5
g
|
Trans Fat:
0.003
g
|
Cholesterol:
144
mg
|
Sodium:
809
mg
|
Potassium:
728
mg
|
Fiber:
2
g
|
Sugar:
3
g
|
Vitamin A:
630
IU
|
Vitamin C:
3
mg
|
Calcium:
144
mg
|
Iron:
6
mg