Caesar Salad Recipe with Steak
This post contains links to affiliate websites, such as Amazon, and we receive an affiliate commission for any purchases made by you using these links. We appreciate your support!
This classic Caesar salad recipe is elevated to extra-special main course status with the addition of juicy, perfectly cooked, and flavorful steak.
Creamy Caesar dressing pairs perfectly with the meat for a perfect easy summertime (or anytime) dinner.
There is one thing you can count on in the spring, as the weather warms up and we start shedding our extra layers, and that's Phil announcing that he's on a diet. Thus begins the annual tug-of-war:
Phil: I need you to make more salads.
Me: Or I could make normal meals and you could stop eating Combos and chips.
Quick disclosure: This post contains affiliate links. If you make a purchase through one of these links, I may make a small commission, at no cost to you. I will never recommend anything I don't personally use and love!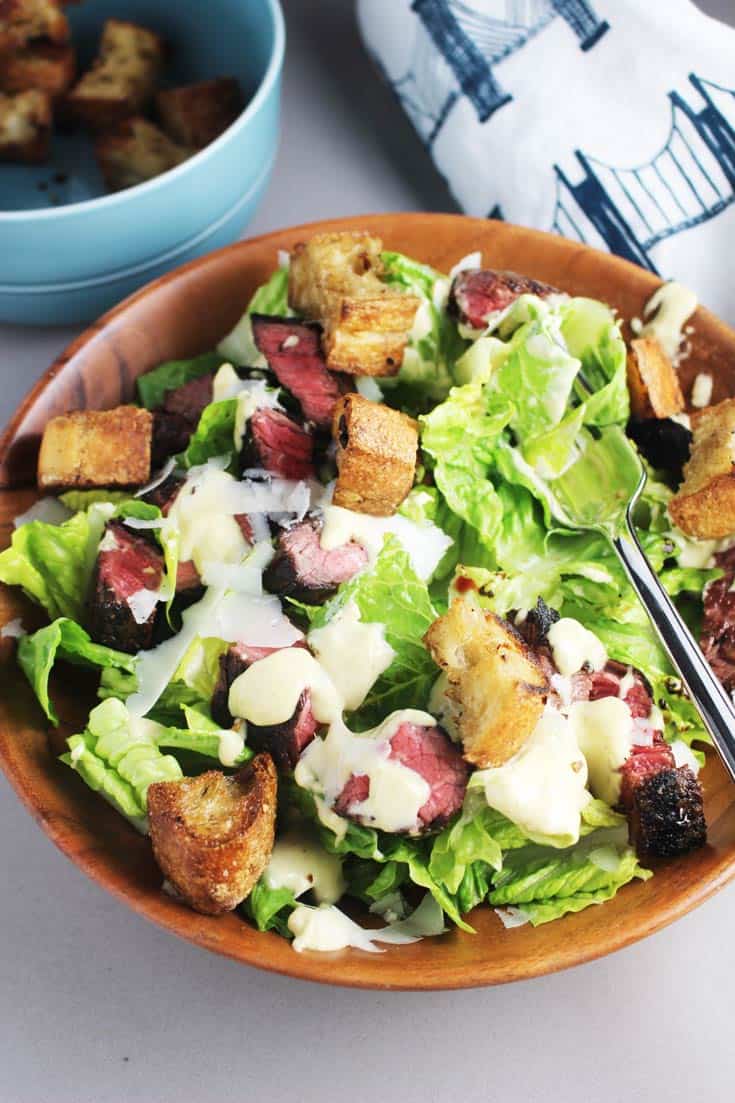 The deck is stacked in my favor though, since I do the grocery shopping AND the cooking. But, to be honest, by the end of the winter, I'm usually feeling like it's time to lighten things up a little too, so I do make a few concessions.
But the thing is, making more salads is really not such a huge sacrifice for me. Truthfully, I love salad, and have no problem eating it for dinner. It's just that they tend not to be the austere "diet-y" salads that Phil has in mind.
A salad needs to be special to fit the "main course" bill for me. If I can work in some interesting flavors and lots of crunch like this Asian chicken salad with sriracha peanut dressing, I'm happy.
Or if there's bacon involved, like in this club sandwich salad, that works too. Cheese and tortilla chips are NEVER a bad thing (see southwestern chopped salad). A creamy dressing is a GREAT thing.
And… (here's a little insight into the devious inner workings of my brain) what if …what if… we put a STEAK on it!
We've all had our share of classic Caesar salads, and chicken is a common addition when you're trying to bulk a Caesar salad recipe up to make a dinner salad.
BUT have you ever tried putting a juicy, flavorful, perfectly cooked steak on a Caesar salad? It turns out that the creamy, briny, tanginess of Caesar dressing goes perfectly with steak.
Speaking of the dressing, you may be asking yourself…
Why does Caesar salad dressing have anchovies, and are they really necessary?
Anchovies, used properly, can give food that briny, salty, "umami" flavor, without giving off a particularly "fishy" taste. They work really well, and are a common ingredient, in Caesar dressing.
That said, I have made this dressing with and without them and loved it either way. The dressing contains capers, which provide brininess, and Worcestershire sauce (which is made from anchovies anyway).
So I consider the anchovies in this dressing to be FULLY optional. If you're looking for a Caesar salad dressing with no anchovies, this one delivers on flavor even without them and works great.
This Caesar salad recipe is adapted from the Home Cook by Alex Guarneschelli, of Food Network fame.
When Phil gave me this book at Christmas, I eyed it warily at first, fearing that the recipes might be overly complicated, given Alex's background as a chef (and recalling that, as a judge on Chopped, she once referred to red bell peppers as "pedestrian", inciting some serious eye-rolling on my part).
But I was so pleased to see that It's full of simple, approachable recipes for hearty, home-style meals. No pretense! I'm loving this book so far.
This is the latest and greatest salad to come out of my kitchen! So maybe it isn't "diet food", but I don't think you'll have any regrets!
If you love salad for dinner, head over to my salad category for more inspiration!
And if you're looking for more easy dinner inspiration, follow me on Pinterest, Instagram, Facebook or Twitter. Or subscribe in the sidebar on the right to get every new recipe in your inbox 🙂
Caesar Salad Recipe with Steak
This classic Caesar salad recipe is elevated to extra-special main course status with the addition of juicy, perfectly cooked, and flavorful steak. Creamy Caesar dressing pairs perfectly with the meat for a perfect easy summertime (or anytime) dinner.

Print
Pin
Rate
Save
Saved!
Ingredients
Dressing
3

canned anchovy fillets

optional!

1

teaspoon

capers

1

small garlic clove

1

egg yolk

1

teaspoon

dijon mustard

2

tablespoons

fresh lemon juice

1

teaspoon

Worcestershire sauce

dash

Tabasco

1/2

cup

olive oil

1/2

cup

canola oil

1/2

teaspoon

salt

1/2

teaspoon

freshly ground pepper
Croutons
2

tbsp

unsalted butter

1

garlic clove, minced

pinch

kosher salt

4

slices

any crusty bread

sliced one inch thick (I used a baguette)
Steak and Salad
2

tablespoons

canola oil

1.5

lbs

hanger steak

salt and pepper

3

romaine hearts

sliced into 1 inch pieces

1/2

cup

shaved parmesan cheese
Instructions
Place the dressing ingredients, except for the oil, in a blender or food processor (or in a medium bowl or large measuring cup, and use an immersion blender). Process until smooth. With the blender, food processor or immersion blender going, slowly add the oil in a thin stream and blend until the dressing is thick and creamy. Season with salt and pepper.

In a large skillet, preferably cast iron, melt the butter over medium heat. Add the garlic and saute until fragrant, about 1 minute. Add the bread and toast, stirring occasionally, until golden brown and crispy (3-5 minutes). Season with salt and set aside.

Wipe any black bits out of the pan, and place back over medium high heat. Add 2 tablespoons of canola oil.

Season the steak with salt and pepper, and when the pan is very hot, add the steak. For medium-rare, cook for 3-5 minutes per side, depending on the thickness of the steak.

Remove the steak from the pan and allow it to rest for about 8-10 minutes. Slice the meat against the grain and cut into bite size pieces.

Divide the romaine lettuce between four plates, and top with steak pieces. Drizzle dressing over the salad and sprinkle with parmesan shavings and croutons.
Notes
Adapted from The Home Cook by Alex Guarnaschelli
Nutrition
Calories:
1091
kcal
|
Carbohydrates:
20
g
|
Protein:
59
g
|
Fat:
85
g
|
Saturated Fat:
17
g
|
Cholesterol:
213
mg
|
Sodium:
961
mg
|
Potassium:
1061
mg
|
Fiber:
2
g
|
Sugar:
1
g
|
Vitamin A:
7730
IU
|
Vitamin C:
6.8
mg
|
Calcium:
252
mg
|
Iron:
5.9
mg